<![CDATA[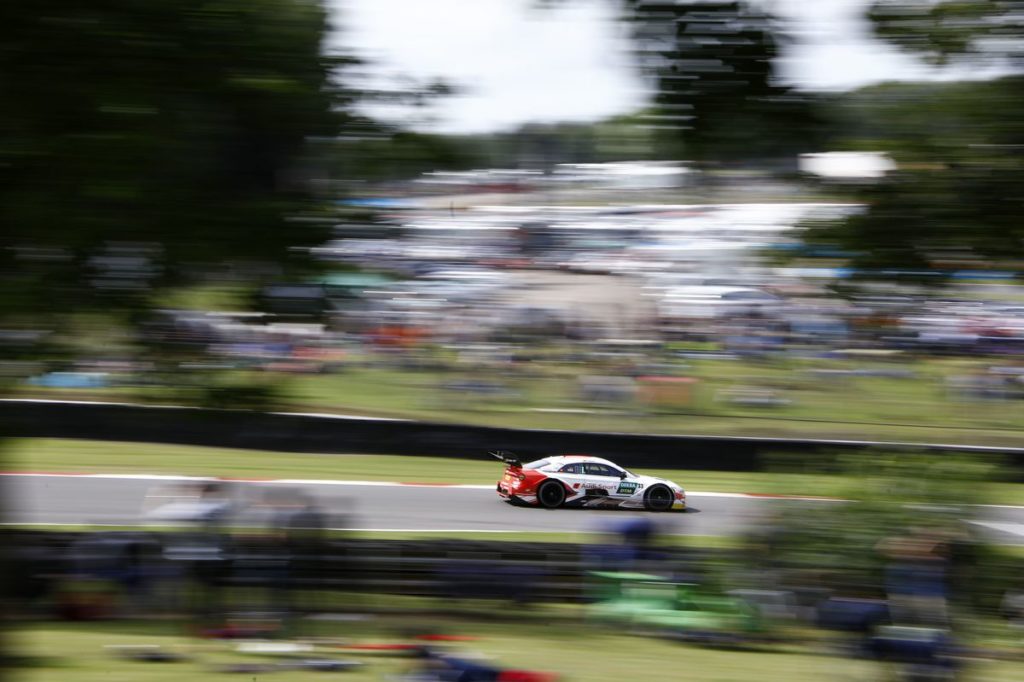 Connect four: René Rast (GER) took a huge step towards the 2019 DTM title after dominating Sunday's race at Brands Hatch. The German, who went into the British weekend leading the championship, further consolidated his points tally with a maximum score of 28 (25 for the win; 3 for pole) on Sunday.
Rast was able to control the pace, finishing narrowly ahead of closest championship rival Nico Müller following a duel that went all the way to the final lap.
Yesterday's victor, BMW's Marco Wittmann struggled: following a disappointing qualifying session, he made a strategic gamble on a two-stop strategy in the race, but could only finish 10th, the second of the BMWs, behind fifth-placed Philipp Eng.
In the battle for the DTM drivers' title, Rast has increased his margin over Müller; he has 206 points, ahead of the Swiss driver's 169. After 12 of 18 races, Wittmann has scored 147 points.
Audi dominates, Eng mixes up the field
Rast's fourth win of the 2019 season was – surprisingly – his first achieved from pole position. Second-placed Müller was closely followed home by Robin Frijns (NED), who returned to the podium for the first time since the Hockenheim opener. The Dutchman finished ahead of Loïc Duval (FRA) and Philipp Eng (AUT). The BMW driver had started from ninth place on the grid, opted to make a late switch to fresh rubber, and gradually worked his way up to fifth. In a highly spectacular duel over many laps, he was unable to find a way past Duval's Audi.
A double points-score for Aston Martin at home
With Daniel Juncadella (ESP) and Jake Dennis (GBR) in eighth and ninth places respectively, R-Motorsport/Aston Martin earned a double point-score in its home round on British soil. It concluded a bittersweet weekend for the brand: Di Resta had led on Saturday before earning a time-penalty and, ultimately, retirement. Fellow Brit Dennis also had a shortlived race after being driven into at the start. Juncadella had already scored one point after finishing 10th on Saturday.
Quotes – race 2, Brands Hatch
"The race weekend has shown that we have taken a significant step forward with the DTM in the UK. Last year, our impact wasn't that strong; but now it looks like we're having an effect on the British fans. The spectator interest, the atmosphere, the support programme: the event was positive throughout. On the sporting side, once again we've seen one victory each for BMW and Audi, while newcomers Aston Martin have shown on Saturday in particular that they have made another step towards the frontrunners. On Sunday, Audi was dominant. To keep the battle for the title exciting, BMW drivers Wittmann and Eng need to score a lot of points at the Lausitzring…" – Gerhard Berger, Chairman ITR e. V.
"I am mega happy! I extended my points' lead, perfect! My last win was already five races ago, so therefore I'm really happy. At the end, my tyres hardly worked anymore although I had tried to manage them. The race was a mega battle." – René Rast, winner
"Had I been considerably faster, I would have used the chance to overtake René. Too bad that we lost valuable time during the pit stop today. After that, I had to close the gap to René again and use my speed advantage to do so. As a result, I wasn't really able to attack at the end. Of course, you want to try, but when the risk is too big, you'd rather let it be. We're happy with second place." – Nico Müller, 2nd place
"I'm happy to be on the podium. A good end to a good weekend. Yesterday, we were still having minor problems, but we still secured fourth place. Today we came third. A solid result. Now, I'm looking forward to the upcoming races." – Robin Frijns, 3rd place
Wow fact – race 2, Brands Hatch
8
One, two, three, four, five, six, seven, eight: Audi's result in qualifying for Sunday's DTM race at Brands Hatch can legitimately be referred to as 'impressive domination'. The eight cars of the brand from Ingolstadt locked out the first eight positions on the lap time sheet. Once again, pole position went to René Rast. An achievement that in the meantime has become as valuable as a little victory. In total, Rast has racked up 24 additional points already in 2019, almost as much as a race win (25) is worth. In qualifying, the first three drivers are awarded three, two and one additional points. So far, Rast has five pole positions, four second places and one third place in qualifying to his name.
Regulations at a glance
Electronics
The DTM regulations for 2019 have been reworked from scratch for the electrical system and the electronics. The Bosch-produced Electronic Control Unit (ECU), standard for all manufacturers, represents the very latest in technology. It is not possible to change the ECU software. However, the teams can set up their own applications to process the data. The DTM also boasts the latest technological developments, such as cockpit displays, cable harnesses and other minute details.
And then, there were …
… David Coulthard and a thick cloud of smoke. Driving a Red Bull RB7, Sebastian Vettel's 2011 world championship-winning car, the Scot completed spectacular demonstration laps of the Brands Hatch Grand Prix circuit that last hosted a Formula 1 race in 1986, on Sunday. Of course, Coulthard relished the chance to pull off a great show with plenty of doughnuts in the end, including the aforementioned smoke. First the job, then the fun (or was it the other way round?): during the DTM prize-giving, Coulthard handed over the trophy to the second placed driver.
Press release DTM
]]>