<![CDATA[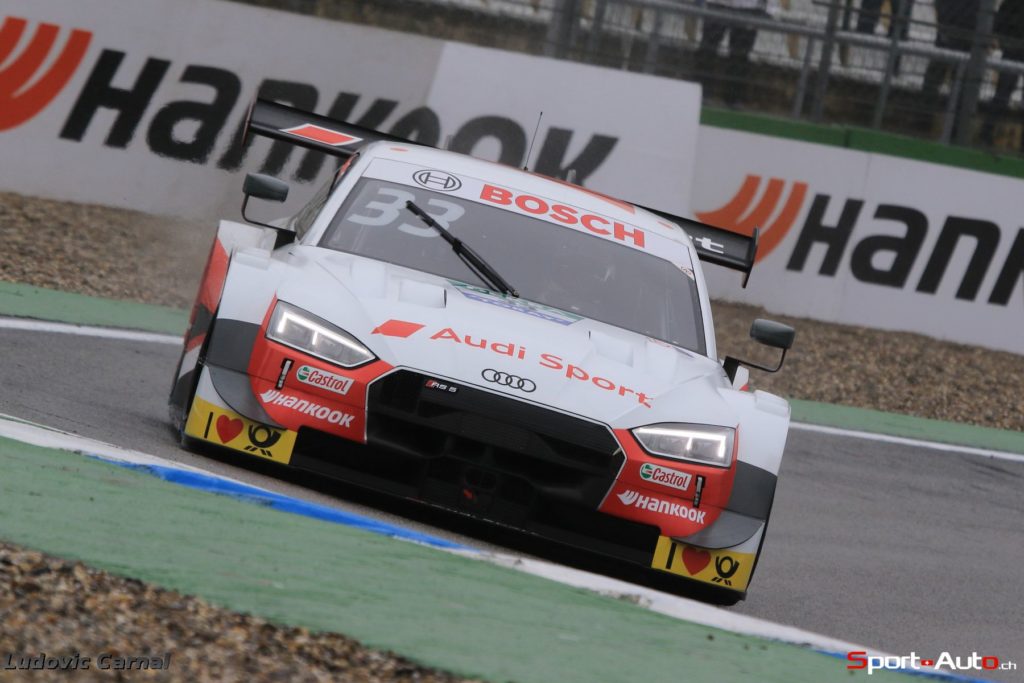 Saving the best for last: René Rast (GER, Audi) won a lights-to-flag thriller on Saturday as the DTM wrapped up its penultimate race of the 2019 season.
The newly crowned champion came out on top after a cat-and-mouse duel with Marco Wittmann (GER, BMW), who had rediscovered the early-season pace in his car that allowed him to take the fight to the front. Wittmann's undercut pit-stop looked set to earn him the lead, but an ill-timed Safety Car neutered his advantage – meaning that he was forced to make a late-race pass for the lead. Rast countered, retook the place and was able to establish a small margin to the chequer.
Behind the leading pair, there were fierce battles up and down the top 10 as the Safety Car compressed the field, prompting many frantic moments as everyone scrabbled for grip and position. Paul Di Resta (GBR) drove a determined race to finish as the best-placed Aston Martin driver in seventh. And ex-Formula 1 world champion Jenson Button (GBR), driving in this race as one of three Japanese SUPER GT entrants, overcame a tardy 18-second pit-stop to battle back to an incredible ninth.
Victory for Rast, title for Rosberg – decision in the teams' championship
The outcome of the duel between Rast and Wittmann also indirectly contributed to the early title win for Audi Sport Team Rosberg in the teams' championship. Rast's victory earned him 28 points for Rosberg, as opposed to the 12 points Robin Frijns (NED) pocketed for Audi Sport Abt Sportsline. With Jamie Green (GBR) and Nico Müller (SUI) failing to score, Rosberg's margin increased to 48 points – the exact number of team points on offer tomorrow. However, Rosberg sealed the title by virtue of having scored eight wins this year compared to Abt Sportline's two.
Quotes – race 1, season finale Hockenheim
"Winning is always a special moment, and securing the teams' title is the icing on the cake. I'm really happy for the whole team. Together, we've put so much effort into this project – endless hours and days. Claiming victory was not as easy as it might have looked from the outside: Marco really had a good first stint and applied a lot of pressure." – René Rast, winner
"So far, the entire weekend has gone well. The Safety Car didn't work in our favour after a good first stint. I overtook 'Rocky' and closed up to René; we tried the undercut by stopping earlier than René and it would have worked out – however, the Safety Car came out on track at completely the wrong time. After that, I only had one real chance to make a move, which I did – but it was more for the show! René countered with DRS. We started this season with a win; now we'll try everything tomorrow to end it with a win, too." – Marco Wittmann, 2nd place
"My start wasn't great, but it was good. I was able to overtake Marco on the opening lap and close up to René. But today, René and Marco simply had a better pace than us. When Marco had overtaken me again, I had to let him go as my tyres were degrading. During my second stint, the Safety Car came out and I was pleased that we had made our pit-stop already. After that, I just brought the car home." – Mike Rockenfeller, 3rd place
"I only lost one place at the start. However, without DRS, keeping up was difficult. Only once I'd found a rhythm was I able to counter. On the other hand, I should have been friendlier to the tyres. I was also rather too late with my stop. On top of that, our stop was rather long – the guys aren't used to pit-stops like these, so we lost some time. After the restart, I worked my way up from 15th to ninth place and that was a lot of fun." – Jenson Button, 9th place
Wow fact – race 1, Hockenheim Finale
30 years
During the DTM finale at Hockenheim, Lexus driver Ryō Hirakawa (JPN) ensured that the Toyota brand was on the DTM grid once again – 30 years after the debut of the legendary Toyota Supra 3.0i with Phillip Müller (SUI) at Hockenheim in 1989. Speaking of Toyota: in 1987, none other than Hermann Tilke (GER) raced a Toyota Corolla in the DTM. Tilke is probably better known as the world's best-known race circuit designer, most recently producing the layout of the new Igora Drive St. Petersburg track that forms part of the DTM calendar in 2020. It's not just Toyota who can look back upon its illustrious DTM history; the same can be said about Nissan, which also made the grid this weekend with its performance brand NISMO and driver Tsugio Matsuda (JPN) on Saturday. By comparison, Hermann Behrens (GER) raced a Nissan Silvia in the DTM in 1985 and 1986.
Regulations at a glance
Starting procedure
A new start procedure for the DTM: Since the season opener of 2019, launch control is not allowed. Previously, the drivers had been able to "preload" their cars in the final few seconds before the start. This meant: Electronic and visual aids in the cockpit and a locking of the brake valve via a switch on the steering wheel were used to find the ideal clutch point before the starting signal was given. Aids of this type are forbidden in 2019. This puts greater emphasis on the driver's abilities at the start. A fast reaction time and well-rehearsed clutch control are both rewarded.
For the guest drivers from the SUPER GT series, the standing start is a new phenomenon: in Japan, the endurance races get underway with a rolling start.
And then, there was …
… Jenson Button. Sixth-fastest, the Brit was the best-placed representative from the SUPER GT guest drivers in qualifying. The encounter of the two race series is a first, and without any 'balance of performance' on top of that. Technically, the cars participating in the SUPER GT series are very similar to this year's DTM cars, albeit running in endurance races and with different tyre manufacturers. In the DTM, on the other hand, there are two sprint races per weekend and control tyres from Hankook are used. On 23 and 24 November, the 'Dream Race' of the two combined series will be held in Fuji.
And then, there also were …
… world champions in XXL format. Prior to the opening race of the DTM season finale at Hockenheim, Emerson Fittipaldi (Formula 1 world champion 1972 and 1974), Keke Rosberg (Formula 1 world champion 1982), Nico Rosberg (Formula 1 world champion 2016), Jenson Button (Formula 1 world champion 2009), Walter Röhrl (Rally world champion 1980 and 1982, drivers), Christian Geistdörfer (Rally world champion 1980 and 1982, co-drivers) and Hans-Joachim Stuck (sports car world champion 1985 and 1986) met each other. Motorsport legends Jochen Mass and Gerhard Berger also joined. Even more world champions required? Present at Hockenheim were also Loïc Duval (Endurance world champion 2013) – a DTM driver, of course –, Tom Kristensen (Endurance world champion 2013) and Benoît Tréluyer (Endurance world champion 2012).
Press release DTM, picture Ludovic Carnal
]]>