<![CDATA[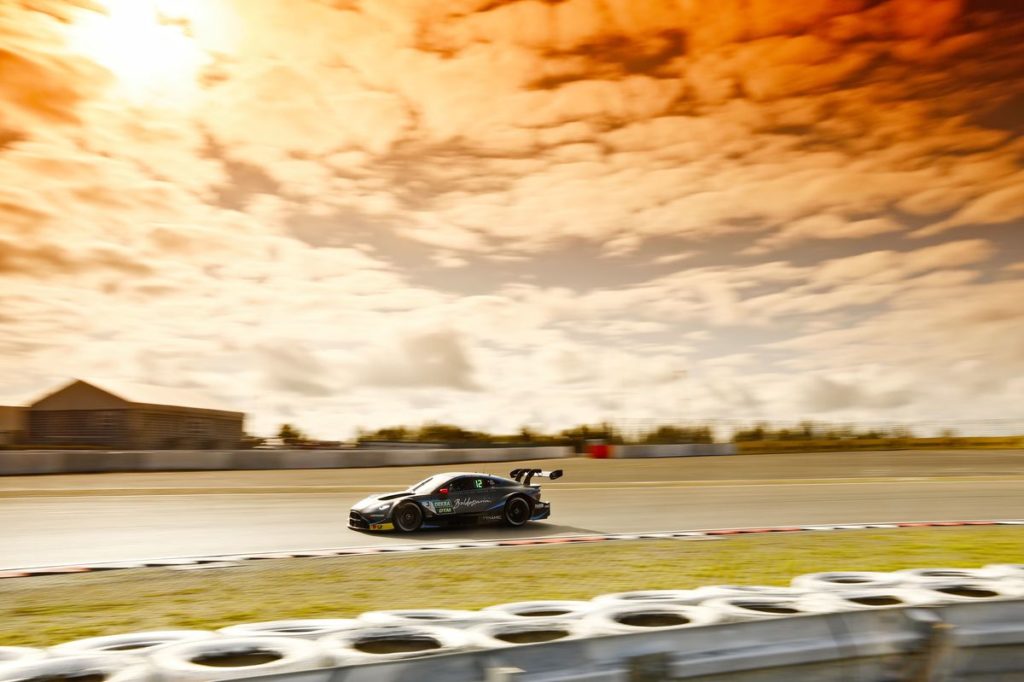 The destination of the 2019 DTM title swung emphatically towards Rene Rast (GER) after the Audi driver claimed maximum points from pole position and a lights-to-flag race victory at the Nürburgring.
The German also maximised the advantage after his closest title rival failed to score. From third on the grid, Nico Müller jumped the start, received a drive-through penalty, and was forced to gamble on an early stop for tyres in order to capitalise on a Safety Car period that never came. It prompted a second stop for fresh tyres, and a slump to 16th position.
Only Marco Wittmann (GER, BMW) made the best of his situation. From 11th on the grid, Wittmann worked his way up to finish on the podium, finishing third to keep his title hopes alive by the slenderest of margins. With a maximum of 84 points still at stake, Wittmann trails championship leader Rast by 80. Müller remains second in the drivers' standings, 47 points behind Rast.
As a result, Rast is in a position to wrap up the 2019 drivers' title in Sunday's race (which will be broadcast live across 31 countries, and can be viewed via the official live-stream at DTM.com, YouTube and the mobile DTM app). A quick glance at the maths says Rast can win the title if he scores nine more points than Müller tomorrow.
A double podium for BMW courtesy of Spengler and Wittmann
Despite an emotional victory at the Norisring, Bruno Spengler (CDN, BMW) has endured a difficult season, but capped a strong performance in the Eifel mountains with a solid second position in today's race.
Starting on the front row, he lost a position to the jump-starting Müller, and then dropped behind Mike Rockenfeller as the field funneled into the twisting infield sector. The Canadian then drove an unruffled race, moving into second following Rockenfeller's retirement, and finishing a solid second ahead of fellow BMW driver Marco Wittmann.
At the brand's Nürburgring DTM debut, Aston Martin only just missed out on a points-scoring finish. Daniel Juncadella (ESP), Ferdinand von Habsburg (AUT) and Paul Di Resta (GBR) battled hard all race, and were classified in 11th to 13th positions – in that order.
Quotes – race 1, Nürburgring
"A perfect day! Just as one would wish for, with pole position, victory and having extended the championship lead. Moreover, the technology worked perfectly. I am mega happy with my 47-point gap. Now, I hope to be able to seal the title tomorrow. But to do so, I have to be wide awake tomorrow as well." – René Rast, winner
"My start was okay, although I lost a few positions. From third place, I tried to overtake Mike Rockenfeller and I had a good battle with him. However, we weren't able to keep up with René Rast's pace. The team has done a good job with the strategy and a slightly later stop. In qualifying, we have made good progress with the car too." – Bruno Spengler, 2nd place
"I'm happy with the race – particularly as we have worked our way up from 11th to third place without any assistance – just our own pace, our own strategy. However, I had still hoped to swap positions with Bruno. But my battle for the championship is almost over anyway." – Marco Wittmann, 3rd place
Wow fact – race 1, Nürburgring
809.038
Points' leader René Rast is the high flyer of the season in this discipline as well. And moreover, he is the only driver in the field to have led at least one of the two races on every DTM weekend so far. Rast is at a total of 809.038 kilometres in the lead of the field, his title rival Marco Wittmann is at 434.257. In 2019 to date, Nico Müller has led for 284.632 kilometres.
Regulations at a glance
Scoring system
In both races, points will be awarded to the top ten positions, according to the following system: 25–18–15–12–10–8–6–4–2–1. In addition, the three fastest drivers in qualifying will also receive points, according to the following format: 3–2–1.
And then, there was …
… the "ONE-World Charity Simrace" in the Nürburgring eSports Lounge on Thursday evening. DTM drivers René Rast, Nico Müller, Timo Glock, Bruno Spengler, Philipp Eng, Daniel Juncadella and Jake Dennis competed, just like ex-DTM driver Maxime Martin and SAT.1 commentator Edgar Mielke together with fans and e-racers for charity in a virtual DTM race. Previously, the slots alongside the DTM stars were sold in an online auction. Proceedings from the event will go to the Lukas Podolski foundation for sport and education.
Press release DTM
]]>