<![CDATA[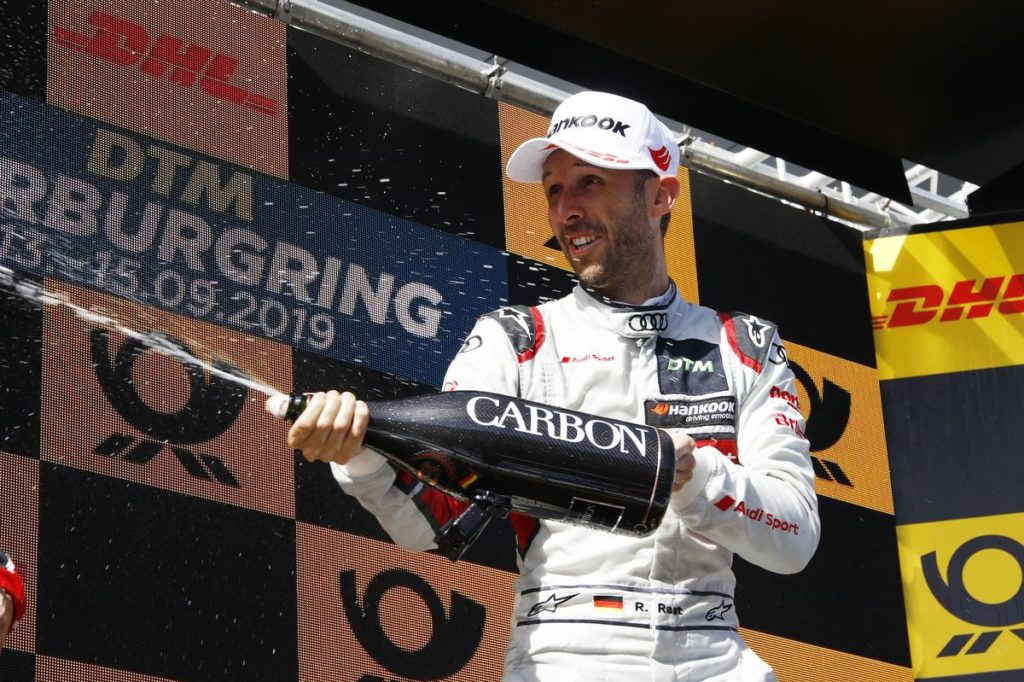 Audi driver René Rast (GER) was crowned 2019 DTM champion after finishing third in Sunday's Nürburgring race, throwing the title beyond the reach of his closest rival.
After taking pole and victory in Saturday's race, Rast looked increasingly assured of sealing the title at the penultimate round of the series after securing a front-row starting place. Chief rival Nico Müller (SUI) would start from 14th.
Rast becomes the seventh driver in DTM history to win more than one title, joining fellow double-title winners Mattias Ekström (SWE), Timo Scheider (GER), Marco Wittmann (GER) and Gary Paffett (GBR).
Only Klaus Ludwig and Bernd Schneider (both GER) have won more than two titles. Rast celebrated his second crown in only his third full season in the DTM – earlier than any other driver before him.
Lucky seven: Audi dominates second race on Sunday, equalling record
Sunday's race at the Nürburgring turned into another Audi demonstration run, including matching an earlier record achievement.
Jamie Green (GBR) started from pole position and dominated the race, beating fellow Audi driver Robin Frijns (NED). For Green, it was his first win since the 2017 season finale. The Briton becomes the seventh driver to win a DTM race in 2019, and led home an Audi septet that was completed by Loïc Duval (FRA), Jonathan Aberdein (RSA), Nico Müller (SUI) and Mike Rockenfeller (GER).
The finishing order meant that Audi today equalled a record established by BMW at Zandvoort in 2015: a clean-sweep of the top seven finishing positions.
Disillusion for BMW and Aston Martin
BMW could only secure three points-scoring positions after a disappointing day for the Munich marque. Philipp Eng (AUT) flew the flag for BMW with his eighth-place finish while Timo Glock (GER) finished ninth and Bruno Spengler (CDN) came home 10th. Once again, Daniel Juncadella (ESP) was the best-placed Aston Martin driver, 12th across the line.
In spite of the early deciders in the battles for the drivers' and manufacturers' titles going the ways of René Rast and Audi, there is still everything to play for in the teams' classification during the season finale at the Hockenheimring (4-6 October). Audi Sport Team Rosberg (Rast/Green) has a margin of just 32 points over Audi Sport Team Abt Sportsline (Müller/Frijns).
Quotes – race 2, Nürburgring
"First of all, congratulations to Audi and René Rast on winning the title. They have been the benchmark throughout. René Rast is a very special driver: he works hard and leaves nothing to chance. Under pressure; in the rain; in sunshine; he always delivers. Now, we're looking forward to the season finale at Hockenheim. With the drivers' title now sealed, we can concentrate on the first joint-race of SUPER GT and DTM there. Six manufacturers, Japan taking on Europe, that's going to be a spectacular show." – Gerhard Berger, Chairman ITR e. V.
"Today was a hard race, a big battle 'til the end. Today, we were allowed to fight freely, and winning feels just great. Congratulations to Audi and René on winning the title! At Hockenheim, the teams' championship is still at stake, and hopefully we'll have something more to celebrate at the end." – Jamie Green, winner
"In the first stint, I had some minor issues and couldn't quite find a way past Loïc Duval, even though I was faster. In the second stint, I quickly closed up to René and overtook him. Then I was able to quickly close the gap to Jamie. My overtaking manoeuvre was a bit too early because I believed that it would be my only attempt. However, it turned out not to be the final lap, but the penultimate one. At the end of the day, it was great fun in spite of the stress. This time, Jamie came out on top, but next time, I hope it'll be me." – Robin Frijns, 2nd place
"Of course, I'm mega happy. Until the very end, I didn't know whether it was enough because I didn't know in which position Nico Müller had finished. It's a bit like my first title win – it came unexpectedly. Nevertheless, it was on the cards here. We've had a great season, we were competitive throughout. Now, we can enjoy the finale at Hockenheim with great racing together with SUPER GT." – René Rast, 3rd place and 2019 DTM Champion
Wow facts – René Rast, 2019 DTM Champion
Second title for René Rast in the DTM, and this is his season in figures so far:
Starts: 16
Podium finishes: 11
of which victories: 6
Total number of points: 279
of which additional points in qualifying: 32
Kilometres in the lead: 848.957
Age first title win: 30 years, 11 months, 20 days
Age second title win: 32 years, 10 months, 21 days
Most dominant win 2019: Norisring race 1 – margin 34.498s
Closest win 2019: Brands Hatch race 2 – margin 0.240s
Regulations at a glance
Wheels
Since 2017, ATS has been delivering aluminium wheels for all cars and brands, providing 12×18 inch wheels for the front and 13×18 inch ones at the rear. The wheels are made from a particularly robust alloy to meet the most exacting requirements for stability and precision. The regulations specify a minimum weight of 9.5 kilograms at the front and 10 kilograms on the rear axle.
And then, there was …
…the DTM Fan Talk with Gerhard Berger. On Saturday afternoon, the ITR chairman met with over 200 DTM fans in the ring°kino at the Nürburgring for a constructive exchange in a relaxed atmosphere. In the one-hour talk, Berger spoke about various topics including the spectacular DTM season finale at Hockenheim, the upcoming "SUPER GT x DTM Dream Race" at Fuji in November as well as the future of the race series.
Press release DTM
]]>