<![CDATA[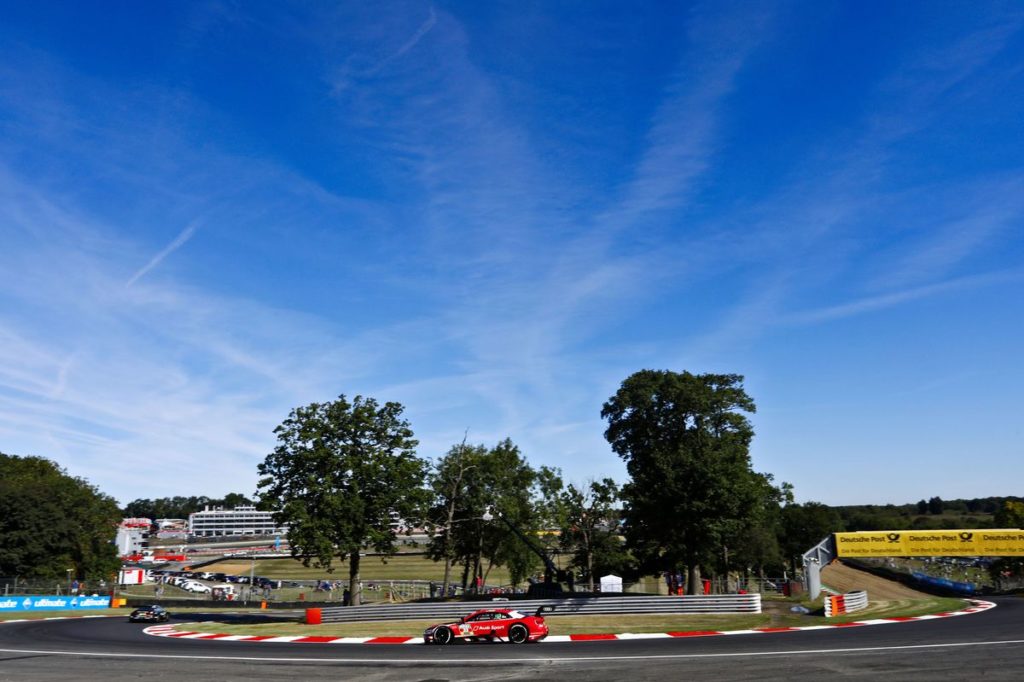 This weekend's round of the DTM is set to be the ultimate stress-test. Against the backdrop of the spectacular and unforgiving Brands Hatch Grand Prix circuit, the series compresses its entire weekend into just two days, on Saturday and Sunday. The compromise means that Friday's free practice sessions have been cancelled and the schedule compressed into Saturday and Sunday.
That leave DTM's 18 drivers with just a sole 45-minute practice session on Saturday morning – with qualifying following just one hour later. The 11th race of the season kicks off on Saturday at 13:30 local time (14:30 CEST), with the 12th event starting at the same time on Sunday.
Wittmann chases the leading Audi duo
For the drivers and teams of the three manufacturers Audi, BMW and Aston Martin, the weekend's program will take place over a tight 40 hours, leaving scarcely any room to move if a driver should put his car into one of the track's many unforgiving tyre walls.
Audi works driver René Rast (GER) leads the overall standings with 158 points, ahead of his brand colleague Nico Müller (136) from Switzerland. Müller is the only DTM driver to score points in every race this season. Marco Wittmann, who recently scored well in the previous round at Assen, Netherlands, with a win and a second place finish, is the best-placed BMW driver in third place (118 points) – closely followed by his brand colleague Philipp Eng (AUT), on 111 points .
Daniel Juncadella (ESP), who celebrated the first DTM victory of his career at Brands Hatch last year, has emerged as the most diligent point collector for newcomers R-Motorsport Aston Martin, taking home 15 of his 17 points from the last two rounds at Assen and Norisring.
Who will be the first W Series Champion?
While DTM's title fight remains open, the W Series will conclude in nail-biting fashion at Brands this weekend. The new women's single-seater series celebrates its big season finale in Brands Hatch with a classic head-to-head battle of championship leader Jamie Chadwick (GBR, 98 points) and Dutchwoman Beitzke Visser (85 points).
Other racing series in the supporting program include the Lotus Cup Europe and the MINI 7 & Miglia Challenge, both of which impress with fully packed grids of more than 30 starters. As an extra bonus for British fans, David Coulthard (GBR) will demonstrate Red Bull Racing's championship-winning RB7 Formula 1 car during Sunday's programme.
Joey Negro mans the decks
On Saturday night, British DJ, music producer and remixer Joey Negro takes to the wheels of steel for a DJ set of his classic disco-laced house grooves – free to all holders of a grandstand ticket valid on Saturday.
Tickets for the race weekend at Brands Hatch are available through the official DTM.com/tickets website and direct from BrandsHatch.co.uk.
Quotes – Brands Hatch
"I'm satisfied with the season so far. We've built on the strong second half of the season we had back in 2018, but, in order to achieve good results, everything must always fit together – and that doesn't always depend on your own performance. We've looked very strong in the races so far, but we can improve in the qualifying sessions. This will be a special focus for the rest of the season. If we succeed, anything is possible. But we should not forget to enjoy the whole thing. It's just fun to drive the new DTM cars and the races are spectacular." – Nico Müller (Audi Sport Team Abt)
"Brands Hatch is characterized by many fast sectors, which usually makes overtaking difficult, because you cannot easily follow the cars in front. But we have already seen in Assen, where there were also a lot of fast corners, that you can get ahead with good overtaking manoeuvres and the right strategy. With this year's cars, which have significantly more engine power than in the past, tyrewear is higher, which may be why we see more overtakes because drivers are on different strategies. Everything is still possible in the title race. At the Norisring, I got almost no points, but in Assen I took home quite a lot. In the DTM, the situation changes from weekend to weekend – and we still have eight races to go." – Marco Wittmann (BMW Team RMG)
"I'm really looking forward to Brands Hatch. One year ago, I was able to claim my second pole position and my first victory in the DTM – so I have some great memories of this place. At the same time, I'll be driving for a British manufacturer on its home soil, which will make the race weekend a very special experience for me. The track is fantastic but technically very demanding. The most interesting places are the fast right-handers in the second sector. My goal is to keep working hard with the team to get 101 percent out of the existing package. If we can do that, we should be well prepared to get a good result." – Daniel Juncadella (R-Motorsport/Aston Martin)
Wow fact – Brands Hatch
1926
The Brands Hatch circuit is just a few years away from celebrating its 100th birthday. It all started back in 1926 with a motorcycle race – in a field that used to be a mushroom farm.
And then there are…
… the three British 'local heroes' at Brands Hatch. Audi sends veteran Jamie Green into the race, while R-Motorsport/Aston Martin has two Britons in its ranks: DTM rookie Jake Dennis and ex-champion Paul Di Resta, who has won three times at Brands. In 2009 and '10, the Scot won races on the 1.929km Indy Circuit, and last year he triumphed in the Sunday race on the longer GP Circuit.
Press release DTM
]]>