<![CDATA[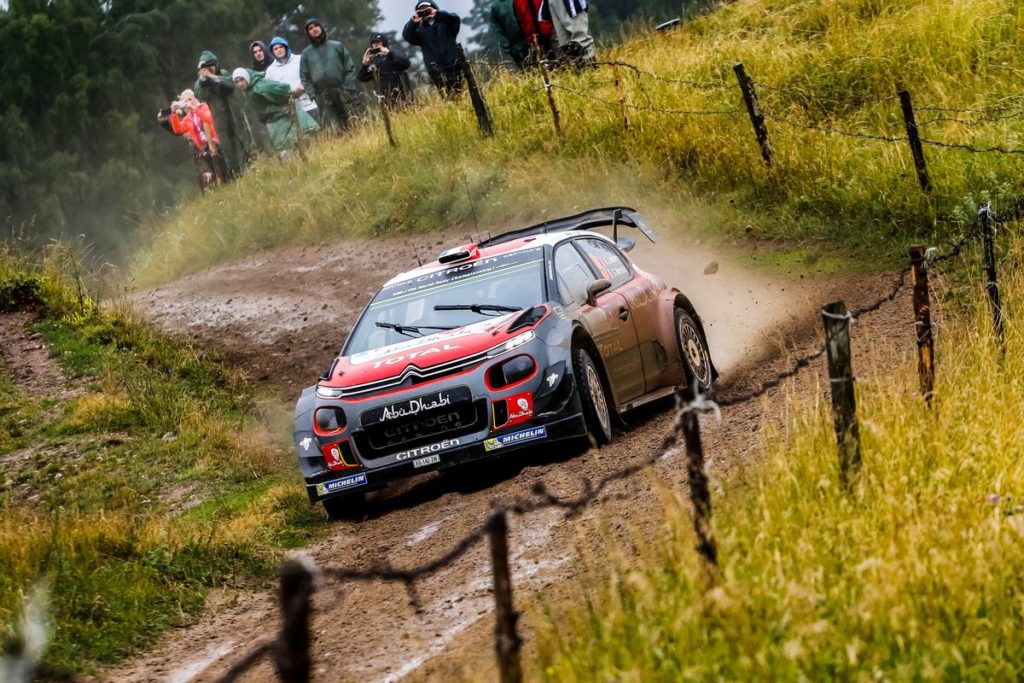 Stéphane Lefebvre and Gabin Moreau finished fifth overall at Rally Poland, securing the best result of the Citroën Total Abu Dhabi WRT at the event. The team's three cars all made it to the end of the rally, with Andreas Mikkelsen/Anders Jæger taking ninth place and Craig Breen/Scott Martin finishing eleventh.
The third and final leg was made up of two stages, each contested twice with no service period. Following yesterday evening's showers, rain fell again this morning as the cars left service, suggesting that the crews would be faced with particularly difficult conditions.
Sure enough, the Citroën drivers were all in agreement at the end of Orzysz: the road was so slippery it was impossible to push with total confidence.
The first pass on Paprotki threw up all sorts of drama. As he pushed hard, Mikkelsen overran at a corner after braking late and lost tenth place to Hänninen. Meanwhile, Stéphane Lefebvre was third fastest on the stage despite clipping a fence and driving part of the stage with wooden post wedged in his car's radiator grille, having been distracted by tools left under his feet!
Following the retirement of Tanak – who crashed on Paprotki – the Citroën drivers all gained a place on Orzysz 2. Third fastest on SS22, Andreas Mikkelsen closed to within 4s of Hänninen.
The final positions would therefore be decided on the Power Stage. Over the stage's 18.68km, Andreas Mikkselsen beat his fellow Scandinavian by 14.2s and therefore claimed ninth place overall. Stéphane Lefebvre also set a good time, finishing 1s behind his team-mate. He gained another place when Suninen lost time in running wide and finished fifth in the end, equalling his best result in the WRC (2016 Monte-Carlo).
After dropping down the field with a mechanical issue on Friday morning, Craig Breen completed a strong comeback to finish in eleventh place. Despite being first on the road for the third leg, the Irishman gathered some invaluable experience for the next few rallies.
With three cars making it the end without needing to use Rally2 rules, the technical team were delighted to have collected as much data as possible on such a specific event. Work will continue in preparation for Rally Finland (27-30 July), where three C3 WRCs will be entered for Kris Meeke, Craig Breen and Khalid Al Qassimi. For the ADAC Rallye Deutschland (17-20 August), the drivers will be Kris Meeke, Andreas Mikkelsen and Craig Breen.
QUOTE, UNQUOTE
Yves Matton, Citroën Racing Team Principal: "We had defined this rally as the start of a new phase in our season. The upgrades made to the Citroën C3 WRC were clearly beneficial, even if the weather didn't enable us to show that all the time. With three cars that have completed the entire rally in normal racing conditions, the engineers will now be able to analyse all the data and continue with the development of the car. I'm also very pleased to see Stéphane Lefebvre claim his first top-five finish with the Citroën C3 WRC. It serves as confirmation of his potential, given his continuing limited experience at this level. Well done to the entire team for their commitment throughout the weekend."
Stéphane Lefebvre: "It's a morale-boosting result for everyone after such a difficult start to the season. I'd like to thank the team, who have never stopped supporting me, and my engineer, who helped me to put together the best rally of my career so far. Whenever there was enough grip, I felt sufficiently confident to push. I won't be competing in the next two rallies, but I can head off on holiday in good spirits!"
Andreas Mikkelsen: "The stages were more enjoyable on the second pass, because the grip was better. We pushed and I'm pleased to finish the rally like this, with a good time on the Power Stage. I'm looking forward to testing the C3 WRC on tarmac in preparation for Rally Deutschland."
Craig Breen: "This weekend has been one of the most difficult of my career and I'm just glad to make it to the end. We all worked hard to improve the car, but I never managed to feel really confident. We're going to do some testing before Finland, so that will help me to prepare well for the rally where I scored my first podium last year."
FINAL PROVISIONAL STANDINGS
1. Neuville / Gilsoul (Hyundai i20 WRC) 2:40:46.1 2. Paddon / Kennard (Hyundai i20 WRC) +1:23.9 3. Ogier / Ingrassia (Ford Fiesta WRC) +2:20.8 3. Sordo / Marti (Hyundai i20 WRC) +2:47.4 5. Lefebvre / Moreau (Citroën C3 WRC) +3:11.8 6. Suninen / Markkula (Ford Fiesta WRC) +3:16.8 7. Østberg / Floene (Ford Fiesta WRC) +3:39.6 8. Evans / Barritt (Ford Fiesta WRC) +4:39.1 9. Mikkelsen / Jaeger (Citroën C3 WRC) +4:43.5 10. Hänninen / Lindstrom (Toyota Yaris WRC) +4:53.7 11. Breen / Martin (Citroën C3 WRC) +11:56.5
DRIVERS' WORLD CHAMPIONSHIP
1. Sébastien Ogier – 160 points 2. Thierry Neuville – 149 points 3. Jari-Matti Latvala – 112 points 4. Ott Tanak – 108 points 5. Dani Sordo – 82 points 6. Elfyn Evans – 57 points 7. Hayden Paddon – 51 points 8. CRAIG BREEN – 43 points 9. Juho Hanninen – 30 points 10. KRIS MEEKE – 27 points 11. STEPHANE LEFEBVRE – 22 points 12. ANDREAS MIKKELSEN – 21 points 13. Mads Ostberg – 18 points 14. Esapekka Lappi  – 17 points 15. Teemu Suninen – 13 points
MANUFACTURERS' WORLD CHAMPIONSHIP
1. M-Sport WRT – 259 points 2. Hyundai Motorsport – 237 points 3. Toyota Gazoo Racing WRT – 156 points 4. Citroën Total Abu Dhabi WRT – 121 points
Press release Citroën Racing
]]>