<![CDATA[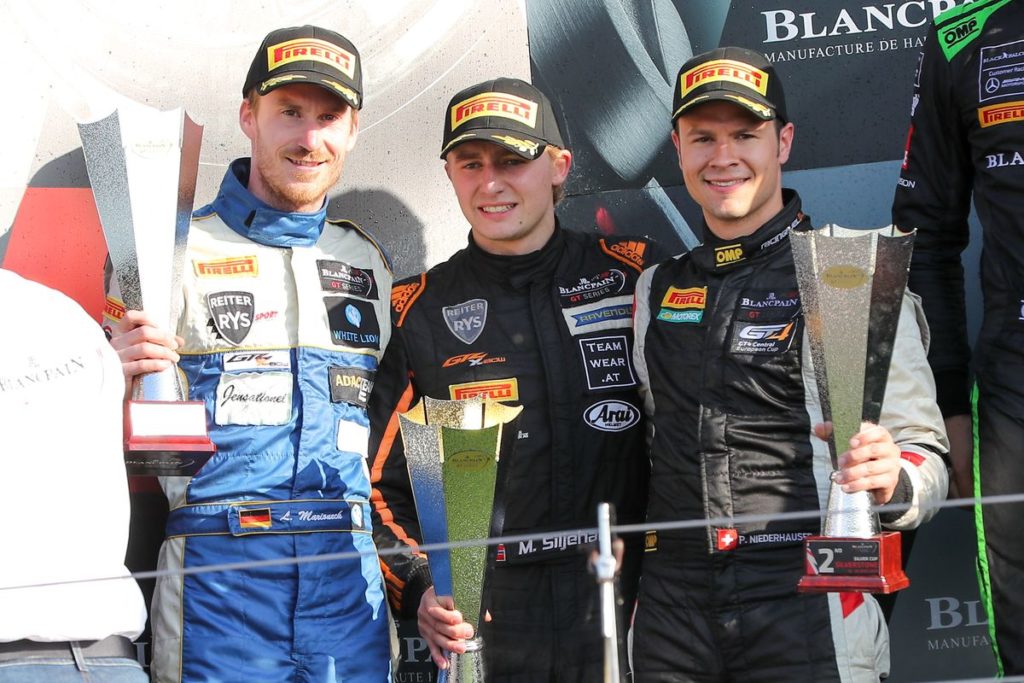 With hardly any time to take a break and yet highly successful, Swiss driver Patric Niederhauser was busy this weekend, racing in the Blancpain Endurance Series at Silverstone, the Home of British Motorsport. Along with team-mates Mads Siljehaug and Lenny Marioneck, the Reiter Young Stars driver secured a respectable 23rd place in a highly competitive field of 50 GT3 cars. He kept a cool head in the closing stages, put in a great final stint and secured second place in the Silver Class. As a result, he and his teammates are now just eight points down in second place in this classification.
Patric will soon be heading off to Le Castellet for the next meeting in the Blancpain Endurance Series in just ten days' time (1st – 2nd June).
Patric, did you expect to do even better at Silverstone after your impressive debut in the Lamborghini Gallardo R-EX? Patric Niederhauser : « While I'm well aware of the class and sterling qualities of our team and my team-mates, we knew that the layout at Silverstone would not suit our car as much as Monza. We were, therefore, pleasantly surprised that we were able to fight for the lead in the Silver Class from the very first session and scrape into the Top Twenty in the overall standings. The world's best GT3 drivers compete in the Blancpain Endurance Series. The fact that we're able to keep up even on circuits that do not particularly suit our car hugely motivates everyone in the entire team. »
How did the weekend go from your perspective? Patric Niederhauser : « Conditions initially were not the best. The team had only one day testing before the start of the season, which makes the performance of everyone in the squad all the more impressive. My team-mates Mads and Lenny had the chance to get accustomed to the track during Bronze testing and then did quite well subsequently. We realised in practice that we would struggle a bit, especially on old tyres. We played around with setup a lot and managed to put a top-class car on the grid for qualifying. »
The times in qualifying were surprisingly close. That's not exactly what you would expect on a selective, challenging track like Silverstone… Patric Niederhauser : « That just goes to show once again how good the drivers are in this series. I qualified 19th in my session and missed P8 by just two tenths. The aggregate of our qualifying times put us in 26th place. Lenny was the first behind the wheel and gained a couple of places right at the start. Mads also drove a faultless race. However, the pit stops did not go so well. We still have to work on that, as we are well aware. »
You moved up several places. How did your stint go?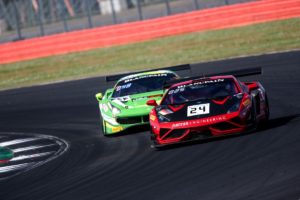 Patric Niederhauser : « It was a bit difficult initially, because I hit a lot of traffic as I joined the track. I was stuck behind a back-marker, who just would not let me pass for quite a time. As a result, the leading cars that were actually no faster in race trim backed up behind me, but I had to let them through, which cost me more time. Once I got a clear run, I posted competitive times and was the quickest in the team. In the end, I finally managed to gain a couple of places and secured second place in the Silver classification at the chequered flag. »
You had a thrilling battle with fellow Swiss driver Jeffrey Schmidt during your stint, did you not? Patric Niederhauser : « I had increased the gap on Jeffrey a little bit until just before the end, but then, another competitor spun onto the grass just ahead of me and emerged back on track right in front of my car. I had to avoid him and ran into the gravel, which cost me a lot of time, and Jeffrey was suddenly behind me. I did not want to take too many risks as things progressed and let him pass. I could certainly have defended my position but did not want to jeopardise our P2. »
You're back racing again in just under ten days' time at Le Castellet, France. How do you expect to do there? Patric Niederhauser : « We will probably not quite be able to repeat our performance from Monza in the Lamborghini but should do better overall than at Silverstone. There's a very long straight at Paul Ricard. We should have a particularly good showing there with our excellent top speed. Personally, I think the circuit is great and I'm sure that we can contend for victory in the Silver Cup off our own bat and make it into the Top 15 in the overall standings. »
Press release Patric Niederhauser
]]>