<![CDATA[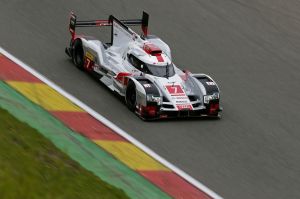 Audi managed the leap onto the second row of the grid in round two of the FIA World Endurance Championship (WEC). In qualifying at Spa (Belgium) the Audi R18 e-tron quattro car number '7' from Audi Sport Team Joest on its fastest lap was short 0.359 seconds of setting the best time.
 The squad's preparation for qualifying was short and intense. After heavy rain had interfered with the first two practice sessions on Thursday, there was only Friday's third free practice left for setting up the race cars for a dry track. André Lotterer set the best time in the afternoon session.
 In the evening's qualifying session, the 7.004-kilometer track remained dry and car number '7' was again the best Audi. André Lotterer and Marcel Fässler shared driving duties in qualifying, jointly setting 1m 55.540s as the fourth-best time in the field. "I went out twice," Lotterer said. "In the second outing, I felt the tires were optimal." Marcel Fässler added: "I didn't find a perfect rhythm immediately, so it was also only my second lap that was okay. I believe we're pretty well prepared for the race."
 Lucas di Grassi and Loïc Duval in car number '8' qualified in fifth place, trailing their team-mates by one second. Following an accident in Thursday's practice in which they were not at fault, they lost a lot of time and valuable kilometers in practice due to extensive repair work. "We're not completely happy yet with the set-up. There's still some overnight work to do but we're hoping for a good race," said Duval.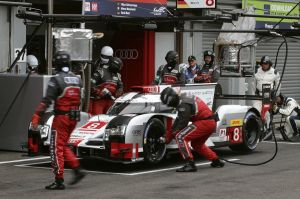 Both driver squads were running with the aerodynamics configuration for the Le Mans 24 Hours. Their team-mates, Filipe Albuquerque, Marco Bonanomi and René Rast, shared car number '9' with aerodynamics, unlike the Le Mans configuration, being designed for higher downforce. Albuquerque and Rast, who made his debut in Audi's LMP team, qualified in eighth position. "I'm expecting this aerodynamics version to help us reduce tire wear in the race so that we can drive very consistent lap times this way," Albuquerque said.
 For Head of Audi Motorsport Dr. Wolfgang Ullrich qualifying was dominated by a technical question: "For us, this weekend at Spa is about comparing the two aerodynamic versions. This is part of our intensive preparation for the Le Mans 24 Hours. It was good to see how close the front runners were in qualifying. We've worked out a solid starting base for a race that might be similarly thrilling as round one at Silverstone." The Spa 6 Hours will start on Saturday at 14.30 (CEST). Eurosport will be covering the final stage of the race on television from 18.30 to 20.45 (CEST).
 Qualifying results
 1 Bernhard/Hartley/Webber (Porsche) 1m 54.767s
2 Hülkenberg/Bamber/Tandy (Porsche) 1m 55.025s
3 Dumas/Jani/Lieb (Porsche) 1m 55.284s
4 Fässler/Lotterer/Tréluyer (Audi R18 e-tron quattro) 1m 55.540s
5 di Grassi/Duval/Jarvis (Audi R18 e-tron quattro) 1m 56.541s
6 Davidson/Buemi/Nakajima (Toyota) 1m 57.487s
7 Conway/Sarrazin/Wurz (Toyota) 1m 57.929s
8 Albuquerque/Bonanomi/Rast (Audi R18 e-tron quattro) 1m 58.000s
9 Trummer/Liuzzi/Klien (CLM-AER) 2m 07.286s
10 Rusinov/Canal/Bird (Ligier-Nissan) 2m 07.761s
Press release Audi Sport
]]>