<![CDATA[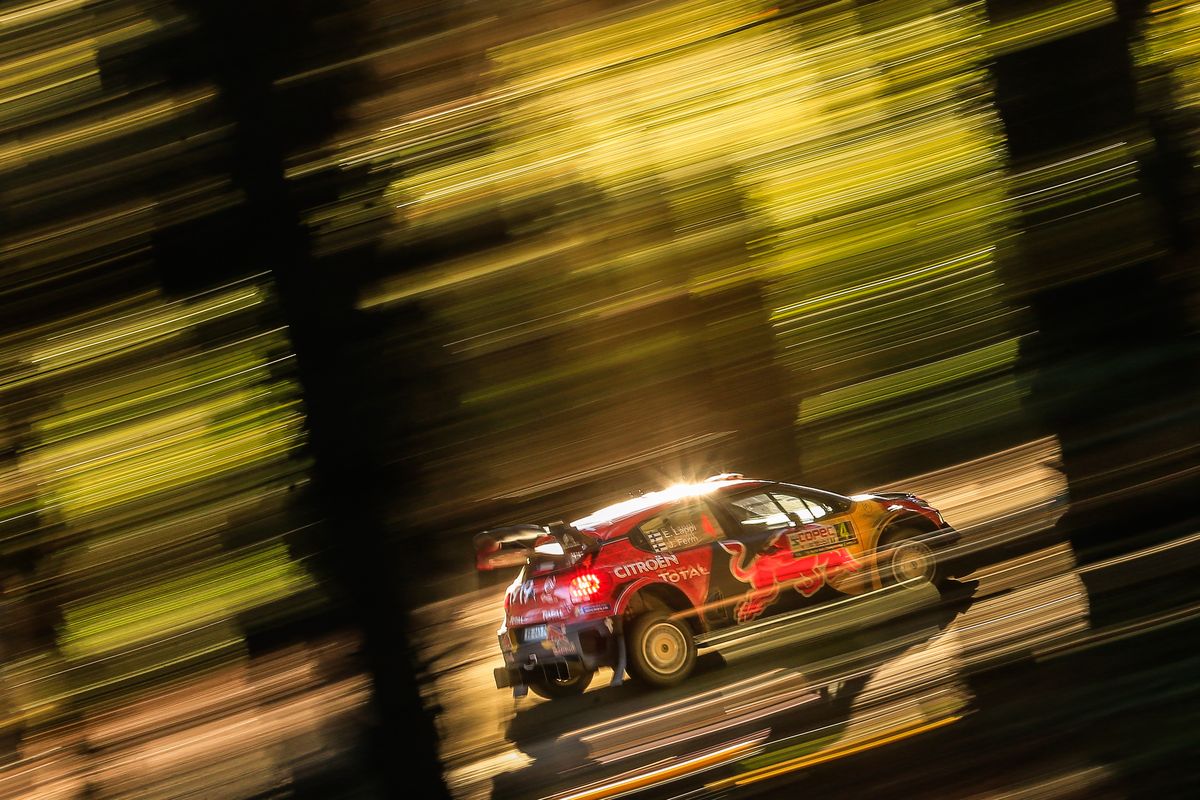 After a short tour of South America, the WRC returns to Europe for round seven where Citroën Total World Rally Team prepares to contest a rally that has a special feel for Sébastien Ogier – Julien Ingrassia and Esapekka Lappi – Janne Ferm, its two crews. Both pairs are very determined to do well there.
Rally de Portugal is inevitably something of a special event for Sébastien Ogier, Julien Ingrassia and Citroën Racing. It was here in 2010 that the six-time world champions claimed their maiden WRC win in a C4 WRC, entered at the time by the Citroën Junior Team. Having joined the Citroen team in 2008 in an accelerated training programme, they were in fact only halfway through what was just their second season in a WRC. Since their debut victory, they also prevailed at the 2011 rally with Citroën before adding another three wins (2013, 2014 and 2017) to their impressive record. All of which suggests that they will once again be a force to be reckoned with at this event, where the French team also has five wins to its name. Although finishing as solid runners-up in Chile, their fifth podium (including two wins in Monte-Carlo and Mexico) in six rounds this season, saw them retake the lead in the championship standings, it also means they will be first on the road on Friday's leg in Portugal, sweeping clear the thin layer of loose gravel on the road surface for their rivals further down the running order. It is a task that the crew have had to deal with many times in the past, and one at which they have proven to be amazingly talented.
This rally is also special for Esapekka Lappi and Janne Ferm. Portugal is where the Finnish duo made their début in a WRC in 2017. It also proved to be a successful first outing. Last year, they did even better, finishing in a promising fifth place overall. They also claimed two stage wins, including the invariably fiercely contested Power Stage, an indicator of their level of competitiveness. This round therefore seems ideally set up for them to continue building their speed in the C3 WRC, especially as running seventh on the road means that – provided the weather stays dry – they should have lines to follow and a level of grip on which they can feel confident from the word go.
To prepare for this event and the next round, Rally Italia Sardegna, as effectively as possible, the Citroën Total World Rally Team headed to Sardinia for two productive days of testing. The two days focused on improving performance when tackling new roads in low-grip conditions, the kind of conditions encountered on the first pass on a stage during a rally.
REACTIONS FROM…
Pierre Budar, Citroën Racing Team Principal : "With the WRC returning to Europe for what you might call a more conventional gravel event, our sole aim is to continue to fight hard for the championship and to try and finish on the podium for the seventh time in as many races this year. The championship is undoubtedly increasingly competitive, but we are determined to give it absolutely everything. Every member of the Satory technical team used the time available to work relentlessly with our crews on the C3 WRC. Obviously, with the unenviable task of running first on the road, Sébastien and Julien won't have it easy, but they have already proven in the past that they are capable of achieving extraordinary things here, at a rally that they really love. As regards Esapekka and Janne, they now head into a series of events that they know better and I have no doubt about their ability to pick off where they left off at the end of Rally Chile and keep improving. If the weather stays fine and dry, their position in the running order will give them the opportunity to make a perfect start to their race."

Sébastien Ogier, Citroën Total WRT driver : "We had a good day of testing and now we need to take that into competitive conditions. In any case, Portugal is a rally that I have always liked. I've done well here in the past, so it's really enjoyable to come back, even though I'm well aware that leading the championship again isn't going to make life easier for us this year. If we are to have a chance of scoring heavily here, we'll need to manage running first on the road as best we can on Friday's new and fairly short opening leg, to end the day as high up the standings as possible. On gravel, it's crucial in order for the rest of weekend to go well."
Number of appearances at the event: 10
Number of wins: 5 (2010, 2011, 2013, 2014 and 2017)
Esapekka Lappi, Citroën Total WRT driver : "Although the first leg is new, the rest of the rally is contested on roads that I like and know, where we can push. It's also one of the rallies where I have more experience. Last year, we were pretty quick on both Saturday and Sunday. I hope that the weather will stay dry, so I can make the most of my seventh position in the running order. That way, we can build on the good feeling we had at the end of Rally Chile and gradually keep upping the pace."
Number of appearances at the event: 4
Best result: 5th (2018)
KEY FIGURES
20 timed stages covering a total of 306.97 km 5 overall wins secured by Citroën at Rally de Portugal in the WRC: 3 with C4 WRC (2007, 2009 and 2010), 2 with DS3 WRC (2011 and 2016), Sébastien Ogier and Julien Ingrassia having already won the 2010 and 2011 rallies with Citroën. 40 metres is approximately the length reached by the cars over the famous Fafe jump. 2001 the last year that the rally ventured into the Arganil region, located halfway between Porto, the base of the rally, and Lisbon, the capital.
RALLY DE PORTUGAL SCHEDULE (GMT+1)
Following the ceremonial start, this year moved from Guimaraes to Coimbra, the first leg sees the return of stages held in the Arganil region, which have not featured in the rally since 2001. They are therefore effectively new for the entire current generation of crews.
Previously, these roads were very rough and highly likely to break up on the second pass. However, this opening leg may not be quite so hard on the cars this year. Whilst the leg is fairly short (competitive distance of 94.50km), it's main difficulty may stem from the lack of a traditional mid-leg service, with just a tyre changing zone available between morning and afternoon loops.
Although only four kilometres (on Vieira do Minho) have changed compared with 2018 in the rest of the itinerary, huge challenges still lie ahead. Saturday's leg looks particularly difficult with a competitive distance of 160.70km, including two runs on Amarante (37.60km), the longest stage of the weekend. Length will not be the only factor, of course. The local stages are fairly dusty and sandy, and are known to change quite dramatically between loops. The technical teams will therefore have to adapt the set-up accordingly, or even mix up tyre selection in the afternoon, to counter the combined effects of the ground breaking up and rising temperatures.
Always hugely popular with local fans, the Fafe stage will be held twice on Sunday, the second run serving as the event-concluding Power Stage, and remains one of the highlights of the WRC season.
THURSDAY 30 MAY
8.00am: Shakedown Paredes (4,60 km)
7.00pm: Ceremonial start (Coimbra)
7.10pm: Parc ferme
FRIDAY 31 MAY
8.30am: Start (Coimbra)
8.35am: Tyre fitting zone (Coimbra – 15 mins)
9.48am: SS 1 – Lousa 1 (12,35 km)
10.32am: SS 2 – Gois 1 (18,78 km)
11.20am: SS 3 – Arganil 1 (14,44 km)
12.33pm: Tyre fitting zone (Arganil – 15mins)
1.51pm: SS 4 – Lousa 2 (12,35 km)
2.35pm: SS 5 – Gois 2 (18,78 km)
3.23pm: SS 6 – Arganil 2 (14,44 km)
7.03pm: SS 7 – Lousada (3,36 km)
8.10pm: Flexi service A (Exponor – 49 mins)
SATURDAY 1ST JUNE
6.45am: Start & service B (Exponor – 19 mins)
8.38am: SS 8 – Vieira do Minho 1 (20,53 km)
9.31am: SS 9 – Cabeceiras de Basto 1 (22,22 km)
10.47am: SS 10 – Amarante 1 (37,60 km)
12.50pm: Service C (Exponor – 44 mins)
3.08pm: SS 11 – Vieira do Minho 2 (20,53 km)
4.01pm: SS 12 – Cabeceiras de Basto 2 (22,22 km)
5.17pm: SS 13 – Amarante 2 (37,60 km)
7.15pm: Flexi service D (Exponor – 49 mins)
SUNDAY 2 JUNE
6.50am: Service E (Exponor – 19 mins)
8.25am: SS 16 – Montim 1 (8,76 km)
9.08am: SS 17 – Fafe 1 (11,18 km)
9.48am: SS 18 – Luilhas (11,89 km)
10.35am: SS 19 – Montim 2 (8,76 km)
12.18pm: SS 20 – Fafe 2 Power Stage (11,18 km)
1.50pm: Service F (Exponor – 14 mins)
2.20pm: Finish (Matosinhos)
Press release Citroën Racing
]]>