<![CDATA[
André Heimgartner has finished today's main-driver qualifying race for the Sandown 500 in second position after an outstanding performance by the whole Plus Fitness Racing squad. André put the car in P3 during qualifying in mixed conditions and from there co-driver Bryce Fullwood was able to bring it home in one piece in the 20 lap co-driver race for André to give it a crack in the main-driver qualifying race.
The Plus Fitness Racing driver started in fourth and capitalised on the car #7 and car #99 clash at the first corner to sneak into second spot. From there it was all about managing the wet tyre and making it last until the end in the drying conditions but it was ultimately a comfortable podium and career best Supercars race finish for André.
Simona De Silvestro made the most of the damp conditions in this afternoon's race, powering through the field in the opening laps. The Team Harvey Norman driver picked up seven places to come home in twelfth.
Rick Kelly had a tough day in the Castrol Racing car, struggling with the conditions mixed in qualifying. Co-driver Dale Wood was able to make up a few places in his race, however a gamble on slick tyres for Rick's race didn't pay off and Rick slid back down the order. He'll start tomorrow's Sandown 500 in seventeenth.
A similar gamble on slick tyres pushed Garry Jacobson down the field in his race, however a career-best qualifying result of fifth earlier in the day shows the potential for a strong result in Sunday's big race.
QUOTES
Andre Heimgartner, Plus Fitness Racing #7 : « There were a couple of times during that crazy co-driver race where I didn't quite think I'd be starting from the second row for that final qualifying race! Bryce had us all on the edge of our seat but it was good he gathered it up and kept his cool, in those situations it's easy to fall down a slippery slope but I'm happy with how he did. Obviously extremely happy to finish second in my race today after starting fourth, the conditions were very tricky but I think I drove a pretty calm and collected race, took advantage of a couple of other car's incidents at the start and just looked after the wet tyres as the track started to dry out. Both myself and Bryce are now just looking forward to starting tomorrow's race from the front row and hopefully we can finally get a decent Enduro Cup result after it's slipped away from us the last couple of rounds. »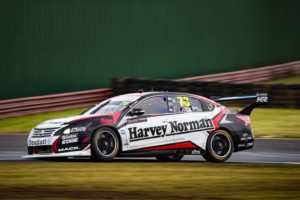 Simona De Silvestro, Team Harvey Norman #78 : « Today was good, it was a bit of a gamble with what tyres we would be on, we just decided to do the opposite of everyone around us and that was the right call for us so pretty happy about that. We had pretty good pace these conditions, which we usually do. For myself and Alex it is pretty boosting going like that because I know we can do something. Pretty happy about it, we start in 12 tomorrow, I think we should be pretty good, it is going to be a long race so I'm sure, hopefully, maybe some mixed conditions and we'll be alright. »
Rick Kelly, Castrol Racing #15 : « Our day started to unravel in Qualifying, we had a pretty reasonable practice but in qualifying we just weren't on the right track at the right time and not on the right tyre unfortunately. So we started a little bit further back and when you start a little bit further back you make riskier choices I suppose with tyres. We decided to try and make up some ground there, based off our experience the track has dried really quick every time, but this time it didn't dry at all. So if we were racing now it would have been fine but unfortunately half an hour ago it ended up being the wrong decision for us. We only lost three spots out of it so we just have to fight even harder tomorrow. »
Garry Jacobson, Rabble.club Racing #3 : « To achieve fifth in qualifying today in pretty normal conditions showed genuine car speed which was a massive plus for the car 3 squad. We've been working really hard behind the scenes to see what I need to do in order to get a decent lap out of the car in qualifying and it's clearly paid off with that result which is a big thing for me. Unfortunately the races just didn't go our way. Dean got a bit beaten up today which is the first time that's happened in the Enduros this year, he's done a stellar job all year so far. There wasn't a lot he could do, he just got beaten up out there. Then we decided to take a gamble on slick tyres for the last main-driver race which didn't pay off, the track never dried enough that we could hook up and move up the field. We'll see what tomorrow brings, anything can happen with the weather here. »
Press release Kelly Racing
]]>