<![CDATA[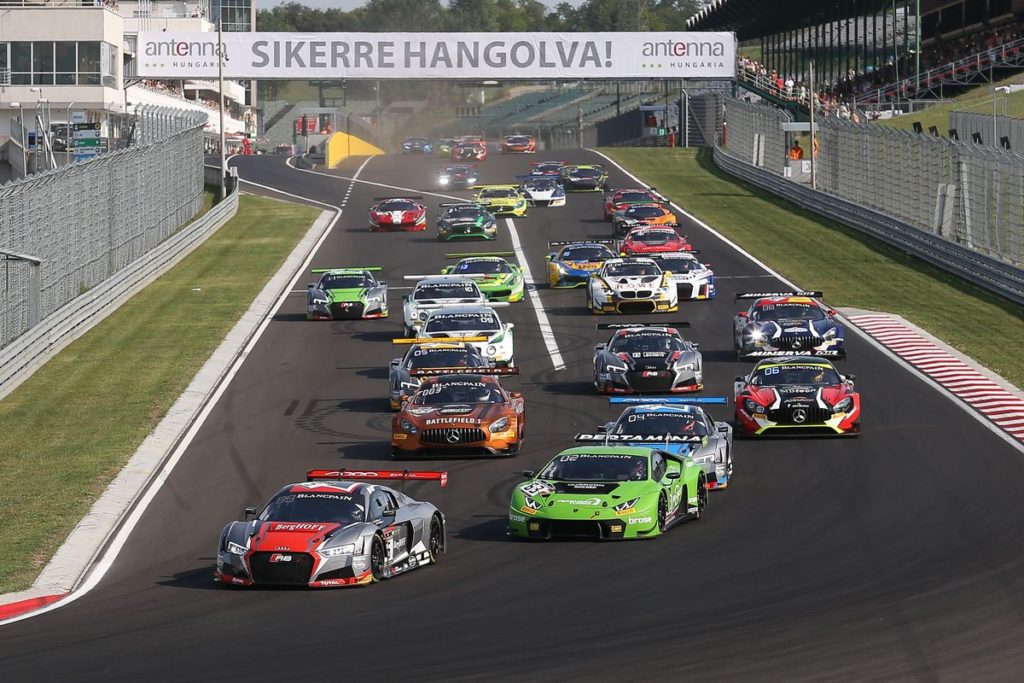 Audi delivered a dominant display during Saturday's Qualifying Race of the Blancpain GT Series Sprint Cup in Budapest, as Dries Vanthoor and Marcel Fässler took the #5 Belgian Audi Club Team WRT machine to victory.
Their performance capped another perfect day for them at the Hungaroring, which plays host to the fourth and penultimate round of the Sprint Cup, after the #5 R8 LMS claimed pole position, having also topped both practice sessions on Friday.
The #333 Rinaldi Racing Ferrari 488 GT3 of Daniel Keilwitz and Alexander Mattschull claimed the Pro-Am honours after the latter overtook the #87 AKKA ASP Mercedes-AMG GT3 in the second half of the hour-long Qualifying Race.
The Silver Cup victory went to Fabian Schiller and Jules Szymkowiak, who picked up an important class win to extend their points lead aboard the #85 HTP Motorsport Mercedes AMG-GT3. David Perel and Stephen Earle's back-to-back Budapest victory ensured the #888 Kessel Racing Ferrari 458 Italia GT3 took the Am Cup title with one round to spare.
Lining up on pole, Vanthoor enjoyed a strong getaway and led the 30-car field into the first corner as the lights turned green at the Hungarian Grand Prix venue. His WRT team-mate Jake Dennis, who had started from fourth in the #3 Audi, immediately moved up into the top three after edging past Maxi Buhk's #84 Mercedes-AMG Team HTP Motorsport car. The German even slipped down to fifth behind a charging Robin Frijns in the #17 Team WRT Audi.
Right behind, Pro-Am pole sitter Jules Gounon (#87 Mercedes) was under tremendous pressure from Christopher Mies' #1 WRT-entered Audi. The 2017 Total 24 Hours of Spa winner had to defend hard, which resulted in a loss of momentum for Mies who fell prey to an opportunistic Andy Soucek in the #8 Bentley Team M-Sport Continental GT3.
Race leader Vanthoor kept pounding and managed to open a comfortable gap of over four seconds ahead of the mandatory pit stop window. As soon as it opened, fifth-placed Buhk came in and handed over the wheel to team-mate Franck Perera, while other front-running cars elected to stay out longer. HTP's strategy paid off, as the #84 climbed back to fourth, with Perera soon hounding Pieter Schothorst in the #3 Audi ahead of him.
Elsewhere, there was a titanic scrap for the Pro-Am bragging rights, as Rinaldi Racing's Alexander Mattschull closed in on Gounon's crew-mate Jean-Luc Beaubelique. The Frenchman held his German rival off for a couple of laps until the #333 Ferrari muscled its way past at Turn 3.
Up front, quick service on the #63 Lamborghini from the GRT Grasser Racing Team crew enabled Christian Engelhart to head back on track just over two seconds behind Marcel Fässler and the #5 Audi. The Swiss ace held his ground all the way to the chequered flag to collect his and Vanthoor's maiden win of the season. Schothorst showed the same resilience against Perera to make it two WRT cars on the podium at the Hungaroring.
Having launched their efforts from 21st on the grid, HTP Motorsport's Fabian Schiller and Jules Szymkowiak steadily worked their way up through the field to secure another Silver Cup win with the #85 Mercedes.
In the Am Cup, David Perel and Blancpain GT Sports Club Iron Cup title contender Stephen Earle drove a strong, mistake-free race aboard the #888 Ferrari 458 Italia to clinch the Sprint Cup title in their category.
Dries Vanthoor, #5 Belgian Audi Club Team WRT Audi R8 LMS: "The car was great and every lap a pleasure to drive. I hope we can keep the momentum going for Sunday. That said, every start is different and anything can happen. We are not fighting for the championship so we won't ruin anybody's race." Marcel Fässler, #5 Belgian Audi Club Team WRT Audi R8 LMS: "Dries [Vanthoor] was on new tyres and I wasn't, so I knew he could go a bit faster at the beginning. I saw Christian [Engelhart] was closing the gap but it's another thing to overtake. I'd like to thank the entire WRT team. It had not been the easiest season for us until this weekend so I am delighted with the result and we're looking forward to the Main Race on Sunday."

Mirko Bortolotti, #63 GRT Grasser Racing Team Lamborghini Huracan GT3: "At the start we had the dirty line for the first corner and Dries [Vanthoor] managed to defend his lead. Our crew did a really good job during the pit stop and Christian followed this up with a strong finish. Taking these points was really important for us and we have a good starting position for Sunday as well. Our main goal is to be at the top of the championship." Christian Engelhart, #63 GRT Grasser Racing Team Lamborghini Huracan GT3: "I'd like to extend my thanks to the GRT guys as well. The stop was really good. I tried to push and go as fast as I could during my stint. I managed to close up the gap a little bit and thought there was a chance but it was always going to be tough to catch the Audi."

Jake Dennis, #3 Team WRT Audi R8 LMS: "Budapest is known to be a really difficult track to overtake. The pace was very strong, I think that with [Maxi] Buhk, we were a bit faster than [Mirko] Bortolotti at the start but then he soon picked up his pace. Still, we are really happy to get our first podium of the season." Pieter Schothorst, #3 Team WRT Audi R8 LMS: "It was a lot of pressure having Franck [Perera] behind me but I kind of enjoyed it. He did a good job, was very fast and made my life difficult but I am happy we managed to bring it home."

Daniel Keilwitz, #333 Rinaldi Racing Ferrari 488 GT3: « We didn't manage to get Qualifying right, we were starting from further behind than what we had expected. But the race in itself was good even if it's hard to overtake here. By winning the Pro-Am category, we have reached your goal." Alexander Matschull, #333 Rinaldi Racing Ferrari 488 GT3: "Our aim is the Pro-Am title and I was trying not to make any mistakes. To stay out of trouble is a real challenge for me as an Am driver while others are pushing hard but fair around me."

Fabian Schiller, #85 HTP Motorsport Mercedes-AMG GT3: "It was a bit tricky. Being first in the Silver Cup is good but this is not why we came here for. The previous races, we had a really good pace. The problem was in Qualifying so we need to work on this. There is much more potential." Jules Szymkoviak, #85 HTP Motorsport Mercedes-AMG GT3: "To be honest, the pace was good and it was a lot of fun to drive the car. I was able to push every single lap. At Brands Hatch we recovered from P17 to P4 and from my point of view, I am not aiming for a top-10 result on Sunday, I think we can do even better."

David Perel, #888 Kessel Racing Ferrari 458 Italia GT3: "It was a good race, the start was really fun and I managed to gain a few places. It was fun and we just had to bring it home. My team-mate Stephen [Earle] decided that one race was not enough in a day so he went to do Blancpain GT Sports Club right after! I was impressed by him."
Vanthoor and Fässler's Qualifying Race win means the #5 Audi will line up on pole position for Sunday's main contest, which gets under way at 14:20, local time. You can enjoy live coverage of the event on the official Blancpain GT Series website and Facebook page, as well as on SRO Motorsports Group's GT World YouTube channel.
Press release Blanpain GT Series
]]>