<![CDATA[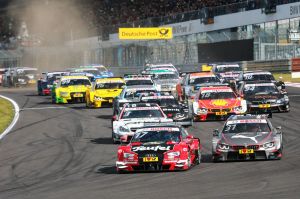 Fans at the Nürburgring, where 69,000 spectators attended the event over the weekend, were treated to exceptionally good touring car racing: with entertaining position fights and closely-fought door-to-door duels, there were entertaining battles for the best positions and valuable points for the drivers' standings in the 16th DTM race of the season. Miguel Molina only had little to do with all that: with a faultless drive, the Audi driver had his name written on the winners' list at the Nürburgring and also scored his first major achievement in his 67th DTM race. Having started from pole position, the Spaniard scored a dominant and undisputed win in the 43 laps long DTM race on Sunday. "I have been waiting for a long time for my maiden win and now, we finally made it. Today is my day," the jubilant winner said after the finish. Mercedes-Benz driver Paul Di Resta finished second in the Eifel, 7.5 seconds down. For the 2010 DTM champion, this was his best result of the season so far. BMW's Bruno Spengler rounded out the Nürburgring podium by finishing third.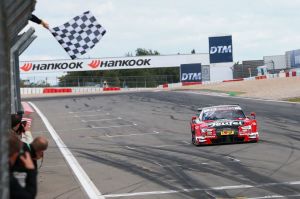 Behind fourth-placed Tom Blomqvist, Pascal Wehrlein finished fifth to extend his lead in the DTM drivers' standings. His direct rivals in the battle for the championship crown, Edoardo Mortara and Mattias Ekström, didn't score any points on Sunday. Ekström finished eleventh, Mortara retired after a collision with Timo Glock on lap 28.
Prior to the two final races of the season at Hockenheim, the battle for the title remains open. Pascal Wehrlein's fifth place at the Nürburgring wasn't quite enough to wrap up the title early, but he has the champion's trophy within reach. The 20-year-old is heading home from the Eifel with 165 points. Prior to the DTM finale, where there are still 50 points at stake, Edoardo Mortara (128 points) is 37 points down. Mattias Ekström is third with 127 points from Bruno Spengler (119 points). The DTM finale with season races 17 and 18 will be held at the Hockenheimring Baden-Württemberg, October 16-18.
Quotes
Edoardo Mortara : "A weekend with highs and lows. On Saturday, I was the best Audi driver in qualifying and in position two made up ground in the Championship. I enjoyed the race, had many nice duels and lots of fun. On Sunday, it was unfortunately the exact opposite with a poor qualifying session and retirement following an attack by the competition which, in my view, was unnecessary and punished accordingly. Obviously, looking at the table isn't a real pleasure. But on the other hand, we also saw at the Nürburgring how quickly the tables can turn. So why not again at Hockenheim?"

Nico Müller : "First of all, huge congratulations to Miguel (Molina). The first victory in a series is always special. I'm happy for him. Unfortunately, my weekend wasn't so good. The best thing I can say about it is the fact that, following my two most recent retirements, I finally finished twice. But it was a far cry from the positions I'd be wishing for. In contrast to my previous starts, I didn't do a good job of moving off the grid at all. Obviously, that doesn't help when you start the race from position 21. Afterwards, my pace was good, and so was the strategy. I was in position 13 when Christian Vietoris forced me off track which cost me four or five positions. That I ultimately recovered to position 16 doesn't really diminish my disappointment."
Press release DTM & Audi
]]>