<![CDATA[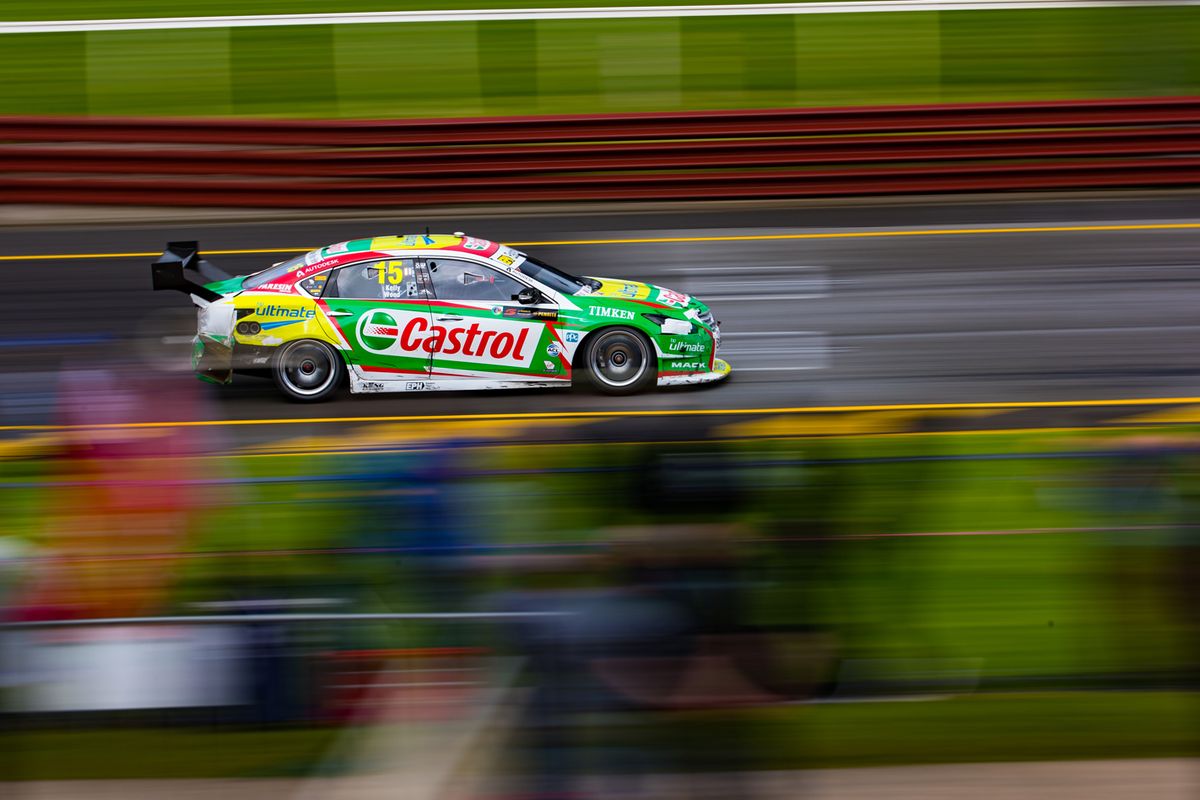 Rick Kelly has today made his 550th Supercars race start at the Sandown 500. He is now only the fifth driver ever to reach the milestone, however the 36 year-old former Bathurst-winner and V8 Supercars champion almost didn't even drive in today's Sandown 500.
Co-driver Dale Wood started today's big race however contact with Luke Youlden in the first stint sent both cars into the fence at high speed. The damage to the #15 Castrol Racing entry was significant enough to bring out the safety car, however Dale was able to limp the car back to the pits for repairs.
The majority of the driver's side suspension and steering assembly had to be replaced in the pits along with the rear wing and brake lines. The team patched up the body work with tape and got the car back on track with Rick in the driver's seat after spending around thirty laps of the 161 lap race in the garage. Thanks to the massive effort by the team, Rick and Dale were able to complete the race in twenty-second spot.
André Heimgartner and Bryce Fullwood started the race from the front row of the grid however a fifteen-second time penalty for speeding in pit lane meant the pair were at the back of the grid as André jumped into the car. André did a fantastic job to salvage eighth place for the Plus Fitness crew after running as low as eighteenth.
Simona De Silvestro and Alex Rullo started twelfth and young gun Alex got a great start in the Team Harvey Norman car and was running as high as eighth during his first two stints. Unfortunately the setup wasn't suited to Simona when she hopped in the hot seat and she struggled to maintain position.
Garry Jacobson had good car speed in this afternoon's race but it just wasn't his day with mechanical failures ultimately ending his race early. He came into the garage three laps into his first stint with a bent steering arm from light contact with another car and re-joined the race a few laps down. He was later forced to retire with a suspension upright failure.
The team now turns its focus to the final round of the Supercars season at the Newcastle 500 where Kelly Racing will compete as a four car Nissan Altima squad for the last time before it switches to two Ford Mustangs for 2020.
QUOTES
Andre Heimgartner, Plus Fitness Racing #7 : « It's pretty disappointing at the end of the day but there are lots of positives to take away from the weekend, car speed was there all weekend, we qualified really well and came second in the short race yesterday which set us up for a good result today but unfortunately things just didn't go our way. Unfortunately the fifteen-second penalty hurt us a bit, but the car was fast and I was able to move up through the field back into the top ten. But Bryce has done a great job for the whole Enduro Cup, he's fit right into the team and ticked a lot of boxes, he got a great start today against Lowndesy and held his own against some great drivers with a lot more experience than him. »
Simona De Silvestro, Team Harvey Norman #78 : « I think we had a really good position to start from today and Alex got an awesome start and did a really good first two stints in the Harvey Norman car. He was right in the mix there in the top ten with Caruso and a few other guys with a lot of experience and he was able to race with them. Then I got in the car and really struggled with it to be honest, especially on tyre life, I just didn't have the pace that I was expecting. I was tough out there but we got it right for the last stint so that's a positive which we can take with us to Newcastle. »
Rick Kelly, Castrol Racing #15 : « Obviously pretty disappointing that we didn't get a good result today but I leave Sandown satisfied in a lot of areas, one of them is the team work with the crew. Keeping car seven out there whilst trying to fix our car was managed very well and the whole crew put in a mega effort it get us back out there and to the finish. « It's also the end of the endurance season too which is sad because I've really enjoyed the last few rounds with Dale, he's done an exceptional job and it's just a bummer what happened out there on the track today, it was good, hard racing and unfortunately it didn't end well for us. But we got it fixed and back out there, even though it had different springs in every corner and it was held together with race tape, it was still a pretty fast car. We've still got some fresh tyres there on the rack to take with us to the final round in Newcastle and absolutely go as hard as we can. »
Garry Jacobson, Rabble.club Racing #3 : « I had pretty light contact with Kostecki about three laps into my first stint after Dean jumped out of the car which bent a front left steering arm. I came into the pits and we got it fixed up but I was three laps down by that point, still we had good speed, I wasn't far off the times that André was doing. Then for what ever reason we had a front right upright failure; it just wasn't our day for reliability – we've had a pretty faultless car all year so it's surprising but these things happen in racing. Overall I'm happy with the weekend, we qualified fifth which is by far the best result I've had and I'm starting to have pretty consistent top fifteen results which I'm happy with considering where we've come from, it shows the momentum we have going into the end of the season, I wish we had more than one round left, I feel like I'm showing some good solid progress to move forward next year. »
Press release Kelly Racing
]]>