<![CDATA[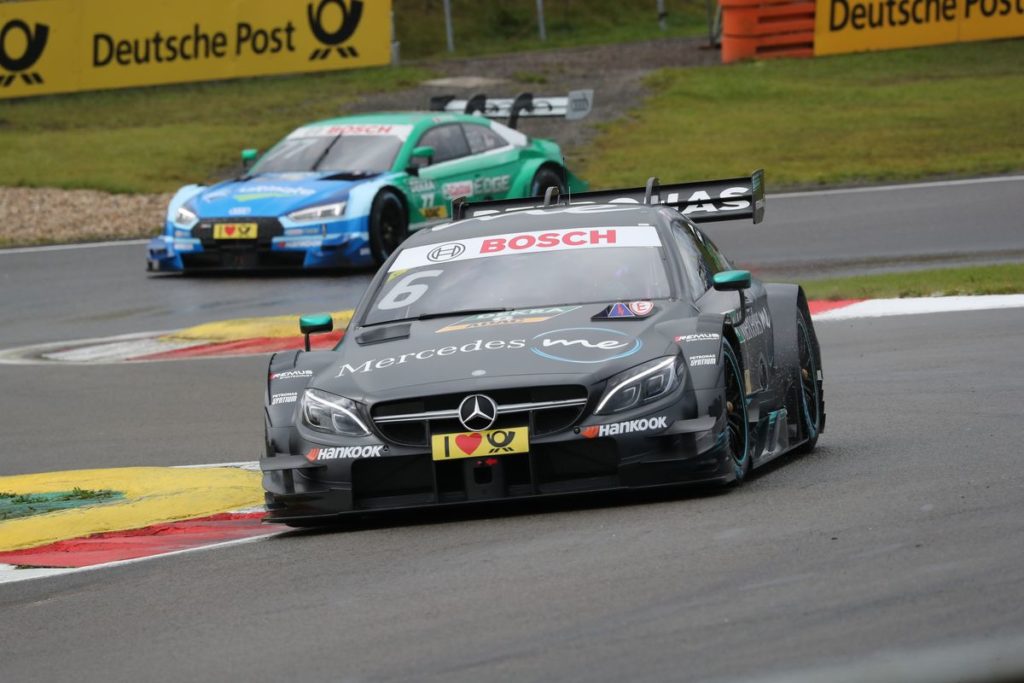 Successful conclusion to an exciting race weekend in the Eifel. Having taken the top four positions on Saturday, Mercedes-AMG Motorsport achieved a one-two victory on Sunday in front of 78,000 spectators (over the weekend). Robert Wickens (Mercedes-AMG C 63 DTM Mercedes me) took the win from fellow Mercedes-AMG Motorsport DTM Team driver, Paul Di Resta (Mercedes-AMG C 63 DTM), notching up his first success of the season.
This was for Wickens his sixth win and 15th podium in his 80th DTM race. The Canadian finished on the podium for the fourth time this season. Having achieved 32 wins at the Nürburgring since 1988, Mercedes-AMG remains the most successful brand in the Eifel. Di Resta and Wickens had both already stood on the podium next to Lucas Auer after his win on Saturday. For Di Resta, these were podiums 30 and 31 in the DTM.
Maro Engel (SILBERPFEIL Energy Mercedes-AMG C 63 DTM) placed in the Top Five on Sunday for the second time this weekend. After taking P4 on Saturday, he crossed the finish line in fifth position in the second round. Gary Paffett (Mercedes-AMG C 63 DTM Mercedes me) was in tenth place until the last lap but was deprived of a points-scoring finish when Maxime Martin (BMW) caused him to spin. Paffett dropped back to P14.
Lucas Auer (BWT Mercedes-AMG C 63 DTM), the winner of the first race at the Nürburgring, ultimately booked P13 following a spin in the early stages of the race. After seven out of nine race weekends, he is in second place in the drivers' standings, nine points down on Mattias Ekström (Audi, 136 points). Edoardo Mortara (BWT Mercedes-AMG C 63 DTM) finished the 90th race of his DTM career in 16th place.
The next race weekend: From the Eifel, drivers and teams will head to Styria in Austria for the penultimate race weekend of the 2017 DTM season. Races 15 and 16 will take place at Spielberg, 22nd – 24th September.
Comments after the race
Robert Wickens (28, Canada):
P1
Car number: 6
Team: Mercedes-AMG Motorsport Mercedes me
Car: Mercedes-AMG C 63 DTM Mercedes me
"That was a crazy race. The start was tough, and the decisive move came with the pit stop. Unfortunately, Luggi spun in front of me. That was lucky for me and unlucky for him. From there on, we had a good strategy and were able to undercut a bunch of people. But I had to work really hard for it, and I had to get past a lot of people after the stop. Heads up to the guys – the car was fantastic. Marco and I had a fun little battle there at the end. We had a few minor contacts, but all in all, it was a really good fight. I was really lucky that the race wasn't one lap longer, because Paul was pushing like crazy. When Marco and I were battling it out, it seems we both took a lot of damage. After we made contact in Turn 1, my steering wasn't straight anymore and some flicks were missing. It was a tough fight at the end, and I'm really happy that the race ended when it did."
Paul Di Resta (31, Scotland):
P2
Car number: 3
Team: SILBERPFEIL Energy Mercedes-AMG Motorsport
Car: Mercedes-AMG C 63 DTM
"I was leading by the middle of the race, but our pit stop wasn't good, unfortunately – that cost us a couple of seconds. I had to do a lot of overtaking to move forwards after that. At the same time, I'm happy with my two second places this weekend. It's a great result for the team. If someone had said to me before the weekend, 'you can have two second places', I would have jumped at the chance. There were a lot of contacts, but the final two fixtures are coming up, and we're at a critical stage in the season, so it seems we have to get our elbows out."
Maro Engel (32, Germany):
P5
Car number: 63
Team: SILBERPFEIL Energy Mercedes-AMG Motorsport
Car: SILBERPFEIL Energy Mercedes-AMG C 63 DTM
"Unfortunately, I slipped up badly in qualifying this morning, which cost us a Top Six start. I have to apologise to the team for that, so I'm all more delighted to have progressed through the field from P14 to P5. Massive thanks to the guys for the great work this weekend – we did a really good job as a team here, and that includes superb strategies in both races. With two Top Five finishes this time round, it was a very good weekend for me."
Lucas Auer (22, Austria):
P13
Car number: 22
Team: BWT Mercedes-AMG Motorsport
Car: BWT Mercedes-AMG C 63 DTM
"Unfortunately, I made a mistake at a critical moment in the race. I have to take full responsibility for that. I am really sorry, because the guys work so hard and don't deserve this. I know it sounds bad at this moment, but mistakes are human and unfortunately are part of the sport. Up until that point in the race, it had been going so well. I got off to a good start and was in third place. But what's happened has happened."
Gary Paffett (36, England):
P14
Car number: 2
Team: Mercedes-AMG Motorsport Mercedes me
Car: Mercedes-AMG C 63 DTM Mercedes me
"That was another frustrating race. I made a really good start and gained a few places. Augusto then pushed me off in Turn 3, so I lost some positions. After the pit stop, Tom Blomqvist just drove into my car and somehow damaged the right rear wheel, so it handled pretty badly subsequently. Towards the end of the race, I caught a bunch of cars with Timo Glock, who was struggling. I tried to get past, but all the guys in their BMWs were driving into me. It was just really annoying."
Edoardo Mortara (30, Italy):
P16
Car number: 48
Team: BWT Mercedes-AMG Motorsport
Car: BWT Mercedes-AMG C 63 DTM
"A bad race for me. We pitted at an early stage on the second lap, but unfortunately, it was impossible to secure a good result. We had to stop again, and my race was over as a result, but still, Mercedes achieved a one-two win. I'm now going to focus my attention on the next race weekend."
Ulrich Fritz, Head of Mercedes-AMG Motorsport DTM:
"Congratulations to Rob and Paul – they've had a fantastic weekend. After monopolising the first four positions yesterday, we have a one-two victory today. A result of this quality is certainly well deserved by the team. We've seen today that the season has really hotted up – it was a bruising encounter with little compunction about elbowing others out of the way. A pity for Luggi, of course, but mistakes happen in sport. I'm sure he's annoyed with himself, but he'll get over it soon enough."
Race results: Top Ten
| | | | |
| --- | --- | --- | --- |
| Pos | Driver | Manufacturer | Time |
| 1 | Robert Wickens | Mercedes-AMG | 56:49.795 |
| 2 | Paul Di Resta | Mercedes-AMG | +0.362 |
| 3 | Marco Wittmann | BMW | +7.589 |
| 4 | Bruno Spengler | BMW | +7.955 |
| 5 | Maro Engel | Mercedes-AMG | +15.995                |
| 6 | Mattias Ekström | Audi | +20.549 |
| 7 | Jamie Green | Audi | +22.887 |
| 8 | Timo Glock | BMW | +40.196 |
| 9 | Augusto Farfus | BMW | +40.307 |
| 10 | Tom Blomqvist | BMW | +41.818 |
Drivers' Championship
| | | | |
| --- | --- | --- | --- |
| Pos | Driver | Manufacturer | Points |
| 1 | Mattias Ekström | Audi | 136 |
| 2 | Lucas Auer | Mercedes-AMG | 127 |
| (…) | | | |
| 9 | Robert Wickens | Mercedes-AMG | 100 |
| 10 | Paul Di Resta | Mercedes-AMG | 97 |
| 11 | Gary Paffett | Mercedes-AMG | 76 |
| (…) | | | |
| 13 | Maro Engel | Mercedes-AMG | 51 |
| (…) | | | |
| 15 | Edoardo Mortara | Mercedes-AMG | 47 |
Manufacturers' Championship
| | | |
| --- | --- | --- |
| Pos | Manufacturer | Points |
| 1 | Audi | 550 |
| 2 | Mercedes-AMG | 498 |
| 3 | BMW | 450 |
Teams' Championship
| | | |
| --- | --- | --- |
| Pos | Team | Points |
| 1 | Audi Sport Team Rosberg | 237 |
| (…) | | |
| 4 | Mercedes-AMG Motorsport Mercedes me | 176 |
| 5 | BWT Mercedes-AMG Motorsport | 174 |
| 6 | SILBERPFEIL Energy Mercedes-AMG Motorsport | 148 |
]]>