<![CDATA[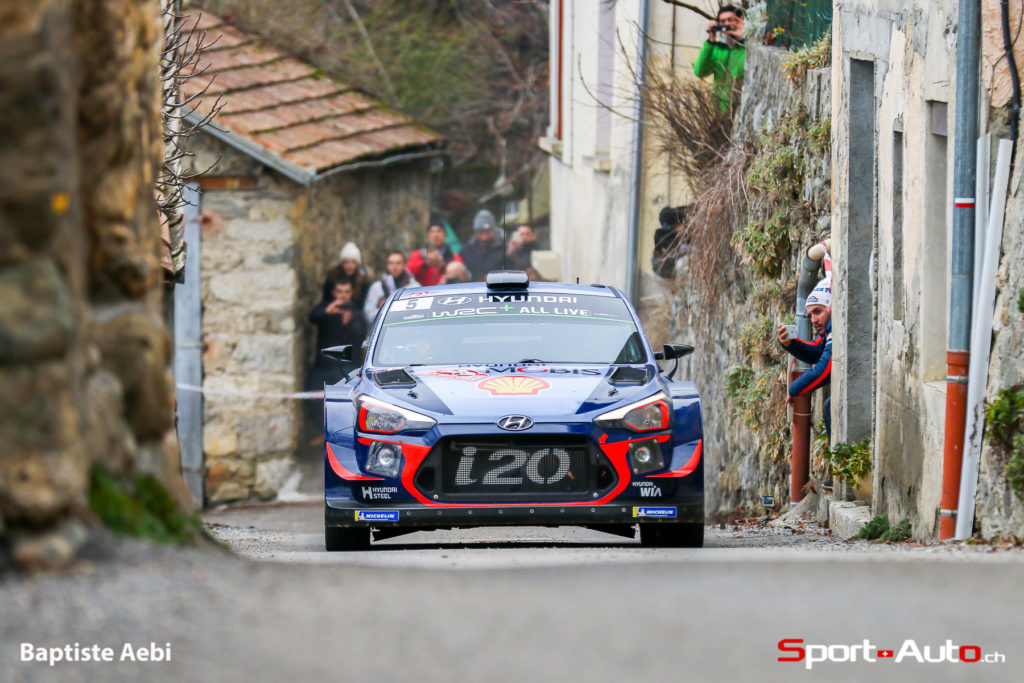 Hyundai Motorsport has concluded a tough Rallye Monte-Carlo with one of its crews inside the top-five overall and some strong results in the final four stages of the event.
The final morning of the opening round of the 2018 FIA World Rally Championship (WRC) saw crews twice tackle the iconic Col de Turini, with icy conditions on the way to the summit requiring maximum attention and pinpoint precision.
A total of 64km of special stages made up Sunday's schedule with Col de Turini featuring as part of the 18.41km La Bollene Vesubie – Peira Cava test, followed by the shorter, but no less challenging, 13.58km La Cabanette – Col de Braus.
With Dani Sordo forced to retire after an off-stage excursion on Saturday, and no opportunity to make use of Rally 2, the Hyundai Shell Mobis World Rally Team was left with two cars remaining for the final day. Thierry Neuville and Andreas Mikkelsen were both aiming to finish the rally in a positive manner after experiencing their own issues during the course of the Monte-Carlo weekend.
Neuville added a further two stages wins to his tally on Sunday, setting consecutive fastest times in SS15 and SS16. The results brought the team's total to six for the weekend. He then pushed hard to finish second in the Power Stage to take four important drivers' championship points.
The Belgian, along with co-driver Nicolas Gilsoul, had already fought back to seventh overall by Saturday evening, but his performances on Sunday morning saw him embroiled in a close battle with Citroën's Kris Meeke and M-Sport's Elfyn Evans. Just 8.4-seconds split the trio heading into the Power Stage. While Neuville moved ahead of Evans by 1.0s, it was ultimately misfortune for Esapekka Lappi that helped move the #5 crew into fifth behind Power Stage winner Meeke.
Mikkelsen had already re-started under Rally 2 on Saturday, and had his sights set on a strong Power Stage performance. The Norwegian opted for five soft tyres for the final four stages, with no mid-morning service or tyre-fitting zone. His pace was compromised on the icy run up to Col de Turini, but he ran strongly in SS15 to support a Hyundai Motorsport 1-2 in stage, and then third in the Power Stage itself.
For Hyundai Motorsport, the overall result represents a less than satisfactory end to the first round of 2018, but the potential of the Hyundai i20 Coupe WRC against an impressively competitive field gives the team optimism for the season ahead. Crew Notes: Neuville/Gilsoul (#5 Hyundai i20 Coupe WRC)
Two stage wins and two second fastest times moved the Belgians into top-five contention
Issues earlier in the weekend hampered a podium charge
Neuville said: "On balance, I think we have had a good rally, despite the various issues we have encountered along the way. Thursday was the biggest factor, when we lost over four minutes getting stuck through my own fault. We have fought back from those early problems, and a few others, and tried to regain as many positions as we could. The places we have made up today – right to the end of the Power Stage – show how important it is to push right to the finish. Without the puncture and tricky snow conditions yesterday, a podium would still have been possible. That's Monte-Carlo, though. I would like to say thanks to the team for doing an incredible job in hard circumstances this weekend, and together we look ahead to Sweden."
Crew Notes: Mikkelsen/Jæger (#4 Hyundai i20 Coupe WRC)
Focus on Power Stage performance rewarded with three drivers' championship points
Best day feeling-wise with the Hyundai i20 Coupe on dry tarmac
Mikkelsen said: "Our rally was over on Friday when we stopped after SS3 with the alternator problem. The focus shifted to salvaging as many points as possible from the Power Stage, which was our aim for today. With no tyre zone or service, we adopted a compromised strategy taking five soft tyres for both loops. We knew that the run up to Col de Turini would be tough, so we took it carefully and accepted we would be slow. SS15 was a good practice for the Power Stage and it was nice for the team to take a 1-2. I was happy with my run, considering we were first on the road and it was still drying in places. It's my best drive feeling-wise so far with the car on dry tarmac, which is encouraging."
Down but not out
Team Principal Michel Nandan commented: "We have had some improved stage results today, and a strong Power Stage run from Thierry and Andreas, but we can only really look back on this weekend as a rally of disappointment. We wanted to come out fighting in this year's championship by taking a good haul of points in Monte-Carlo, but for various reasons we have to settle for less. The season is long, of course, but we know from last year how punishing it can be when we miss opportunities. This is especially true when our rivals are so strong. Monte has never been a particularly kind rally to us, and again we leave here with little to show for our efforts. We have to regroup, put this one behind us and start our 2018 season properly in Sweden in a few weeks' time."
Next Rally
The second round of the 2018 FIA World Rally Championship takes place in Sweden from 15-18 February
Hyundai Motorsport has previously claimed two podium finishes in Rally Sweden, with Thierry Neuville in 2015 and Hayden Paddon in 2016
The team will field a three-car line-up in this year's rally with Paddon joining Neuville and Mikkelsen Final Overall Classification – Rallye Monte-Carlo
| | | | | |
| --- | --- | --- | --- | --- |
| 1 | S. Ogier | J. Ingrassia | Ford Fiesta WRC | 4:18:55.5 |
| 2 | O. Tänak | M. Järveoja | Toyota Yaris WRC | +58.3 |
| 3 | J. M. Latvala | M. Anttila | Toyota Yaris WRC | +1:52.0 |
| 4 | K. Meeke | P. Nagle | Citroën C3 WRC | +4:43.1 |
| 5 | T. Neuville | N. Gilsoul | Hyundai i20 Coupe WRC | +4:53.8 |
| 6 | E. Evans | D. Barritt | Ford Fiesta WRC | +4:54.8 |
| 7 | E. Lappi | J. Ferm | Toyota Yaris WRC | +4:57.5 |
| 8 | B. Bouffier | X. Panseri | Ford Fiesta WRC | +7:39.5 |
| 9 | C. Breen | S. Martin | Citroën C3 WRC | +9:06.7 |
2018 FIA World Rally Championship for Drivers' Standings After round 1
| | | |
| --- | --- | --- |
| 1 | S. Ogier | 26 |
| 2 | O. Tanak | 18 |
| 3 | J.M Latvala | 17 |
| 4 | K. Meeke | 17 |
| 5 | T. Neuville | 14 |
| 6 | E. Evans | 8 |
| 7 | E. Lappi | 6 |
| 8 | B. Bouffier | 4 |
| 9 | A. Mikkelsen | 3 |
| 10 | C. Breen | 2 |
| 11 | J. Kopecky | 1 |
2018 FIA World Rally Championship for Manufacturers' Standings After round 1
| | | |
| --- | --- | --- |
| 1 | M-Sport Ford World Rally Team | 33 |
| 3 | Toyota Gazoo Racing World Rally Team | 33 |
| 3 | Citroën Total Abu Dhabi World Rally Team | 18 |
| 4 | Hyundai Shell Mobis World Rally Team | 14 |
All results remain subject to official FIA confirmation.
Press release Hyundai Motorsport, picture Baptiste Aebi
]]>