<![CDATA[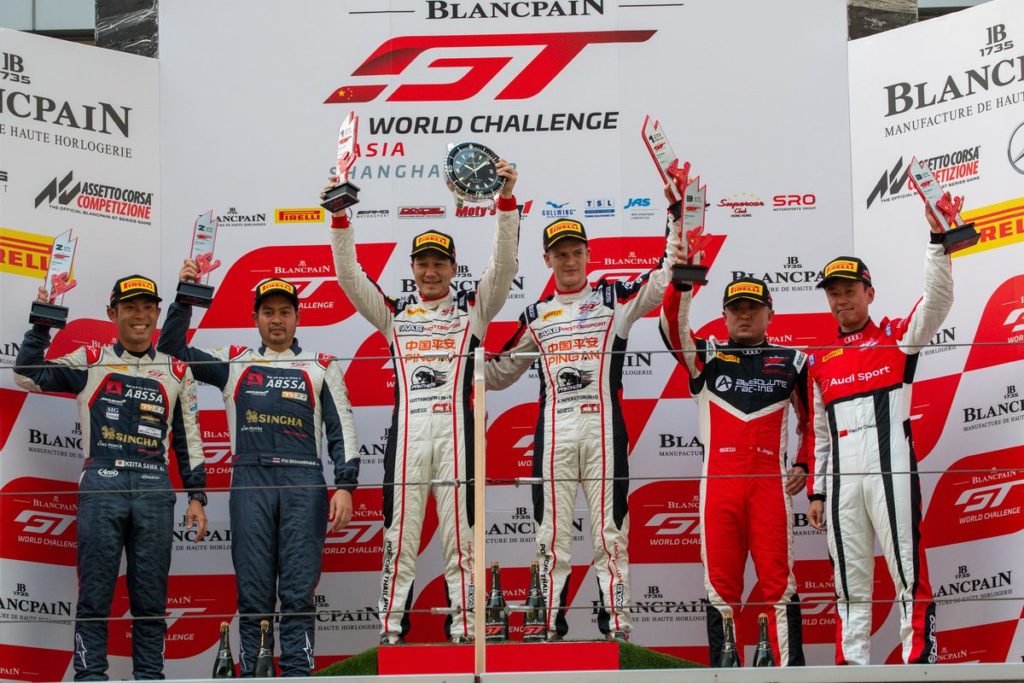 Porsche Motorsport Asia Pacific customer Panther/AAS Motorsport secured the Blancpain GT World Challenge Asia Pro-Am title with Vutthikorn Inthraphuvasak while 2019 teams' champion Absolute Racing won the Shanghai season finale.
Racing in Porsche Motorsport Asia Pacific's backyard at the Shanghai International Circuit, a stone's throw away from our office headquarters, the #918 Panther/AAS Motorsport Porsche 911 GT3 R was on Pro-Am pole as Vutthikorn Inthraphuvasak looked to seal the class championship.
A fine drive from himself and team-mate Alexandre Imperatori took them to a class victory with an overall sixth-place finish, giving Inthraphuvasak the title with a race to spare.
Another strong performance on Saturday put them on the podium and second in class, surviving a fierce battle for the lead. This gave Imperatori second in the Pro-Am standings, despite missing the Suzuka round earlier in the year, with Inthraphuvasak finishing his inaugural year in the series second in the overall championship.
Although race one went against the #912 Absolute Racing Porsche 911 GT3 R, after receiving a penalty for a false start, Chinese duo Yuan Bo and Leo Ye Hongli ended the season on a high with their maiden victory on home soil.
It came as a result of a charge through the field from Bo after the pit stop, brilliantly passing four cars in 10 minutes to claim the lead.
The sister #911 machine of Tanart Sathienthirakul and Porsche Motorsport Asia Pacific Young Professional Philip Hamprecht were unfortunate in their title bid, but still secured third overall and second in the Silver standings in their maiden series campaign.
After starting on the front row, the Porsche Carrera Cup Asia duo successfully reduced the points deficit in race one with a podium finish. However, an issue during their pit stop in the finale cost them time before the car was eventually retired.
JRM claimed a pair of fourth-place finishes in the Pro-Am class, with Li Chao and triple Carrera Cup Asia champion Chris van der Drift improving from 10th overall on Friday to sixth in race two, which the #910 car led the first stint of from pole.
ARN Racing's Japanese pairing of 2017 Super Taikyu champion Hiroaki Nagai and 2019 Porsche Japan Junior Yuta Kamimura were caught up in a lap one incident, retiring them from the first race but also preventing them from starting the second, which the #8 Porsche 911 GT3 R was due to do so from pole.
It has been a hugely successful maiden year of racing in Blancpain GT World Challenge Asia for the 2019-spec Porsche 911 GT3 R, claiming five overall victories, the teams' championship as well as the Pro-Am honours.
Fabien Fior, Team Manager Absolute Racing: « We knew there was enough pace to fight for the victory. It was a brilliant drive from Yuan Bo and Leo Ye Hongli to take their first win of the season. Vutthikorn and Alexandre did very well to finish third, taking the Pro-Am championship and second overall. Our first season with Porsche has been exceptional. It was a bit of an unknown, but the team won a race in all except one weekend. That's extremely positive and we'll be coming back stronger next year. »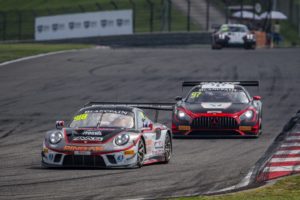 Vutthikorn Inthraphuvasak, Panther/AAS Motorsport: « Race one was great, even though we didn't attack a lot it was good enough to win the Pro-Am. In race two our strategy was more aggressive, although we lost momentum fighting other cars. Third overall is a great result, I am second in the standings and the Pro-Am champion so I'm really satisfied with this finale. »
Alexandre Imperatori, Panther/AAS Motorsport: « It would have been nice to win the title, but it was clear this was a long shot but to come second with a Pro-Am pairing is a real achievement. We had nothing to lose and got through the field. Vutthi was a little cautious and wanted to bring the car home. We had the pace for a better result but wanted to secure the position. I'm happy for Porsche and for AAS Motorsport, it's been a great season and there are many positives to take from this year. »
Yuan Bo, Absolute Racing: « Leo did a good job from fifth. He had quite good pace, managed the gap well and pushed where he could. I'm delighted to take my first win and to do so at my home event is very special. Big thanks to the team. »
Leo Ye Hongli, Absolute Racing: « After the safety car I was managing the pace we still led the Silver Cup when we pitted, not far away from the Pro-Ams ahead. I knew already that we had a good chance of winning because Yuan was faster than them and there was a good gap to the Pros behind. It's a great feeling to win your home race, and it's the perfect way to end the season. »
Tanart Sathienthirakul, Absolute Racing: « It's a shame there was a technical issue that caused us to retire from the championship fight, but over the season we did well to score two wins and a few podiums. That's something to take away from this year. Thanks to Porsche for a great car and to Absolute Racing for a fantastic season. »
Philip Hamprecht, Absolute Racing: « It's disappointing to have the season end like this when the championship fight was actually really good. In the end bad luck just caught us out and we will learn from it. In Carrera Cup Asia last year I took a hard hit when I lost the title at the final race, I took the lessons from it and came back stronger. We will take the positives from a strong campaign and do better next season. Thank you to all the team, they did a fantastic job all year. I had a good time with Tanart as well and hopefully we will go for the title in 2020. »
Alexandre Gibot, Head of Porsche Motorsport Asia Pacific: « Despite not winning the overall title today, we can still hold our heads up high after this season: winning the teams' and Pro-Am drivers' championships, taking second and third in the overall standings and second in the Silver Cup. The new Porsche 911 GT3 R has been the most successful car during the campaign with five wins overall and many podiums, as well as victories in the Silver Cup, Pro-Am and Am classes. We can be proud of the achievements of our customer teams and would like to thank SRO for setting up such a great customer racing platform in Asia. »
Press release Porsche Motorsport Asia Pacific
]]>