<![CDATA[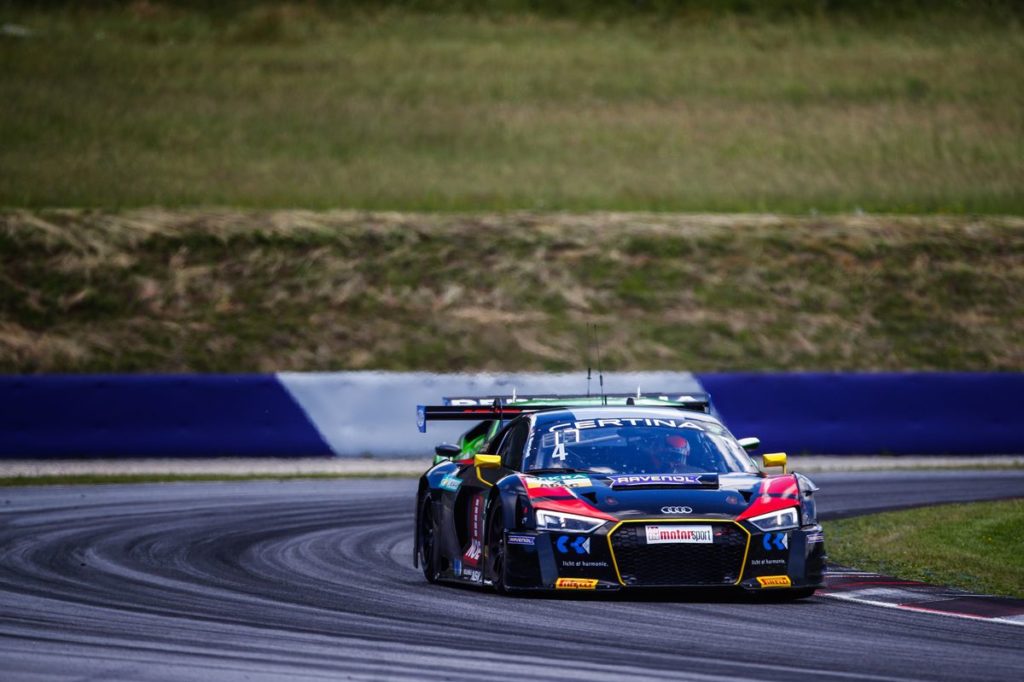 New car, new team, new team-mate, better luck – Patric Niederhauser changed his 'company' car in the ADAC GT Masters in 2017 and also swapped teams. The 26-year-old from Kirchdorf near Bern was well up for the fresh challenge. He felt completely at home in the Audi R8 LMS right from the start at Oschersleben in April, so there was nothing to stop him from having an excellent season.
Dennis Marschall and his team-mate Niederhauser secured points in six of the 14 races in one of the world's most demanding GT series and narrowly missed a podium finish at the Nürburgring. Patric also showed his potential in the individual sessions by posting a fastest race lap and a best time in practice. He finished the 2017 season with a victory in class during the ninth round of the VLN endurance championship at the Nürburgring and took a major step towards getting his 'A' permit for the Nürburgring Nordschleife.
Patric, after having had such a tough time last year, did you expect to do so well so soon with a new team and a new car?
Patric Niederhauser : "I certainly hoped to, but the situation was completely new to me. It was the first time I'd ever changed car and team in GT racing, so I was up against one or two unknown quantities. Still, I was very pleasantly surprised in the end, because, while I'd expected that we would occasionally finish in the points, I rather thought that we would normally be fighting for P10. Being a contender up front and securing points in almost half of all the races has been absolutely brilliant."
Are you pleased with your first year in the Audi R8 LMS?
Patric Niederhauser : "Yes, basically, even if more might have been possible. Unfortunately, we had some racing bad luck here and there, which kept us off the podium. Still, I'm very pleased with my performance, and Aust Motorsport have done a good job too, every single one of them. It was obviously a big relief after having had such a tough first year in GT racing. I've been able to show people what I can do, given the right set of wheels."
Which of this year's races do you best remember?
Patric Niederhauser : "The stand-out meeting for the team was the weekend at the Nürburgring, which went well throughout, as we finished fourth and fifth there, producing our best result of the season. Ours was the strongest Audi in the field in the first of the two races, and we also posted the fastest race lap. However, I also have really positive memories of driving in the first qualifying session at the season opener in Oschersleben, because my fastest lap in qualifying was the fastest of any Audi in the field. The third thing that I remember really well is my fastest lap in first practice at Zandvoort. The dune circuit there is one of the most demanding on the entire race calendar."
You and your team-mate have shown that you intend to be a force to be reckoned with once again in 2018. What do you hope to achieve next season?
Patric Niederhauser : "I obviously hope that we can build on our speed and results from this year. At this point, I would very much like to thank my team-mate Dennis and everyone in the entire outfit. Generally, it's really important for me to get along well with my team-mate on a personal level. After all, you spend a lot of time together and want enjoy it. The driver pairing and the team I'll be driving for in 2018 will soon be confirmed. Talks about that are in full swing as we speak."
Press release Patric Niederhauser, picture Gruppe C
]]>