<![CDATA[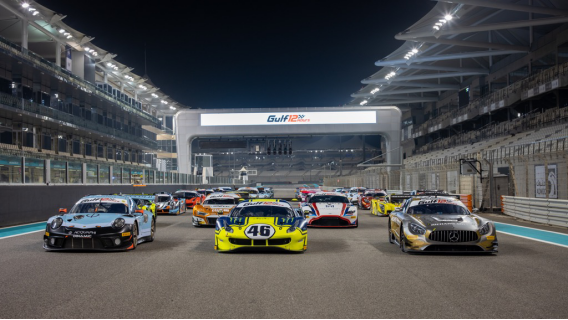 The Gulf 12 Hours will relocate from Abu Dhabi to Bahrain in January 2021 for a special appearance. The race renamed the 'Gulf 12 Hours Bahrain' will take place on the scheduled date of 9 January 2021.
The celebration of the 10th edition of the traditional Abu Dhabi race will be postponed until 18 December 2021, to take place as usual at Yas Marina Circuit. Event organisers have looked to accommodate various logistical and organisational requirements, which meant for the January edition, Bahrain would make the better venue and December would be better for the Abu Dhabi 10th Edition.
"We have worked hard with both circuits to make two events in 2021 a success," said Andrea Ficarelli, director of race promoter Driving Force Events. "We are excited to have the opportunity to have the Gulf 12 Hours run on two fantastic circuits which will be a great experience for all concerned. We thank Bahrain International Circuit for their support and for offering us the chance to host an edition of the Gulf 12 Hours at their prestigious venue, as well as the teams which have been accommodating in these challenging circumstances," concluded Ficarelli.

Steven Umfreville, Executive Commercial Director at Abu Dhabi Motorsports Management said: "We look forward to hosting the 10th Abu Dhabi edition of the Gulf 12 Hour in December 2021. There has been a lot of work with the Driving Force Events team to make this season work and great to see another leading regional circuit part of the programme."

Sherif Al Mahdy, Commercial Director at Bahrain International Circuit, said: "It's an honour for us to be able to host the Gulf 12 Hours Bahrain, given our history in endurance racing at the circuit. As motor racing across the world has built up its operations swiftly in the last few months, we are delighted to add this race to our ever-expanding calendar of events. We are sure it will mark a great start to 2021"
The regional Endurance racing season for 2020 and 2021 is starting to build momentum following the global slow down, with the recent FIA World Endurance Championship event held in Bahrain this past weekend and the planned Asian Le Mans Series due to take place in February 2021 with four races, all to be held at Yas Marina Circuit in Abu Dhabi.
A revised entry list for the Gulf 12 Hours Bahrain will be published in due course. The race will still only be open to GT3 and GT4 entrants.
Press release Gulf 12H
]]>