<![CDATA[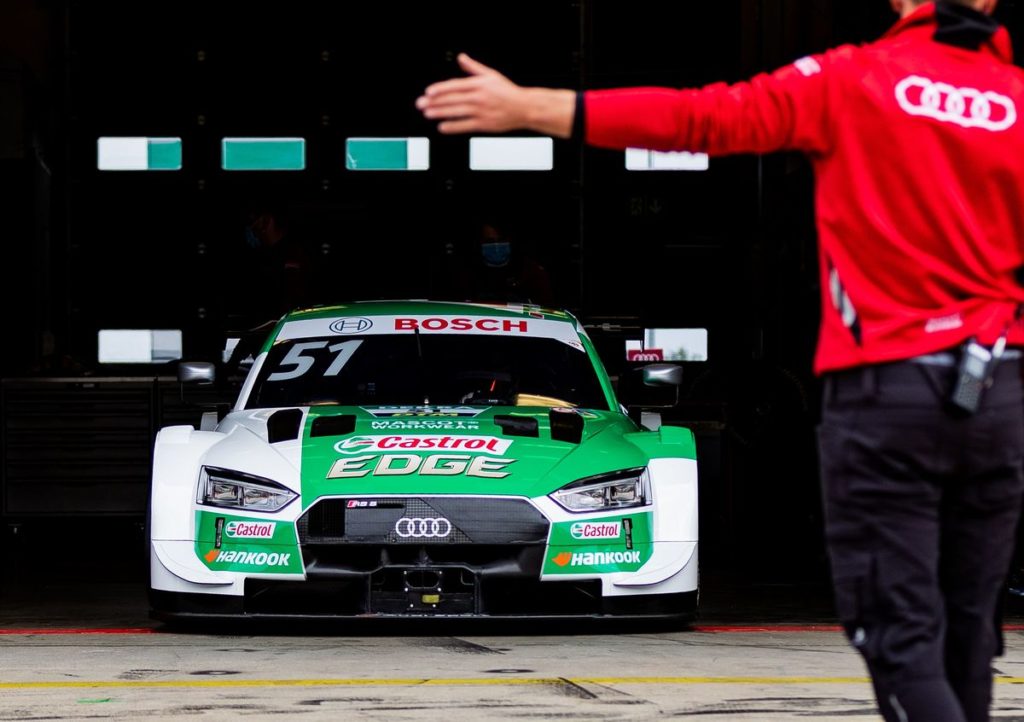 Back on track – the DTM has completed successful and intense test days at the Nürburgring. Between them, the manufacturers Audi and BMW as well as the privateer teams WRT (Audi) and ART (BMW) racked up roughly 19,000 kilometres and over 5,200 laps of testing. Thanks to the partly ideal conditions, Ferdinand Habsburg (AUT, WRT Team Audi) emerged as the fastest driver of the test days and was faster than the current DTM lap record: his time of 1m 18.911s is the best lap time ever achieved by a DTM car at the sprint circuit. In general, Audi and BMW turned out to be on a par.
Successful implementation of the infection protection plan
A detailed and precise infection protection plan allowed for the test days to be held amidst the Covid-19 pandemic. In the implementation of the measures, such as distancing, use of protection and regular temperature checks, all the organisations involved perfectly worked together.
Robert Kubica – 2,000 kilometres of testing in preparation for his debut season
On all four days, Robert Kubica was particularly active. In total, the DTM rookie completed 1,963.289 kilometres at the Nürburgring and therefore ranked among the most prolific drivers. While the works teams only were allowed to run one car at the time during testing, the two privateer teams WRT and ART had permission to run a maximum of two cars. For Kubica, this meant that he was allowed unlimited running on all four test days.
The most prolific drivers
Mike Rockenfeller (GER,Audi) was the works driver with the most laps in testing by far. The 2013 champion stepped in for his teammate Loïc Duval (FRA) and therefore racked up a total of 569 laps, equalling 2,064.901 kilometres. The top five drivers:
– Mike Rockenfeller (Audi) – 569 laps (2,064.901 km)
– Robert Kubica (BMW) – 541 laps (1,963.289 km)
– Ferdinand Habsburg (Audi) – 529 laps (1,919.741 km)
– Robin Frijns (Audi) – 363 laps (1,317.327 km)
– René Rast (Audi) – 359 laps (1,302.811 km)
Summary testing kilometres Audi works teams: 1,964 laps (7,127.356 km)
Summary testing kilometres BMW works teams: 1,737 laps (6,303.573 km)
» Quotes – DTM tests Nürburgring
Ferdinand Habsburg, Audi : "On Wednesday, we have posted the fastest DTM lap time at the Nürburgring. That shows how fast and exciting the DTM will be this season. I really enjoyed being back behind the wheel after such a long time of waiting."

Nico Müller, Audi : "At the beginning of the test, I even was slightly nervous, somehow like on the first day going back to school after the holidays. You aren't quite certain whether you are still doing everything right. But from the moment on which you release the speed limiter, it is all like before."

René Rast, Audi : "I drove on Monday and Thursday. In between, I had media activities and analysed the work by my teammates. On the final day, it was also about implementing what we had learned."

Jamie Green, Audi : "We have completed a good pre-season test here at the Nürburgring. On my first day, we had fully dry conditions and I completed around 150 laps. On the second day, we had rain during the lunch break, which enabled us to test in wet conditions as well. All in all, we are very happy."

Sheldon van der Linde, BMW : "We have spent a lot of time in the car, I had two really good days of testing. I am happy with the way we have improved the car over the winter. I can hardly await the first race at Spa.""

Timo Glock, BMW : "Not having been in the car for four or five months, it was good, getting back into the rhythm again and completing the test programme. It is difficult to say where we are, because we don't know what programme our opponents were running. But my feeling is that we at BMW have made a big step forward."

Philipp Eng, BMW : "It was great fun and we ran through the entire programme very well. So it is fair to say we have done our homework, even though these were some long, intense days."

Robin Frijns, Audi : "It took one or two runs for me to get back into the rhythm again. We have completed a packed programme of testing, that is always good."

Jonathan Aberdein, BMW : "Last year, I battled for podium finishes and pole positions. This year, I want to make the next step: I want to fight for victories. A big compliment to the ITR for making this test happen. After not having been in the car for eight months, a good thing."

Mike Rockenfeller, Audi : "We hadn't been allowed to sit in the car for a long time. Therefore, I enjoyed every single lap in the car and I got to drive a lot. We made good use of the test and now I am looking forward to the first race at Spa-Francorchamps."

Lucas Auer, BMW : "We had a long job list for testing that we ran through from the beginning till the end. Of course, I enjoyed being back in the car again."

Robert Kubica, BMW : "Of course, after a challenging time, not only for racing drivers and teams, but for everybody during the lockdown, it is nice to be able to drive a race car again. Everybody showed a lot of consideration for the others. After all, health is the most important thing. For me as a newcomer, there were many new things to discover, with the car, the procedures, the team."

Fabio Scherer, Audi : "I am feeling very well within the team. This is preparation for the season, every second in the car matters because there won't be too many tests after this. Therefore, we ran through the testing programme very seriously."

Marco Wittmann, BMW : "The verdict is positive after long days of testing in which we have completed our programme and the performance was good, too. Where we are exactly, we will only see in first qualifying at Spa-Francorchamps. But I reckon it will be considerably closer than last year."

Loïc Duval, Audi : "Sadly, I was still having problems with the collar bone I broke around a fortnight ago. However, I was able to complete some brief runs and push it to the limit and try to go for lap times. That was cool."
» Results – DTM tests Nürburgring
The top times of all drivers
01. Ferdinand Habsburg (AUT), Audi RS 5 DTM, 1m 18.911s 02. Nico Müller (SUI), Audi RS 5 DTM, 1m 18.944s 03. René Rast (GER), Audi RS 5 DTM, 1m 19.028s 04. Jamie Green (GBR), Audi RS 5 DTM, 1m 19.037s 05. Sheldon van der Linde (RSA), BMW M4 DTM, 1m 19.070s 06. Timo Glock (GER), BMW M4 DTM, 1m 19.157s 07. Philipp Eng (AUT), BMW M4 DTM, 1m 19.204s 08. Robin Frijns (NED), Audi RS 5 DTM, 1m 19.214s 09. Jonathan Aberdein (RSA), BMW M4 DTM, 1m 19.230s 10. Mike Rockenfeller (GER), Audi RS 5 DTM, 1m 19.286s 11. Lucas Auer (AUT), BMW M4 DTM, 1m 19.476s 12. Robert Kubica (POL), BMW M4 DTM, 1m 19.493s 13. Fabio Scherer (SUI), Audi RS 5 DTM, 1m 19.511s 14. Marco Wittmann (GER), BMW M4 DTM, 1m 19.581s 15. Loïc Duval (FRA), Audi RS 5 DTM, 1m 19.587s 16. Harrison Newey (GBR), Audi RS 5 DTM, 1m 19.761s
Press release DTM
]]>