<![CDATA[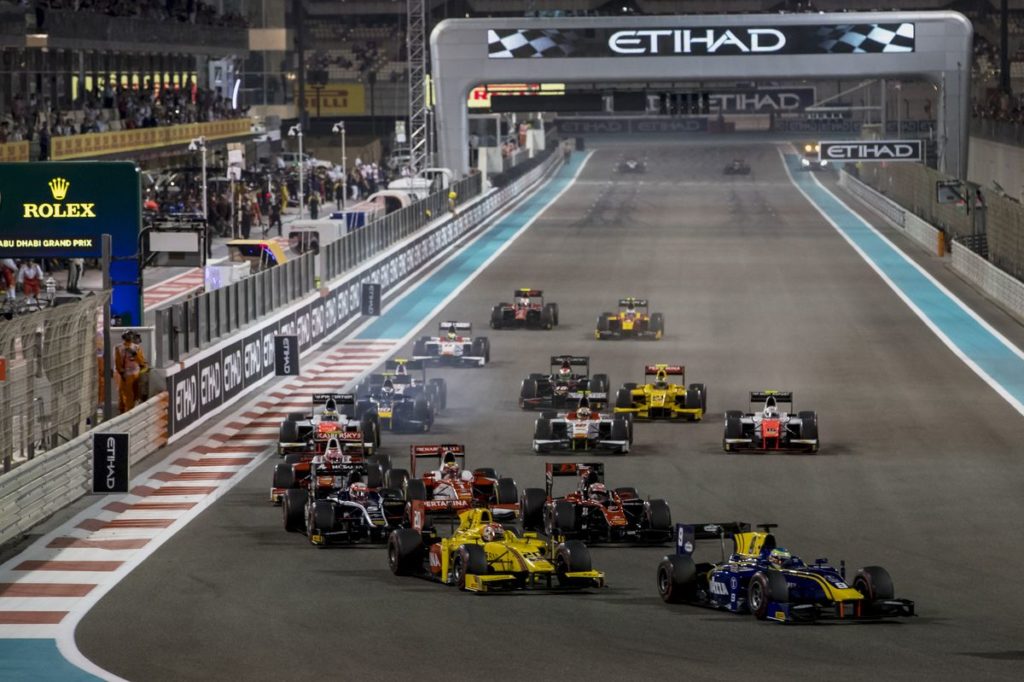 Oliver Rowland build his third win of the season in a very technical FIA Formula 2 Championship feature race this evening at the Yas Marina Circuit, putting the various pieces together better than any of his rivals to run home 6.6s ahead of championship rival and poleman Artem Markelov and Antonio Fuoco, who passed teammate Charles Leclerc on the line as the chequered flag fell.
Evening fell on a conundrum for most of the teams on the grid when it came to strategy: the supersoft Pirellis were seen as fast but fragile, leaving a lot of head scratching as to when, and how, to use them. Tyres were still being changed on the grid, but when they started their formation laps Markelov led them away on supersofts, Nyck De Vries beside him was on softs, with most of the grid followed the Russian's lead.
When the lights went out Markelov made a storming start to lead De Vries, Rowland, Norman Nato, Nobuharu Matsushita and Luca Ghiotto through turn 1, while behind them new champion Charles Leclerc was now just ahead of teammate Fuoco, who made a poor getaway and was scrabbling for position. Ghiotto was soon up to P4, with his teammate looking to build a gap out front, but the supersofts were going off fast: Rowland was driving very delicately to preserve them for as long as possible, but Markelov was pushing hard to stop De Vries finding a way through into the lead.
The Russian came in on lap 7, followed by Rowland, Fuoco, Matsushita, and Jordan King, and within a few laps the soft-shod drivers led the way, almost in the order in which they started: De Vries from Leclerc, Sergio Sette Camara and Alexander Albon, who had made a strong opening stint to push forward from the back of the grid up to P4 as the laps rolled down.
Further back, the move of the race happened on lap 8 when Rowland, clearly happier on the soft tyres, made a cheeky jump past Markelov at turn 8 for P7 on track, putting him at the front of the queue when the next set of stops came. 3 laps later there was change at the front too: De Vries ran too deep at turn 8 and had to give way to Leclerc, who did not look back as he tried to build any gap he could over Rowland, while Albon jumped up to P3 with a nice pass on Sette Camara.
Rowland and Markelov were now on a charge, slicing past their rivals on older softs for lap after lap, with the Briton making a number of passes at turn 8 and the Russian followed him through at the Marina section: Markelov was closing the gap to Rowland, but was just unable to break into the DRS gap to the Briton as the pair ate into Leclerc's lead by a second a lap.
The inevitable happened on lap 24, with Leclerc and De Vries both coming in together: the Monegasque driver lost some time with a slow stop but emerged in P5, which became 3rd next time through as the others pitted, and he was soon eating into Rowland and Markelov's lead by 2.5s a lap: there were enough laps remaining for Leclerc to close and catch his rivals, but would he have enough tyres?
The answer came on the final 3 laps, as Leclerc's pace started to crack: Rowland was comfortable out front as he crossed the line well ahead of Markelov, who had just a slightly larger gap behind him until Leclerc slowed dramatic in the final sector, allowing Fuoco to pass for the podium on the line ahead of Ghiotto, who saved his tyres to move forward at the end of the race ahead of De Vries, Nicholas Latifi and Matsushita, with Albon and King picking up the final points.
The result meant that the Teams' Championship is on a knife's edge with just tomorrow's Sprint Race remaining: DAMS leads with the slimmest of margins over PREMA Racing and RUSSIAN TIME, who go to the final race of the 2017 season on 376, 374 and 373 points respectively.
Preliminary Feature Race Classification
| | | |
| --- | --- | --- |
| | Driver | Team |
| 1 | Oliver Rowland | DAMS |
| 2 | Artem Markelov | RUSSIAN TIME |
| 3 | Antonio Fuoco | PREMA Racing |
| 4 | Charles Leclerc | PREMA Racing |
| 5 | Luca Ghiotto | RUSSIAN TIME |
| 6 | Nyck De Vries | Racing Engineering |
| 7 | Nicholas Latifi | DAMS |
| 8 | Nobuharu Matsushita | ART Grand Prix |
| 9 | Alexander Albon | ART Grand Prix |
| 10 | Jordan King | MP Motorsport |
| 11 | Sergio Sette Camara | MP Motorsport |
| 12 | Louis Delétraz | Rapax |
| 13 | Gustav Malja | Racing Engineering |
| 14 | Alex Palou | Campos Racing |
| 15 | Norman Nato | Pertamina Arden |
| 16 | Santino Ferrucci | Trident |
| 17 | Sean Gelael | Pertamina Arden |
| 18 | Roberto Merhi | Rapax |
| | | |
| | Not Classified | |
| | Lando Norris | Campos Racing |
| | Nabil Jeffri | Trident |
| | | |
| | Fastest Lap | |
| | Alexander Albon | 1:50.314 on lap 27 |
Press release FIA Formula 2
]]>