<![CDATA[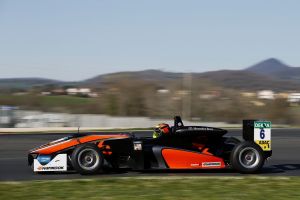 On the second day of the official FIA Formula 3 European Championship test at Vallelunga, Callum Ilott (Van Amersfoort Racing, 1:27.728 min) set the fastest lap time. Behind the Briton, Sérgio Sette Câmara (Motopark, 1:27.765 min) secured second position on the time sheets, followed by Pedro Piquet (Van Amersfoort Racing, 1:27.859) and Alessio Lorandi (Carlin, 1:27.884min). The best rookie was Anthoine Hubert (Van Amersfoort Racing, 1:27.962 min) who set the fifth-fastest lap time at the 4.085-kilometre long Autodromo Piero Taruffi.
Other than on the first, wet day of testing, teams and drivers had the chance of testing under blue skies, in brilliant sunshine. Ilott was the one to make the best use of the perfect conditions and consequently, nobody was able to set a faster lap time than him at the circuit located not far from Rome. "We were able to complete our scheduled programme, today and that was of major importance. The fact that I was the quickest in the end is nice but anything but crucial. The lap times only count in the first qualifying session of the season, at Le Castellet," said Ilott.
Behind Ilott and Sérgio Sette Câmara, was the first FIA Formula 3 European Championship newcomer Pedro Piquet. The Brazilian who switched to the European series as two-time Brazilian Formula 3 Champion already familiarised himself well with the FIA Formula 3 EC. "For me, the biggest change is the fact that I have to very carefully warm up the tyres. In Brazil, we raced on very soft tyres that were at working temperature virtually right away. Apart from that, adapting wasn't too difficult. Nonetheless, the level is clearly higher than in Brazil. The best Formula 3 drivers race in the FIA F3 European Championship and you quickly realise that this is the case."
Right behind Piquet, Alessio Lorandi finished fourth, with Anthoine Hubert and Ryan Tveter (Carlin, 1:28.021 min) finishing fifth and sixth respectively. "Both my team and I learned quite a lot, today," said local hero Lorandi who would love to be regarded as one of the favourites. "But we have to wait for the season kick-off at Le Castellet to find out if this really will be the case." The positions seven to ten were secured by Lance Stroll (Prema Powerteam, 1:28.022 min), Arjun Maini (ThreeBond with T-Sport, 1:28.085), Joel Eriksson (Motopark, 1:28.151) and Niko Kari (Motopark, 1:28.187).
Press release FIA F3 European Championship
]]>