<![CDATA[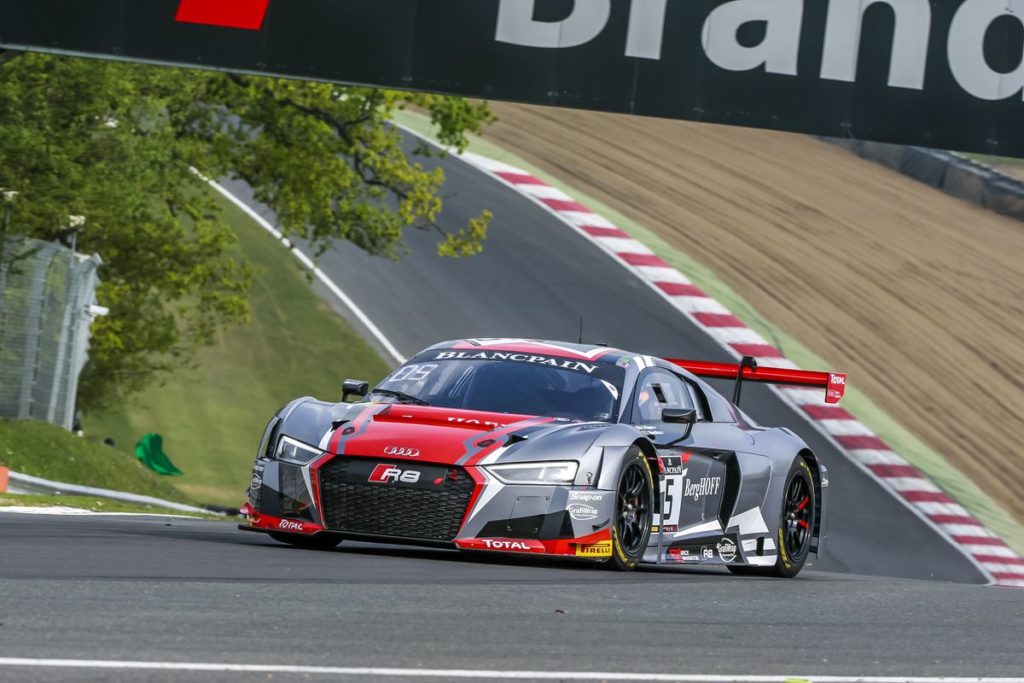 It's done: the Belgian Audi Club Team WRT has put the 2017 season back on the right course, taking a beautiful double podium finish at Brands Hatch, in the second round of the Blancpain GT Sprint Cup. Robin Frijns-Stuart Leonard took second in the Main Race ahead of team mates Will Stevens-Markus Winkelhock. More points finishes came for Dries Vanthoor-Marcel Fässler (6th) and Pieter Schothorst–Jake Dennis (10th). It is definitely an excellent result for the team, taking into account the positions on the grid and in the qualifying and the difficulty to overtake on a track like Brands Hatch. Once again, excellent pit stops were a key factor, and the solid performance of all drivers rounded a great day. Enzo Ide-Christopher Mies were the only exception today: after securing an excellent first-row position on the grid, a contact in the Qualifying Race ruined their chances. This didn't impact the take-away of this first British event: the bitter start of the season is definitely forgotten!
Team Principal Vincent Vosse was clearly very happy when leaving the Kent track: "It's just what we needed, after a difficult Italian campaign. I want to congratulate the entire team for a result that proves that we are back where we should be. Everyone, from the drivers to the crews, has done a terrific job. It's just the kind of weekend I was hoping for when arriving here!". Sporting Director Pierre Dieudonné was no less impressed: "After Qualifying and the Qualifying Race, our weekend didn't look that good, but the entire team reacted and proved its ability to overturn a situation, even on a very difficult track like this. And when it comes to pit stop, I can just say the guys were magical…"
The weekend started promisingly, with all the cars competitive in free practice, with car #5 of Dries Vanthoor fastest in FP1 and car #1 of Christopher Mies second-fastest in FP2. Qualifying, always a very competitive exercise with so many cars on track and such close gaps, revealed itself a little bit frustrating, with only two cars making it to Q3. Mies qualified an excellent second in car #1, and Frijns was 8th in car #17. The other three cars were further back, with Schothorst-Dennis in P18, Stevens-Winkelhock in P20 and Vanthoor-Fässler in P21.
The Qualifying Race was relatively uneventful, on a track were overtaking is very difficult. Unfortunately, the best-placed of the Belgian Audis, #1, saw its race ruined by a contact at the start between Mies and the other R8 of Haase, which resulted in a puncture and a lot of ground lost. The car later retired because of electrical problems. Leonard-Frijns took an excellent seventh after a solid race, with Stevens-Winkelhock finishing 11th, Schothorst-Dennis 13th and Fässler-Vanthoor 18th, after the Swiss was obliged to a long off-track to avoid an incident in front of him.
Main Race started under threatening skies, which later broke into sunshine, and saw an early safety-car period to rescue a car stuck in the gravel. Leonard (7th) and Winkelhock (10th) were the team's best-placed cars in the initial moments, but the race only unfold really at the pit stops. Again, the Belgian Audi Club Team WRT crews were outstanding in strategy and fastness. A very early stop of cars #2 and #17 allowed Stevens and Frijns to climb positions and take back the track in second and third. Frijns, on fresher tires, would eventually pass Stevens to net a great double podium. "When I came out of the pits, I didn't know in which position I was, I was just pushing as hard as I could", explained the Dutchman, "I saw I was behind our green sister car. It's always sensitive to fight against a team mate and I didn't want to take any risk, but I was able to pass Will." Stevens and Winkelhock were nonetheless extremely happy with their third position: "Getting on the podium after starting from P20 was pretty unexpected and not bad at all", admitted the German. Vanthoor also climbed positions to finish 6th, with Jake Dennis crossing the line in 10th. Ide-Mies were on the same course but the Belgian was hit from the back in his return lap losing some ground. The car eventually took P15 after a very strong second stint by Mies.
The Blancpain GT Series will continue its British campaign with the Silverstone 3 Hours next week, valid for the Endurance Cup. The Sprint Cup will be back on 3-4 June with the team's home round at Zolder. .
Blancpain Sprint Series – Round 2
Brands Hatch, United Kingdom 6-7 May 2017
Qualifying Race results:
Engelhart-Bortolotti (Lamborghini Huracan) 40 laps

Palttala-Krohn (BMW M6) + 3s752

Companc-Siedler (Lamborghini Huracan) + 4s744

Serralles-Juncadella (Mercedes AMG) + 5s113

Da Costa – Eng (BMW M6) + 5s859
Leonard-Frijns (Audi R8 LMS) + 9s221
11. Winkelhock-Stevens (AudiR8 LMS) +11s566
13. Scothorst-Dennis (Audi R8 LMS) +13s323
Fässler-D.Vanthoor (Audi R8 LMS) +20s534
DNF Ide-Mies (Audi R8 LMS) 20 laps
Main Race Race results:
1. Engelhart-Bortolotti (Lamborghini Huracan) 41 laps
2. Leonard-Frijns (Audi R8 LMS) +18s974
3. Stevens-Winkelhock (audi R8 LMS) +24s955
4. Szymkowiak-Schiller (Merceds AMG) +25s306
5. Palttala-Krohn (BMW M6) +25s909
6. Vanthoor-Fässler (Audi R8 LMS) +26s343
10. Dennis-Schothorst (Audi R8 LMS) +31s616
15. Ide-Mies (Audi R8 LMS) +41s733 Press release Belgian Audi Club Team WRT]]>