<![CDATA[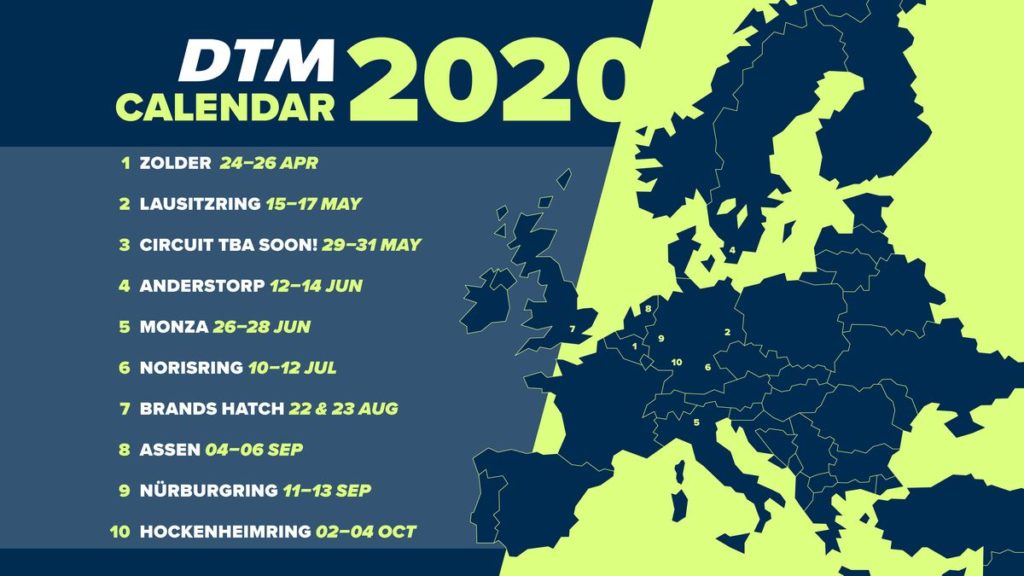 Next year's DTM calendar has been released, revealing an expanded 10-race schedule that visits four classic German venues, five European racetracks, and an unnamed venue – which will be announced at a later date.
Each round will retain its usual double-header weekend format, with one race and qualifying session each taking place on Saturday and Sunday. Next year's calendar has a classic feel to it; starting in Zolder, Belgium (24–26 April) it echoes the early years of the DTM, which also chose to begin at the popular classic venue between 1984 and '94 (the sole exception being 1987). As in previous years, the series concludes with its traditional, festival-like meeting at the Hockenheimring Baden-Württemberg (2–4 October). One venue has still to be confirmed for the 2020 calendar (29–31 May). DTM umbrella organisation ITR will announce the identity of the venue ahead of this year's DTM finale at Hockenheim.
DTM explores new territory: Anderstorp and Monza join the calendar
Next year's calendar includes two new and exciting additions. For the first time, DTM's 600+hp touring cars will visit Sweden (12–14 June). The 'Scandinavian Raceway' at Anderstorp is nestled in the country's south, and earned iconic status in the 1970s when it hosted the Swedish Grand Prix on six occasions. A further new venue is the legendary Monza track, which will host its round of the DTM a fortnight after Anderstorp (26–28 June). The legendary Formula 1 venue is the latest Italian racetrack to host a round of the DTM, after Misano (2018, 2019), Adria Raceway (2003, 2004, 2010) and Mugello (1994-1996, 2007, 2008).
After this year's hugely popular debut at the TT Circuit at Assen, a visit to the Netherlands once again forms a key part of the 2020 calendar (4–6 September). Retaining its pan-European flavour, the series will once again race at classic British venue Brands Hatch, back again in its now traditional late-summer slot (22-23 August).
Alongside Hockenheim, three more traditional German circuits will also host DTM next season. The Lausitzring, owned by long-standing DTM partner DEKRA, will be hosting the first German event of the year (15–17 May). The Norisring street race has become a staple of the German motorsport calendar, and takes place on 10–12 July. As this year, the penultimate round of the series will take place at the Nürburgring, in the Eifel mountains (11–13 September). As in Formula 1, DTM has also introduced a lengthy 'summer break', between the rounds at Norisring and Brands Hatch.
ITR will announce the full 2020 support package, often uniquely tailored to each event, at a later date. The hugely popular W Series, which supports women racing in motorsport, and which kicked off in 2019 on the DTM bill, has already been confirmed as a support series for the 2020 calendar.
One more surprise in store
« The 2020 DTM calendar reflects our ambition to achieve both growth and stability, » said ITR CEO Achim Kostron. « We'll continue to race at Germany's most popular motorsport venues while also increasing the series' presence across Europe. We want to continue growing awareness of DTM in key European markets – so racing at legendary British and Italian racetracks such as Brands Hatch and Monza really allows us to reach those national audiences. Equally, our first visit to Sweden next spring will unlock another new and important motorsport market, one that continues to grow. While the scope of the calendar keeps growing, we've remained loyal to our fans in Germany, retaining four races at key German venues. In addition, the location of both Zolder and Assen means they're both within easy geographical reach for many German fans. We feel like we've got a perfect blend of venues and dates, and we're already getting excited about the new season. »
When questioned about the identity of the venue for the event scheduled from 29–31 May, Kostron added: « We still have one surprise in store. And it's very exciting. »
Ticket pre-sales start shortly
Ticket pre-sales for the 2020 season begin earlier than ever. Fans will be able to start ordering tickets for nine of the 10 events from as early as October 4 – the opening day of the Hockenheim finale. As always, tickets can be purchased from the official website: DTM.com/tickets.
Press release DTM
]]>