<![CDATA[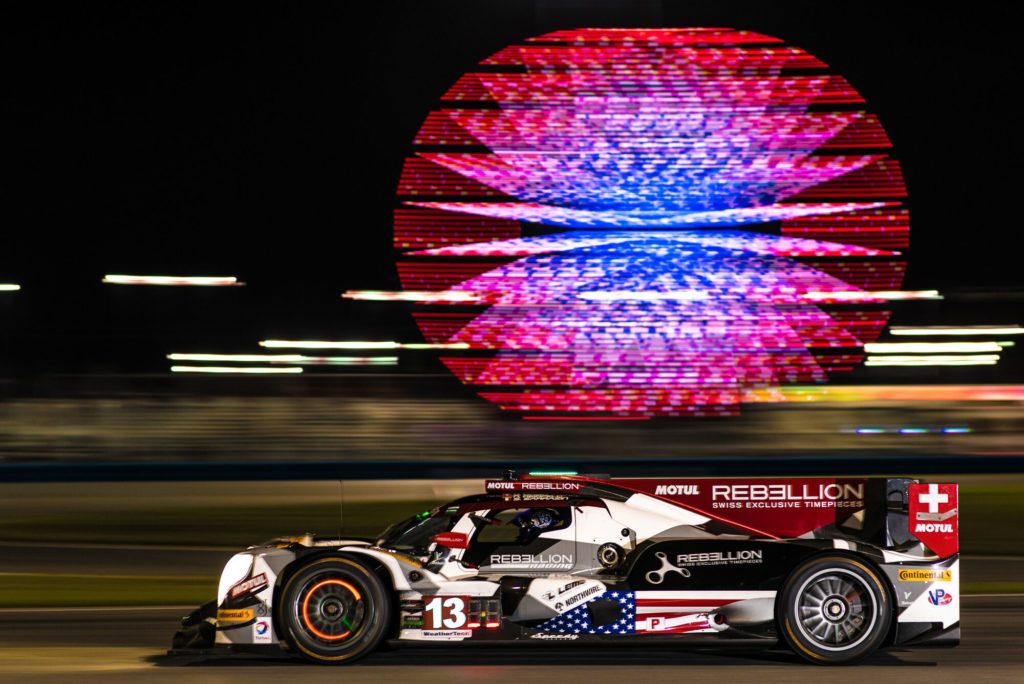 The beginning of REBELLION Racing's Daytona 24 Hours story was better than the ending. Neel Jani took the start of the race and he was able to capitalise on his excellent starting position of third on the grid. During the early stages of the 24 Hour endurance race, Neel was battling at the front of the field with the #31, #5 and #10 Cadillac DPi cars.
The race on the Daytona International Speedway had just passed the two hour mark when the #13 REBELLION Racing Oreca 07 LMP2 experienced its first setback, the throttle response was problematic. The #13 car stopped at its garage and the drive-by-wire throttle motor on the engine was replaced. The #13 Oreca rejoined the race eleven laps down to the leaders with Sebastien Buemi at the wheel.
From that point the team and the drivers knew that the win was no more a realistic target, but all team forces were focused on an aggressive strategy to rejoin the top of the classification. Sebastien Buemi, then Stéphane Sarrazin and Nick Heidfeld in the heart of the night and through the rain pushed hard and the #13 Oreca gained two laps on the leaders by the time that dawn was breaking and Neel was back in the car.
Despite the rain and numerous safety car periods the #13 Oreca was up to 15th place overall and 7th in the class with three hours to go in the race. Two hours from the end of the Daytona 24 Hours, the #13 was forced into an unscheduled stop in the garage to replace the electronics master relay. After a quick repair the car was back in the race. Into the final hour Sebastien Buemi was driving when he reported heavy bouncing in the car when braking. For safety reasons the team decided to stop the car and to change the rear dampers. Despite the change the bouncing was still present and an additional issue with inconsistent throttle response, sent the car back again to the garage to identify the problem.
The #13 REBELLION Racing Oreca 07 rejoined the race and took the chequered flag 8th in the prototype class, for their first start at the Daytona 24 Hour race.
Being just a finisher at Daytona 24 was clearly not the aim of the team before the start of the 2017 Daytona 24 Hours, but the race provided valuable experience and areas to work on with their technical partners for the next race, the 12 Hours of Sebring, but also for the coming FIA WEC season and the 24 Hours of le Mans.
Bart HAYDEN – REBELLION Racing Team Manager : "This was a difficult debut at Daytona 24 for us and we're disappointed because even though we finished the race, it wasn't in the style that we wanted and we had hopes before the race of being on the podium. We performed well over much of the distance, but unfortunately we couldn't turn this into a good result as we were hampered by unexpected technical problems. It's part of the learning process with a new car and at a new racing event for the team.  The race kind of turned into a 24 hour test, and we have identified areas that will need improving for the next events.  The pace is in the car, and that is encouraging, so as soon as we get the reliability sorted, we will have a good chance of competing for victories at the coming events. »
Press release Rebellion Racing
]]>