<![CDATA[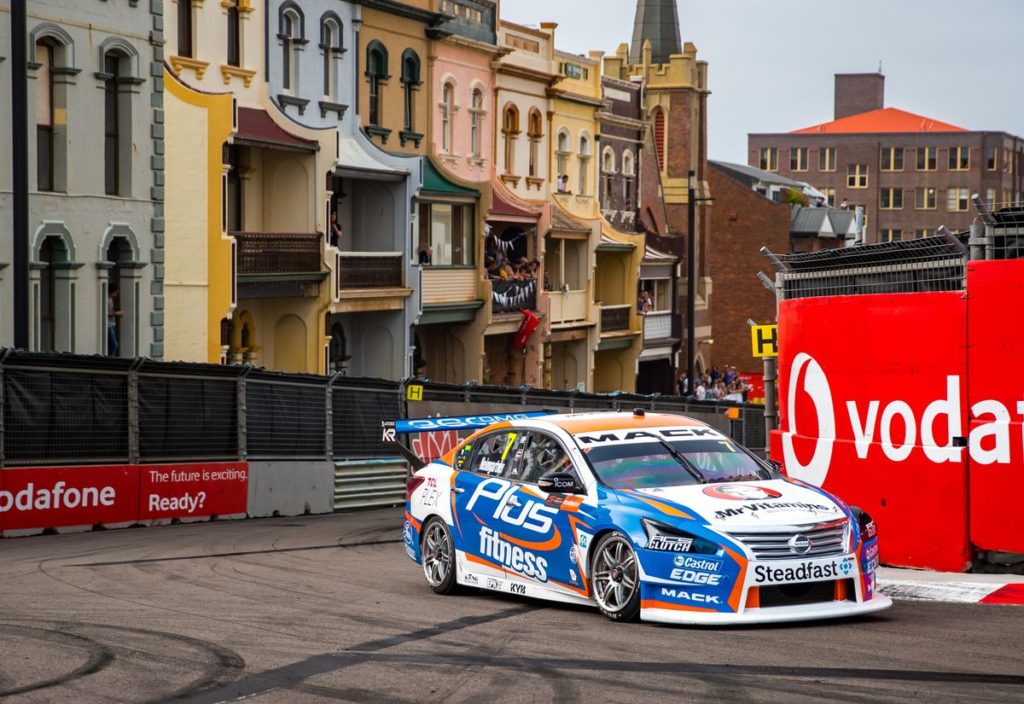 Today the Kelly Racing Nissan Altima Supercars have successfully completed their final race in the Virgin Australia Supercars Championship after seven seasons in the main-game series. The day marks the end of an era for the team as a manufacturer's homologating team and a four-car operation as Kelly Racing downsizes to two Ford Mustang Supercars in 2020.
Today's emotional race finish also marks the end of Simona De Silvestro's Supercars main-driver career after three years with Kelly Racing, while Garry Jacobson is also leaving us after two seasons. The team thanks them for their hard work and professionalism right through to this afternoon's chequered flag.
As for the race itself, André Heimgartner was the team's top finisher in the Plus Fitness Racing car. André qualified just outside the top ten but got a great start and made the most of the early safety car. From there he unfortunately didn't have the pace to hang onto a top ten place but drove a smart and safe race to the end.
Simona struggled in qualifying and unfortunately didn't have the pace to push through the field during the race, however she was able to keep out of trouble and pick up a few places from other driver's mistakes. Simona will be moving back to her home in Switzerland as she takes on a new role with Porsche in 2020.
Rick Kelly narrowly missed out on the qualifying top ten shootout but got a lightning start to this afternoon's race and put himself in the top ten on the first lap. Sadly the pace wasn't there to maintain position and an issue in the second pit stop meant he hadn't met the mandatory fuel drop requirement, so a late stop for a splash of fuel was required to avoid a penalty.
Garry Jacobson suffered a similar fate towards the end of his last race with the team, having to take a third stop for a splash of fuel to meet the required number. He also had great pace in the first stint of his race, picking up around ten places after his first stop. He eventually dropped back down to P22.
The team now turns its focus to preparing the team's two new Ford Mustang Supercars for the 2020 season.
QUOTES Andre Heimgartner, Plus Fitness Racing #7 : « It was a pleasure that race, we didn't quite have the speed we needed but it was really good fun and I had some good battles out there which was cool. I'm really looking forward to next year but it was also a bit sad the last couple of laps there, I was a bit emotional driving around, that'll be the last time I drive the old Nissan. The last couple of years this car really kick-started my career coming into Kelly Racing so it was a bit emotional but definitely got something to look forward to next year. Overall it's been a really solid season, two podiums, starting on the front row, really strong across the board and good building blocks for next year. I'm looking forward to it. »

Simona De Silvestro, Team Harvey Norman #78 : « In some ways I'm happy to be finishing the season because it has been pretty tough all year with the results we've had but at the same time I'm sad to be leaving the team and Supercars. It was pretty emotional over the last few laps, finishing my Supercars career, there's definitely been a lot of ups and downs but I'm definitely going to take back some great memories with me. It's been great to be lucky enough to race here thanks to Harvey Norman and hopefully I left a little bit of a good thing here and who knows maybe one day I'll be back. »

Rick Kelly, Castrol Racing #15 : « The race didn't go great for us, we had a few issues handling-wise in the race which happens but unfortunately we didn't really make any in-roads there. The middle stint was quite costly for us, we lost a few seconds and came out behind a train of cars and there's not much you can do in that situation when you don't have the car to push forward. But there's plenty of stuff there we can look at for next year and that's what we'll do. Obviously our focus as a team now turns completely to next year and getting the Mustang program up and running so I'm looking forward to jumping in the new car and can't wait to see what the new year brings. »

Garry Jacobson, Rabble.club Racing #3 : « My immediate reaction to finishing the last race of the season with Kelly Racing is the results of the weekend are a little bit sour. We just couldn't find our one lap pace, but ultimately the team has given me a car that has been plenty fast enough at other rounds we've had and as a rookie to feel quick at some tracks this year was great and sometime you just have to roll with the punches and some tracks just don't suit so that was this one. So we'll shake this one off and look ahead to what my aspirations are for next year but I'm very thankful for the opportunity to drive for a team like Kelly Racing. We started this program through Super2 working with Matt White, and co-drived with Rick last year which eventually propelled me into my first season as a main driver in Supercars this year so it hasn't just been a one year journey it's been working with the whole team, it's been a big team effort to help me to grow as a person and as a driver. I'm just really thankful for the opportunity and now I can use what I've learned this year to continue on my racing career and keep moving forward. »
Press release Kelly Racing
]]>