<![CDATA[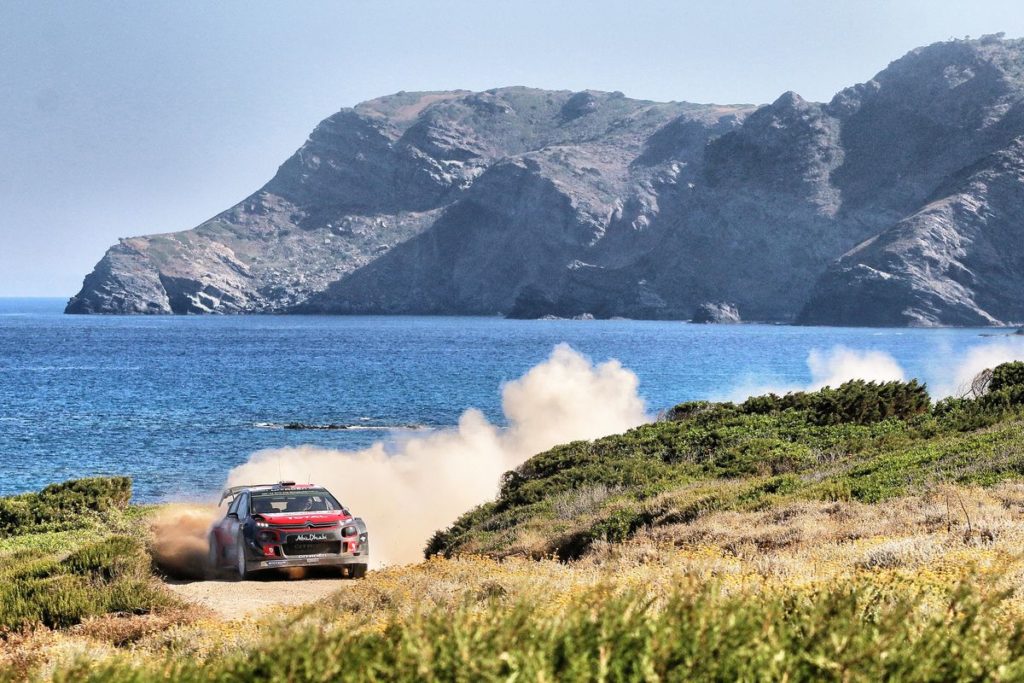 With Andreas Mikkelsen's eighth place ending up as the team's best result, the 2017 Rally Italia Sardegna fell short of the expectations of the Citroën Total Abu Dhabi WRT. Determined to pursue the approach begun this weekend, the team's driver line-up will feature Andreas once again at Rally Poland (29 June – 2 July). The Norwegian will be competing in Mikołajki alongside Craig Breen and Stéphane Lefebvre. 
REVIEW OF RALLY ITALIA SARDEGNA
Following Thursday's ceremonial start and the evening's opening super special stage, the rally only really got underway on Friday morning. Held on roads around Olbia, the day's four stages were each contested twice, with a mid-leg service in Alghero.
Kris Meeke was immediately on form, grabbing the stage win and overall lead on SS2. Very pleased with his Citroën C3 WRC, the Northern Irishman was briefly overtaken by Hänninen before retaking first place on SS4. However, his race was not destined to go much further: on SS5, the leader rolled his car after hitting a bank. He still managed to make it to the end of the stage, losing seven minutes in the process, but was forced to retire when he reached service (roll cage damaged).
By this point, there was only one C3 WRC left in the race, since Craig Breen had retired for the day after SS3, whilst running sixth overall. The Irishman landed heavily after a jump, hitting an exposed bedrock that had not been spotted during recce. The damaged gearbox meant he was unable to continue, but the team had no problems in repairing the car so that he could return under Rally2 rules the next day.
Andreas Mikkelsen was therefore left as the team's sole representative. On his first competitive day's racing with Citroën, the Norwegian adopted a structured approach, aiming to understand the C3 WRC and acquire the various reflexes. Having been eighth overall for long periods, he lost a position in the afternoon.
The next day, Andreas continued to improve as he adjusted the set-up to suit his approach. Despite being short on luck on the famous Monte Lerno stage (a puncture in the morning and a differential problem in the afternoon), he managed to remain positive, believing that things were heading in the right direction.
Back in action on Saturday, Craig Breen produced a couple of fine performances on the Coiluna – Loelle stage, setting the third and second fastest times on each loop. The day's other stages did not go so well, the Irishman experiencing a few hairy moments related to the handling of the car.
Sunday's short final leg only featured four stages, contested with no service period. Despite being second in the running order, Andreas Mikkelsen confirmed the progress made on the opening two days of the rally, setting some encouraging times. Similarly, Craig Breen set another top-three time on SS16.
At the end of the Power Stage, Andreas Mikkelsen and his co-driver Anders Jæger concluded their first rally with Citroën Total Abu Dhabi WRT in eighth place. Craig Breen and Scott Martin also made it to the end of the rally, collecting some extra points for the Manufacturers' World Championship.
MIXED FORTUNES
Looking at the fortunes of the team at this seventh round, clearly the results vary from one crew to the next.  "Before the start, we asked our drivers to make it to the end of the rally. I don't think we were wrong to think that if they managed to do that, we would end up with two cars in the top five," explained Yves Matton, Citroën Racing Team Principal. "Unfortunately, Kris was unable to adopt the pace required to have an error-free race. After the opening stages, he felt comfortable in the car and said that his pace was consistent with the targets set. Clearly, he has failed to maintain it."
"As regards Craig, his race was rapidly brought to a halt after he was caught out when landing a jump," continued Yves Matton. "His lack of knowledge of the stages proved very costly, because it's a tricky spot that is well known to the more experienced drivers on this rally. Having said that, we have noted that his retirement was similar to the one he suffered in Argentina and we need to look at whether or not we can make the car more able to withstand this type of impact."
"Andreas' approach has been constructive and positive. Following the day of pre-event testing, we knew that the C3 WRC would need to be adapted to his driving style, which doesn't involve left-foot braking at all. Clearly, that takes time and so this rally became something of a prolonged test session. More than the actual result – eighth overall – we think we did some good work together. He managed to identify the points we need to work on first and foremost, and to achieve some initial improvements."
A REVISED LINE-UP FOR RALLY POLAND
The team is already focused on the next event: Rally Poland (29 June – 2 July). Citroën Total Abu Dhabi WRT will be entering C3 WRCs in Poland, for Craig Breen/Scott Martin, Stéphane Lefebvre/Gabin Moreau and Andreas Mikkelsen/Anders Jæger.
"After a series of disappointing results, we have asked Kris Meeke to take a step back for this next rally," explained Yves Matton, Citroën Racing Team Principal. "Kris accepted that this would be in the best interests of the team and we'd like to thank him for his understanding. This break will give him the chance to recharge his batteries and release some of the pressure before preparing for Rally Finland. He won in Finland last year after producing a perfect performance, so we hope he'll come back stronger. At the same time, this change in line-up means we can keep working with Andreas. This first experience was more like a test session than a proper competitive outing. A second rally will give him the chance to use the things he has already learned to get closer to the leading guys. Moreover, he is particularly fond of Rally Poland since he won the event last year."
"We also remain committed to supporting our young drivers with Craig Breen and Stéphane Lefebvre, who will both be competing at the next round," continued Yves Matton. "They both took part in the 2016 Rally Poland, and recorded decent performances. They will therefore have a good opportunity to show what they can do. Having said that, their main target will remain to get to the finish without making any mistakes."
In order to prepare for round eight of the WRC, the team will spend four days testing in Poland. Andreas Mikkelsen, Craig Breen and Stéphane Lefebvre will take turns behind the wheel of the C3 WRC. Meanwhile, Kris Meeke and Paul Nagle will take part in recce for Rally Poland.
STANDINGS
RALLY ITALIA SARDEGNA 1. Tänak / Jarveoja (Ford Fiesta WRC) 3:25:15.1 2. Latvala / Anttila (Toyota Yaris WRC) +12.3 3. Neuville / Gilsoul (Hyundai i20 WRC) +1:07.7 4. Lappi / Ferm (Toyota Yaris WRC) +2:12.9 5. Ogier / Ingrassia (Ford Fiesta WRC) +3:25.3 6. Hänninen / Lindstrom (Toyota Yaris WRC) +3:38.5 7. Østberg / Floene (Ford Fiesta RS WRC) +6:31.8 8. Mikkelsen / Jæger (Citroën C3 WRC) +8:07.8 25. Breen / Martin (Citroën C3 WRC) +44:10.8
DRIVERS' WORLD CHAMPIONSHIP 1. Sébastien Ogier – 141 points 2. Thierry Neuville – 123 points 3. Ott Tänak – 108 points 4. Jari-Matti Latvala – 107 points 5. Dani Sordo – 70 points 6. Elfyn Evans – 53 points 7. Craig Breen – 43 points 8. Hayden Paddon – 33 points 9. Juho Hänninen – 29 points 10. Kris Meeke – 27 points 11. Esapekka Lappi – 17 points 12. Andreas Mikkelsen – 16 points 13. Mads Østberg – 12 points 14. Stéphane Lefebvre – 10 points 15. Teemu Suninen – 5 points
MANUFACTURERS' WORLD CHAMPIONSHIP 1. M-Sport WRT – 234 points 2. Hyundai Motorsport – 194 points 3. Toyota Gazoo Racing WRT – 146 points 4. Citroën Total Abu Dhabi WRT – 101 points
Press release Citroën Racing
]]>