<![CDATA[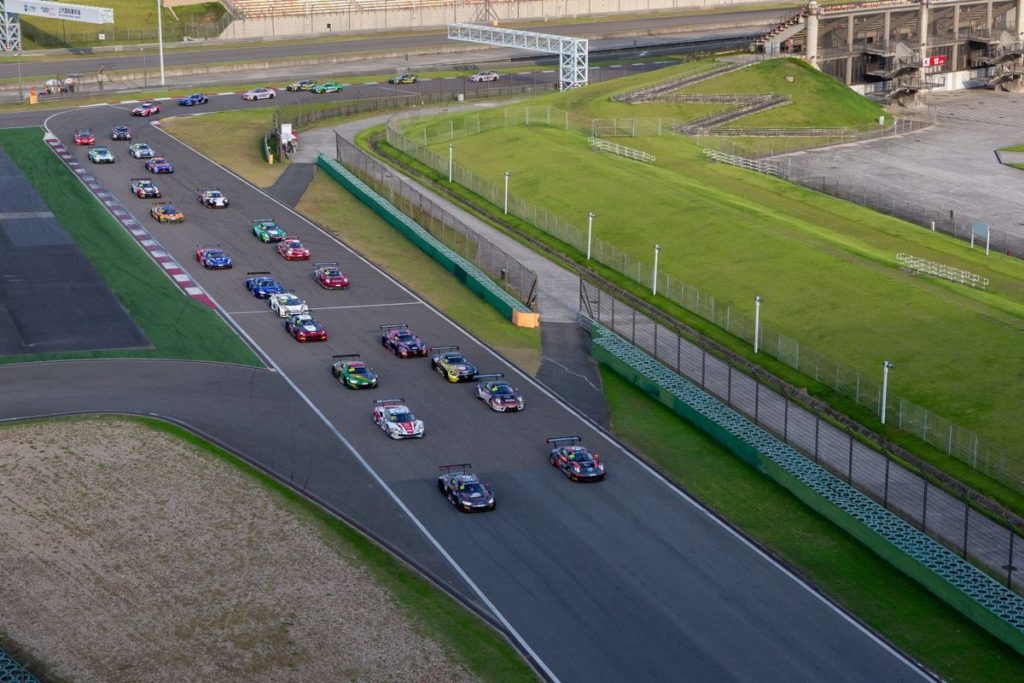 Martin Rump and Weiron Tan claimed a comfortable lights-to-flag victory in the opening race of Blancpain GT World Challenge Asia's Shanghai season finale earlier this evening.
However, fourth place for championship leader MG Choi and his Solite Indigo Racing co-driver Manuel Metzger, plus podiums for two more title contenders, ensured the result wasn't enough for Audi Sport Asia Team Absolute Racing's #12 crew to retain an outside chance of claiming the crown on Saturday.
Instead, Choi heads into this year's final 60-minute race nine points ahead of Absolute Racing's Tanart Sathienthirakul and Philip Hamprecht who finished third behind fellow contender Yuya Sakamoto (HubAuto Corsa). The Japanese driver's deficit stands at 13 points with a maximum 25 still to play for.
Further back, a combination of retirements and Pitstop Success Penalties helped Team iRace.Win's Ringo Chong and Setiawan Santoso also take an unchallenged GT4 victory ahead of BMW Team Studie duo Sunako Jukuchou and Takayuki Kinoshita, who are competing separately to decide the class Drivers' crown this weekend. But while that won't be concluded until tomorrow, iRace.Win's victory and fourth place was enough to secure the GT4 Teams' title.
Two Drivers' Championships were also decided: AMAC Motorsport's Andrew Macpherson and Ben Porter officially clinched the Am Cup title, while first in class and sixth overall was enough for Vutthikorn Inthraphuvasak to wrap up GT3 Pro/Am honours. The Panther/AAS Motorsport Porsche also remains in overall contention, albeit 23 points behind Choi.
GT3: FOUR CONTENDERS PROGRESS TO SHANGHAI SHOWDOWN
Hiroaki Nagai's damaged Porsche necessitated an early Safety Car period, but when racing resumed after two laps Martin Rump capitalised on his pole position to build a 10s lead over a chasing pack headed by fellow front row starter Tanart Sathienthirakul.
Yuya Sakamoto, in third, remained glued to the Porsche's tail while David Chen, Vutthikorn Inthraphuvasak and MG Choi completed the initial top-six at the expense of Phantom Pro Racing's Chris On Chia.
The top positions remained unchanged after the pitstops, Tan using the sizeable advantage built by Rump to enjoy a comfortable run to the chequered flag. His cause was helped by Philip Hamprecht keeping Marcos Gomes at bay just long enough to leave HubAuto Corsa's Brazilian too far behind the Audi once he'd cleared Absolute's Porsche. 3.5s separated the top-two at the finish.
Inthraphuvasak frustrated Choi in the opening stint, but with the Panther/AAS Porsche subsequently dropping back due to its 15s Pitstop Success Penalty, Manuel Metzger was free to challenge Rahel Frey – who'd taken over from Chen – for fourth. Unlike Sakamoto and Hamprecht/Sathienthirakul ahead, clearing TSRT's Audi ensured Choi scored the maximum number of points without incurring a Success Penalty for Saturday's showdown.
With the top-four now strung out, the late race interest centred on Frey, Keita Sawa and Alex Imperatori who re-joined seventh following Panther/AAS's Success Penalty. First, the Porsche driver made absolutely certain of Inthraphuvasak's Pro/Am title by taking sixth from class rival Sawa, whose ABSSA McLaren he shares with Piti Bhirombhakdi was enjoying its best run of the season. He then switched his attention to Frey who ultimately hung on to fifth by just 0.013s.
Absolute's second Audi completed the top-eight ahead of championship debutant Zun Motorsport Crew and JRM.
Further back, Phantom Pro Racing took Am class honours on home soil courtesy of Chris On Chia and Wei Lu, while Andrew Macpherson and Ben Porter celebrated their title with second place.
GT4: VICTORY AND TEAMS' TITLE FOR iRACE.WIN
Ringo Chong and Setiawan Santoso scored their second wins of the season to help iRace.Win seal the Teams' Championship with a round to spare. They took the chequered flag 22s ahead of Sunako Jukuchou who established a three-point advantage over former co-driver turned team-mate Takayuki Kinoshita in the race for this year's Drivers' crown.
There was drama before the end of lap one when pole-sitter Brian Lee made contact with ARN's stranded GT3 car at Turn 4, which handed the advantage to Jean-Marc Merlin. The Craft-Bamboo Mercedes-AMG would remain out front until just before the pitstops when Jukuchou nipped past.
However, Team Studie's lengthy Success Penalties ensured neither BMW would feature in victory lane. Instead, it was practice pace-setter Chong who made good on Santoso's strong first stint.
iRace.Win might have finished one-two without the drive-through penalty that restricted Joe Chi and Keo Chang to fourth. However, their collective points were still sufficient to wrap up the GT4 Teams' title.
Merlin – who set fastest lap – and Douglas Khoo finished fifth ahead of Lee and Tony Fong's delayed GTO Racing with TTR Mercedes-AMG.
Blancpain GT World Challenge Asia's season finale gets underway at 11:55 tomorrow. Watch it live on the championship's website and Facebook page, SRO's GT World Youtube channel, and across China's biggest online streaming platforms.
Press release Blancpain GT World Challenge Asia
]]>