<![CDATA[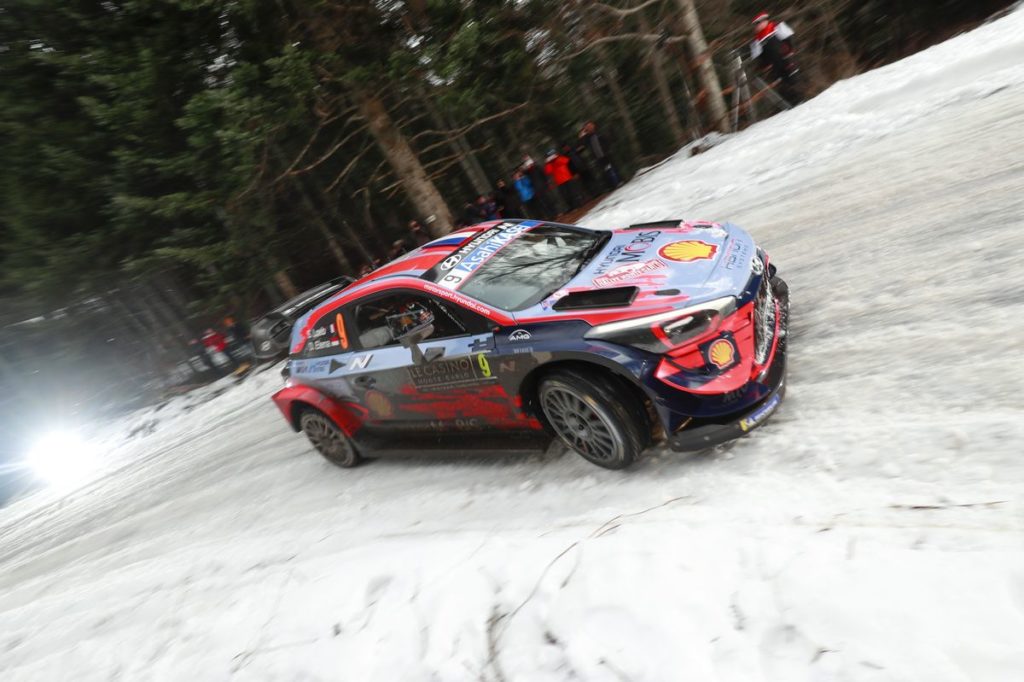 Hyundai Motorsport heads to Sweden for the second round of the 2020 FIA World Rally Championship (WRC) ready to tackle a reduced 11-stage itinerary for this year's edition of the rally.
Despite unseasonably warm weather in the region, rally organisers have confirmed that the event will go ahead with changes to the planned scheduled to accommodate the conditions.
A four-day itinerary will cover around 180km of special stages with maximum championship points on offer for teams and crews. Hyundai Motorsport will be aiming to continue its winning ways with three crews lining up in the Hyundai i20 Coupe WRC cars.
Rallye Monte-Carlo winners Thierry Neuville and Nicolas Gilsoul will be hoping to score a hat-trick of victories, having also won in the final event of the 2019 season, Rally de Espana. The pair were on imperious form in this season's opening round, taking the team's first-ever win in the Principality.
0tt Tänak and Martin Järveoja will return to the cockpit of the #8 car in Sweden following their crash in Monte-Carlo. The Estonians are fighting fit and ready to show their pace at a venue where they were victorious twelve months ago.
lrishmen Craig Breen and Paul Nagle re-join the team for their third outing, having contested two events in 2019: Rally Finland and Wales Rally GB. The crew will drive the #16 Hyundai i20 Coupe WRC. All three crews have tested in Sweden in the run-up to the event, although conditions are still subject to change as the weather gods determine the precise nature of this year's Rally Sweden.
Team Principal Andrea Adamo said: "We appreciate the concerted efforts of the organisers and the FIAto make Rally Sweden happen. The conditions are uncharacteristically Warm for this time of the year and We acknowledge the challenges that have been faced in preparing for the rally, With safety at the forefront of the decision-making process. We head to Sweden on the back of a victory in Monte-Carlo but knowing that We have some areas of improvement in our performance level. We don't expect this event to be straightforward but We Will focus on managing the things in our control to deliver the best result We can. »
Crew Notes: Thierry Neuville/Nicolas Gilsoul (#11 Hyundai i20 Coupe WRC)
Championship leaders will target their second Rally Sweden win
Crew have previously been on Swedish podium in 2015, 2018 and 2019
Neuville said: "An ideal Rally Sweden would have lots of snow, huge snowbanks, very icy roads, the perfect conditions for us to go fast with full confidence to get the most out of the car. When the road is properly frozen, the studs get good grip and you can go flat out. Obviously, if there will be less snow than previous years it could be quite tough to do the stages. Our tyres are very thin and very high, so they won't work the same on grave/ stages and it's going to be really tricky. Without the snowbanks, the rally gets faster and faster, and less interesting, so we keep our fingers crossed for a lot of snow to arrive. »
Crew Notes: 0tt Tänak/Martin Järveoja (#8 Hyundai i20 Coupe WRC)
Estonians fit and ready to tackle the second round of the season
Crew won Rally Sweden in 2019
Tänak said: "Since Monte, I have been feeling better every day. We learned a very good lesson, and we know now that each time we have to drive a new section, we really need to focus more than ever before. Driving in Sweden is always very special, particularly when we get some frozen, icy conditions. The grip from the spiked tyres is extremely high and gives a great feeling. It will be important for us to get back some points and to improve step-by-step. It will be our first time on loose surface with Hyundai, but I hope we can deliver a good result. »
Crew Notes: Craig Breen/Paul Nagle (#16 Hyundai i20 Coupe WRC)
Third event with Hyundai Motorsport after Finland and Wales GB in 2019
Breen scored best-ever WRC result in Sweden, second place in 2018
Breen said: "I am very humbled to have the chance of getting behind the wheel of the Hyundai i20 Coupe WRC again. It's been a /ong time since Wales Rally GB, so I'm excited and anxious. From the first moment I drove the car, I felt a lot of confidence and that I could drive my own natural way. Sweden is a raily/ enjoy; I scored my best-ever result in the World Championship there a few years ago. Hopefully the conditions will be favourable for us and the cold will arrive in the region for us to have 'proper' roads. Regardless, when I am back in my happy place driving a WRC car, I will have a nice weekend. »
WRC 2 overview
Rally Sweden will represent a home event for one of the Hyundai Motorsport WRC 2 crews. Norwegian their home roads with stages on the revised schedule still to be run across the border into neighbouring Norway.
The crew won the WRC 2 category in Sweden last year and will be hoping to make a positive impression after a disappointing result in Monte-Carlo. Nikolay Gryazin and Yaroslav Fedorov will also be hoping for a more consistent performance in Sweden after making their debut in the Hyundai i20 R5 at the opening round.
Veiby said: "Rally Sweden is one of the highlights of the season. It's very much a home rally, one of the stages even goes through our family forest. I was watching there since I was a little kid, so it means a lot. There are lots of supporters, friends and family; to see so many Norwegian flags is really special. To drive on proper snow conditions is, I think, one of the best things to do. The grip level can even sometimes be better than gravel, especially with studded tyres. The target for the rally is for sure a victory. We were a bit disappointed about Monte-Carlo; I think the car worked really well so hopefully it will also do that in Sweden. I'm looking forward to it! »

Gryazin said: "Sweden for us means quite a lot because it's winter. Back in my country, we drive in the cold a lot. We had a valuable experience in Monte-Carlo, adapting to a new car in tricky conditions. I feel more confident now and I hope the result reflects that. This will be my second time in Rally Sweden. It will be difficult to compete against the local crews, but I am determined to secure a good result and to see how the Hyundai i20 R5 performs. It has definitely shown good pace in all conditions so I hope we will have a positive weekend – whatever the conditions. »

Team Principal Andrea Adamo said: "We saw an encouraging performance from our i20 R5 in Monte-Carlo, and we hope to confirm that also in Sweden. We expect to see a more confident and assured performance from our two crews in this event. For Ole Christian and Jonas, this is a home rally, and we know from their WRC 2 victory last season what they can achieve. Overall, we hope to see a more consistent and representative result, even with the challenges that we expect all crews will face. »
Press release Hyundai Motorsport
]]>