<![CDATA[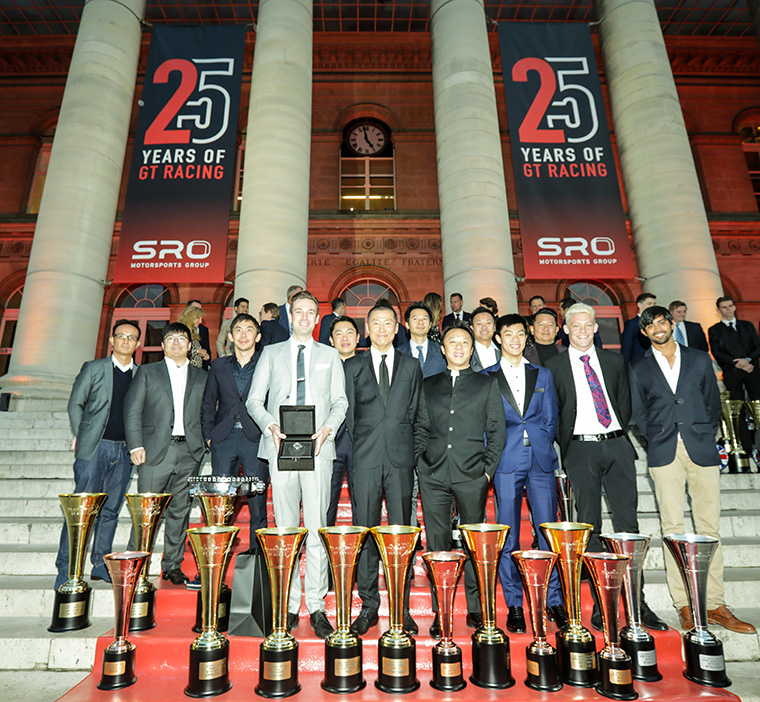 Blancpain GT Series Asia's Teams' and Drivers' champions joined title winners from each of SRO Motorsports Group's other global categories in Paris yesterday for the promoter's annual Night of the Champions and exclusive '25 years of GT racing' celebrations.
The historic Palais Brongniart – the French capital's 19th century former stock exchange – played host to a star-studded awards ceremony and black tie evening gala that paid tribute to a quarter-century of GT racing around the world.
It was a chance for Blancpain GT Series Asia's champions to rub shoulders with their European counterparts, as well as the winners from SRO's regional GT3 and GT4 categories, Pirelli World Challenge, the Macau FIA GT World Cup and Intercontinental GT Challenge.
Blancpain GT Series Asia's inaugural GT3 champion Hunter Abbott was in attendance, the GruppeM Racing driver picking up his overall and Pro/Am trophies as well as a personalised Blancpain 8885S timepiece. He was joined on stage by GruppeM Racing owner Kenny Chen who accepted the GT3 Teams' title following a stellar season for the Mercedes-AMG outfit.
2017's GT4 champions were also in Paris, with Frenchman Jean-Marc Merlin and Craft-Bamboo Racing co-driver Frank Yu collecting their trophies together after winning five of the season's 12 races.
The celebrations continued with 2017's other GT3 class champions being presented with their trophies on stage. Audi Hong Kong duo Marchy Lee and Shaun Thong missed out on the overall crown by just three points but still ended an excellent campaign as Silver Cup champions, while CMRT Eurasia's Kenneth Lim and James Cai were in town to collect their Am Cup prizes.
Hunter Abbott, GT3 Drivers' Champion: "If you'd said at the start of the year I'd be here collecting a championship trophy then I'd have called you a madman! Everything went right: GruppeM's engineers, mechanics, sponsorship and co-drivers, who were probably the best on the grid, combined to create a formidable package. We also had some luck during the season but it feels wonderful to walk away as not only Pro/Am champion but also the Overall. I'm looking forward to wearing my new Blancpain watch!"

Marchy Lee, GT3 Silver Cup Champion: "I've always admired Stephane [Ratel] because, as a driver himself, he's always understood what we need and tried to include those elements within his series. Coming here to Paris to collect our trophies alongside SRO's other champions is also a special touch. Drivers like myself and Alex Yoong have been the main faces of Asian GT racing for a few years now, while someone like my co-driver Shaun [Thong] represents the next generation. So being here, around SRO's other champions, helps to put the continent on the map. It's going to be an increasingly important market in the coming years."
Blancpain GT Series Asia's six-event, 12-race 2018 season begins at Sepang in Malaysia on April 14/15.
2017 BLANCPAIN GT SERIES ASIA CHAMPIONS
GT3 Overall 1st Hunter Abbott, GruppeM Racing 2nd Mitch Gilbert and Aditya Patel, OD Racing 3rd Marchy Lee and Shaun Thong, Audi Hong Kong
GT3 Pro/Am 1st Hunter Abbott, GruppeM Racing 2nd Alex Au and Alex Yoong, Audi R8 LMS Cup 3rd Jeffrey Lee, J-Fly by Absolute Racing
GT3 Silver Cup 1st Marchy Lee and Shaun Thong, Audi Hong Kong 2nd Mitch Gilbert and Aditya Patel, OD Racing 3rd Tim Sugden and Jules Szymkowiak, GruppeM Racing
GT3 Am Cup 1st James Cai and Kenneth Lim, CMRT Eurasia 2nd Andrew Haryanto, X-One Motorsports 3rd Lin Yue, FFF Racing Team by ACM
GT3 Teams' 1st GruppeM Racing 2nd OD Racing 3rd Audi Hong Kong
GT4 Drivers' 1st Jean-Marc Merlin, Craft-Bamboo Racing 2nd Eric Lo and Byron Tong, EKS Motorsports 3rd Keo Chang, Taiwan Top Speed Racing
Press release Blancpain GT Series Asia
]]>