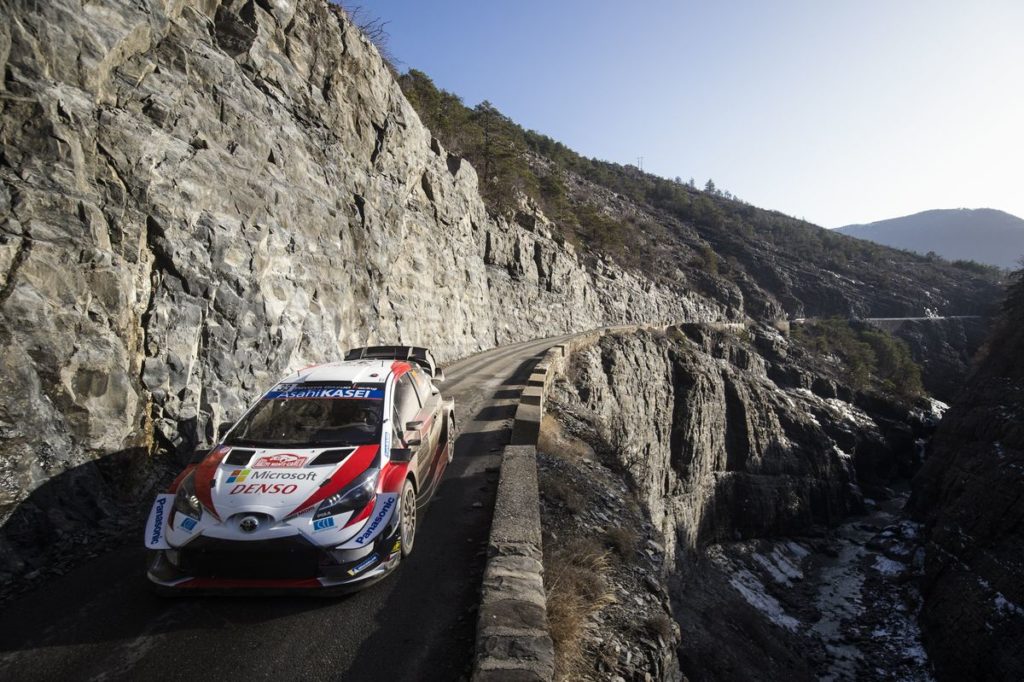 The Toyota Gazoo Racing World Rally Team is ready to face a unique title decider when Rally Monza runs as the final round of the 2020 FIA World Rally Championship on December 3-6. The team will travel to Italy with Elfyn Evans and Sébastien Ogier as the main favourites for the drivers' title, separated by 14 points at the top of the standings. The manufacturers' title is also well within the sights of Toyota, which is just seven points away from the lead. Kalle Rovanperä, currently fifth in the drivers' standings, will provide further support in this aim as he looks to finish his promising rookie season on a high.
An end-of-year rally has been held at the iconic Monza racing circuit near Milan since 1978, but this is the first time it has been added to the WRC calendar. The stages at Monza make use of the racetrack itself as well as its historic banked oval circuit and access roads, with some gravel sections. For its WRC debut, the rally will also include stages on mountainous public roads north of Bergamo. The December date means the weather is likely to form part of the challenge, with rain, mud and fallen leaves – as well as cool temperatures – potentially reducing the available grip.
The rally will begin at Monza on Thursday afternoon with a single short stage, followed by a total of five tests around the circuit during Friday. Saturday is when the crews head out for two loops of three road stages near Bergamo, which will account for nearly half of the rally's 241.14 competitive kilometres. There's a return to Monza for the day's final stage and then three more tests on Sunday to finish the rally.
Quotes:
Tommi Mäkinen (Team Principal) : "We all wanted to see this season end with another rally if possible – thanks to everyone who has been helping to make it happen. The format will be a bit different to what we are used to. I think the stages in the mountains will be particularly challenging for the drivers as they will be new for everyone. Our drivers do not have so much experience with the car on asphalt, but we have prepared as well as we can for this rally, including our pre-event testing this week. It is looking good for either Elfyn or Seb to win the drivers' championship and they will both have our full support. The manufacturers' title is still very open as well, so we have to push for the best result at the finish."

Sébastien Ogier (Driver car 17) : "Monza will be a new challenge. I'm happy to finally jump in the car again and have a last shot at the championship. For sure, it's better to finish it this way rather than at home. I've never done the event before, but I've been looking at some videos and I think the stages at the circuit won't be as easy as they seem initially. There are some sections on gravel, even on grass or mud, and with a car set up for asphalt that's never easy. And then the stages on Saturday look like pretty nice mountain roads. They could also be very challenging depending on the weather conditions. We haven't really driven the car on asphalt since Monte Carlo, so the testing this week has been very important to get as much experience as possible. I feel like I have nothing to lose, so I don't feel any pressure and I'm just doing my best to be as ready as I can be."

Elfyn Evans (Driver car 33) : "Since Sardinia we've just been focused on preparing for the next event: We have always wanted to see the rallies happen and to do as many as possible. I'm going into it in a positive frame of mind. We know that a strong result is needed and we're ready to go there and give it our best shot. From what we've seen in videos from the organiser, the Saturday stages up in the mountains look really nice. There's some real fast, flowing asphalt stages, and they could be quite challenging at this time of year. We're probably lacking a bit of mileage under our belts with the car on this surface, but it felt good in Monte Carlo and we know that it's strong in this area. The difficulty is that the circuit stages are a completely different scenario from the mountains. So we have to do our best to find a good feeling and adapt the car as we see fit."

Kalle Rovanperä (Driver car 69) : "This year has been a big learning process for me but it has been going really well. I have been learning more and more all the time. Without any full asphalt rallies this year, I think I have the most to learn on this surface. So Monza will be a difficult one for me, but it's going to be interesting. It has been a long time since Monte Carlo, so it was a strange feeling to be back on asphalt in my test this week, but the feeling was getting better all the time. Even though it's late in the year and it was quite cold, the grip level was still really high and really enjoyable to drive with the Yaris. This is going to be a new kind of rally with things that we haven't experienced, like driving on some gravel sections with asphalt tyres which I have never done before. But we just have to be as quick as possible and attack to the maximum, as there is nothing to lose for me."
Press release Toyota Gazoo Racing