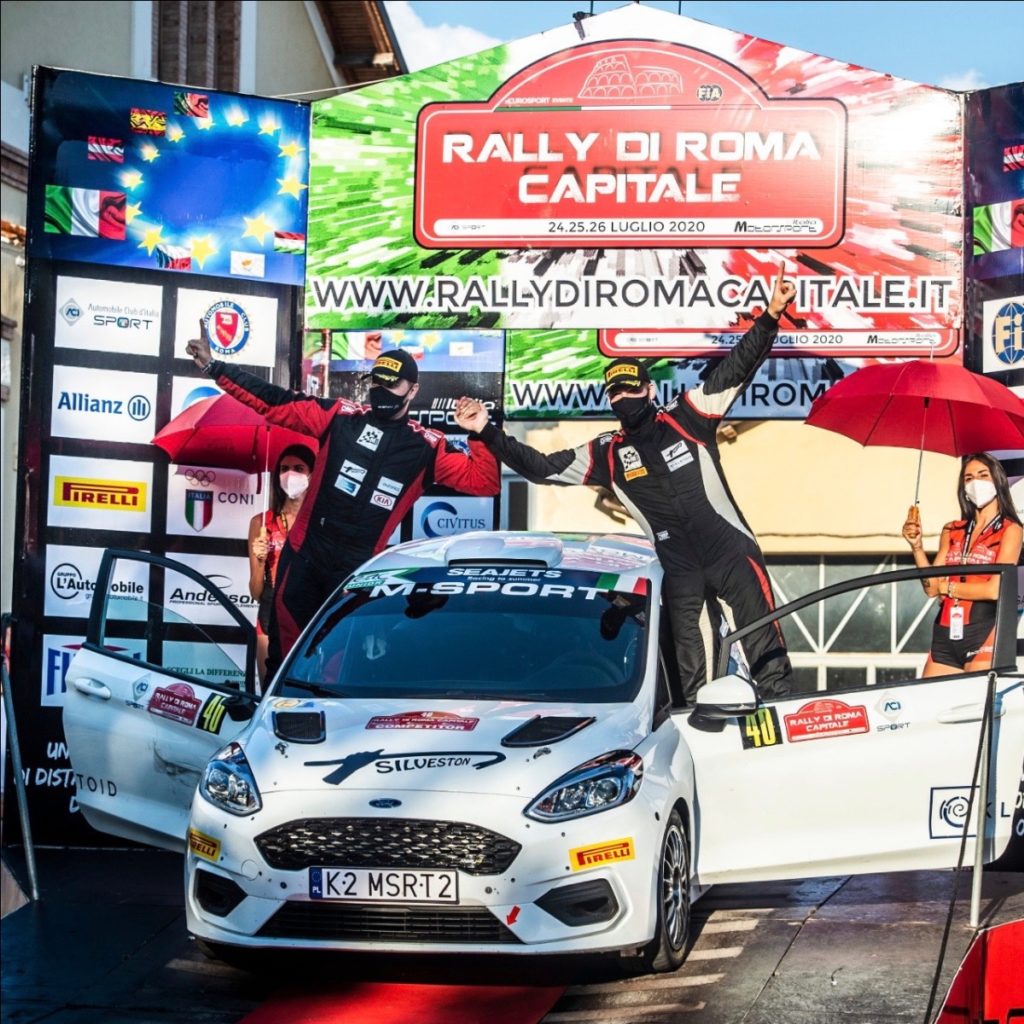 Estonians Ken Torn and Kuari Pannas have won the 2020 FIA European Rally Championship ERC3 and ERC3 Junior titles (subject to FIA confirmation) with the M-Sport Poland-built Fiesta Rally4. The titles come after an incredible season that kicked off in Rome on Rally di Roma Capitale. Torn and Pannas claimed a hard-earned victory on the all-out asphalt roads, a surface the pair had little experience on, demonstrating the Fiesta Rally4's out of the box speed.
The second round saw a complete show of EcoBoost-powered Fiesta Rally4 domination on the fast gravel roads of Rally Liepaja. The new-for-2020 front wheel drive Fiesta Rally4 won every stage in ERC3 and ERC3 Junior on the rally, securing the top-four positions while completing a clean sweep of the podium.
The third round of the visited Portugal for Rally Fafe Montelongo on roads and conditions that the young Estonians had never experienced before. Despite a lack of road knowledge and experience, Torn and Pannas carefully guided their Pirelli-shod Fiesta Rally4 with no mistakes to second position, winning over half of the stages while fighting for the lead.
Rally Hungary presented some of the most difficult and treacherous stage conditions ever seen on an asphalt rally for the fourth round of the ERC3 and ERC3 Junior Championship. Torn and Pannas took to the mud and gravel strewn asphalt roads with supreme confidence, building their lead to over one-minute at one point of the rally. The pair took nine stage wins on their way to a third ERC3 and ERC3 Junior victory of 2020 even after suffering two punctures during the rally.
Following the cancellation of Rally Spa and subject to FIA confirmation, Torn and Pannas have won the 2020 FIA ERC3 and ERC3 Junior Championships.
Maciej Woda, M-Sport Poland team director: "Firstly, I just want to say that I genuinely wish we were able to decide these titles on Rally Islas Canarias, we fully intend to compete there and finish the championship off properly. This is an absolutely outstanding achievement for Ken, Kauri, everybody at M-Sport Poland and also Estonia. Ken came back to the ERC3 championship this year with huge speed and determination, but it was well balanced with a maturity he should be really proud of. He was able to get straight into his Fiesta Rally4 and deliver leading performances on every single rally, without the kilometres of testing that some of his rivals had been afforded. There was a lot of anticipation about which new Rally4 car would emerge on top in ERC3 this year. I think we proved with conviction that the Fiesta Rally4 isn't just competitive on the different surfaces and conditions we faced, it is capable of winning. I am so proud of the achievements we made as a team this year, winning in Rome, a podium lockout in Liepaja and an incredible victory in Hungary. I want to thank everybody in Krakow for all of their hard work this year, it's paid off so far so let's keep pushing and look forward to the final round of the season!"

Ken Torn, 2020 ERC3 and ERC3 Junior Drivers' Champion: "This is a very strange feeling right now, but I think it will feel more real after the rally as we want to finish the season the right way. It means so much to me to win these championships with Kauri and M-Sport Poland, especially after how things ended last year, I feel relief more than anything. 2020 has been so difficult for everybody and I would like to thank all those that continued to support me throughout the year, I am very grateful for everything. It's been great to be pushing the Fiesta Rally4 too this year with some great achievements, M-Sport Poland has done an incredible job with the car and the hard work and dedication that has gone into each rally has paid off."

Kauri Pannas, 2020 ERC3 and ERC3 Junior Co-Drivers' Champion: "These championships are the result of perfect teamwork, we were all focussed on one goal and knew what we had to do to get there. We worked with passion and commitment while making sure we had a good atmosphere in the car and also with the team out of the car. We wouldn't be celebrating this achievement without our sponsors, families and friends so thank you for everything, without you it would have been impossible."
Press release M-Sport