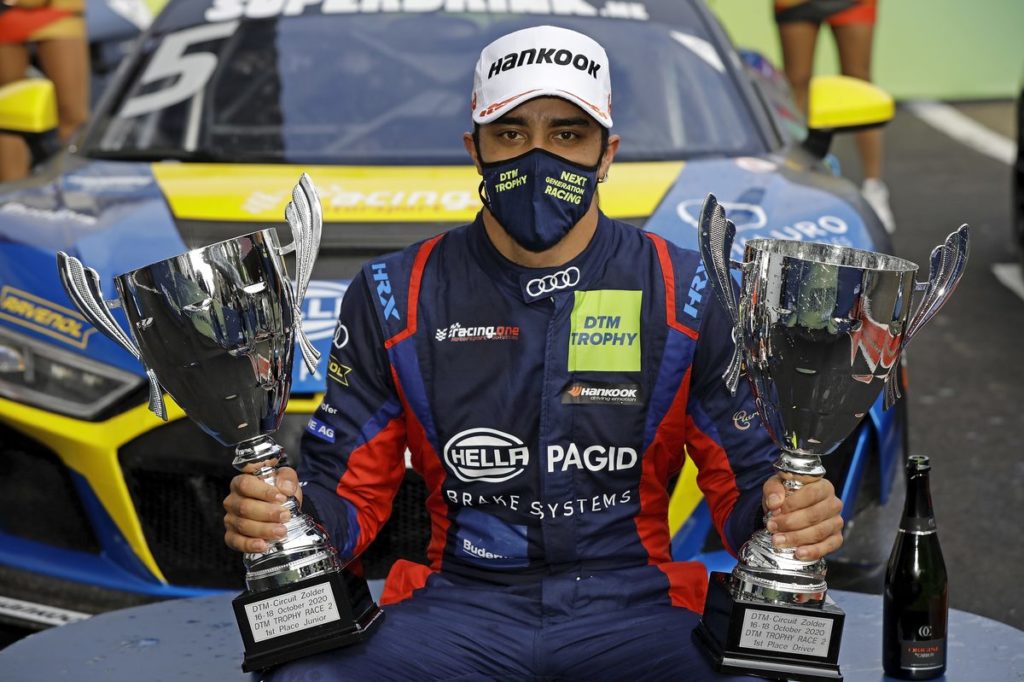 Two pole positions, two wins: young Swiss Lucas Mauron dominated proceedings in the penultimate round of the DTM Trophy. Moreover, the Audi driver of the Hella Pagid – racing one team ended Tim Heinemann's streak of six wins in a row. For Mercedes driver Heinemann from the HP Racing International team, third place on Saturday was enough to seal the inaugural drivers' crown of the new DTM Trophy. On Sunday, the 23-year-old student finished fourth. Another driver with a strong performance was Mercedes driver Jan Kisiel (POL, Leipert Motorsport), who finished second for the first time in the DTM Trophy. The winner of the season opener at Spa-Francorchamps at the beginning of August, British driver Ben Green (MW M4, FK Performance Motorsport) rounded out the podium.
At the start of the second race at Zolder, Mauron maintained the lead while a charging Jan Kisiel immediately put Ben Green under attack for second place. The Brit skilfully defended his position. Heinemann made a good start from sixth on the grid and moved up to fourth.
Intense four-way battle behind race leader Mauron
While Mauron pulled away more and more, there was an entertaining four-way battle in second to fifth place. Kisiel showed himself in Green's rear view mirror over and over again, but didn't find a way past the FK Performance Motorsport BMW M4. Local hero Nico Verdonck (Toyota Supra, Ring Racing) and Heinemann maintained their chances as well. Just before the end, a trace of oil on the track caused excitement and several cars ran wide. Kisiel benefited and overtook Green. The latter tried a counter-attack, but the Pole pulled away. Freshly-crowned champion Heinemann also lost two positions after a brief off-track excursion.
While Heinemann is the inaugural champion, three drivers are still in contention for runner-up spot with 56 points still up for grabs: behind champion Heinemann (231 points), second-placed Kisiel has the best chances with 141 points, next up are Green (120) and Ben Tuck (GBR, BMW M4, Walkenhorst Motorsport, 105). The season finale at the Hockenheimring, 6-8 November, will be decisive.
Quotes – race 2, Zolder
Lucas Mauron, Audi, winner : "That was yet another very good race for us, the pace was good from the outset. The team has done a great job and given me the best support, the way it has been all season. I was able to benefit from the intense battles behind me and gradually pull away. Just before the end, there was a heart-stopping moment as I started sliding on the trace of oil and almost spun out. I was lucky there!"

Jan Kisiel, Mercedes-AMG, 2nd place : "Finally not ending up third but being one step higher up on the podium instead is a really good feeling. It is a big step forward. Otherwise, it was a stressful race, I was putting Ben Green under pressure and behind me, Tim Heinemann was flashing his lights, so that I just pulled in my rearview mirrors to focus on the driver in front of me. The trace of oil just before the end was my only chance to overtake Ben and I took it."

Ben Green, BMW, 3rd place : "We can be happy with the race. I had a good start, even though I found out that I wasn't able to match Lucas Mauron's pace after the first laps already. So I just focused on keeping the pace and managing the tyres. And of course on Jan Kisiel, who was pushing me under pressure from behind all the time. Sadly, the trace of oil at the end caught me out, a brief moment without grip and Jan was past. Still, a good result, even though we could have achieved more here."
Press release DTM Trophy