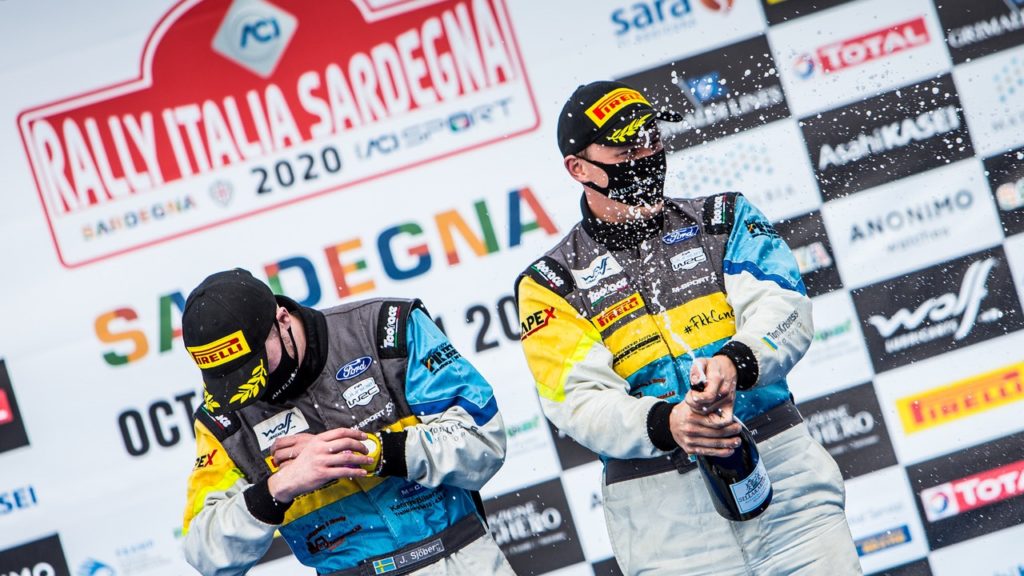 Kristensson led from the start, opening a convincing 20-second lead on Pajari and 40 seconds Sesks who span on the tight and technical first stage.
Sesks responded to win on SS2, taking 10 seconds out of Kristensson's lead and moved into second as Pajari struggled.
Stage four brought a lot drama, seeing Sesks, Ruairi Bell, and Enrico Oldrati retire for the day as Zaldivar kept his cool and found himself third at the conclusion of the opening loop.
Bell's pace was impressive, with his confidence building stage to stage until he sent his Fiesta Rally4 hurtling into a bale at some speed on the second pass of Erula-Tula at the end of the first loop.
Kristensson was handed the perfect opportunity to close the championship points gap seizing another stage win on SS5 as flying Finn Pajari responded on the final stage of the day to claim his second stage win of the rally. By this point Kristensson already had a significant lead over second-placed Pajari but the drama continued in the FIA Junior WRC Championship on Saturday.
Kristensson extended his lead through Saturday's six stages with Pajari hitting trouble on the opening stage of the day after breaking a driveshaft over a jump.
Pajari's retirement saw Zaldivar climb to second with a healthy gap to Martins Sesks in third who was a cut above the rest in terms of stage times. The Rally Estonia winner began his opening streak of stage wins on SS7, signing off stages eight and nine in the same fashion with a puncture preventing the Latvian from winning every stage of the loop. He returned to form on Saturday's final pair of stages delivering back to back stage wins.
By the conclusion of Saturday Kristensson held almost a nine-minute lead and four stage wins.
Briton Ruairi Bell posted a good haul of top-three stage times and even looked set for a stage win on stage 12 until a spin cost him that opportunity. Bell was holding fourth until the final stage of the rally, where he retired after breaking a driveshaft.
Pajari hit back with blistering pace on Sunday, taking a pair of stage wins on the first passes of Cala Flumini and Sassari-Argientera. The penultimate stage was cancelled meaning a stage point wasn't awarded for SS15 however Pajari was straight back on it on the final stage, grabbing another crucial stage point. Kristensson openly admitted to sticking to a safe and steady pace to secure 25 classification points for his fourth victory in FIA Junior WRC.
Sesks now leads the championship with 68 points as Kristensson has closed the gap down to just ten points and is now second with 58 as Pajari has slipped to third with 54 points.
The fight is even closer when discounting the top three's worst classification points, with Kristensson actually leading on 58 points, Sesks second with 53 and Pajari third on 44.
Wolf Stage Win points have massively closed the gap between the top three and there are 60.5 points available and everything to play for on Renties Ypres Rally Belgium, the FIA Junior WRC Championship finale on 19-22 November.
Maciej Woda, FIA Junior WRC Team Director, said: "Congratulations Tom and Joakim on a superbly driven rally with no mistakes, this was definitely redemption for them after retiring on Estonia and they are in a very strong championship position now. Fabrizio Zadlivar becomes the first ever Paraguayan to stand on the FIA Junior WRC podium which is a huge achievement for him and his country, he should be really proud. Martins and Sami, despite their issues delivered some incredible stage times yesterday and today. It's evident they have a lot of motivation to do everything they can to win the championship which makes the prosect of the championship finale all the more exciting."
CLASSIFICATION
1. Tom Kristensson / Joakim Sjöberg 3:07:49.1
"We started very good, actually we started on a really high pace and went slower or safer from there! There have been many tough places on the rally, but we enjoyed it very much. There have been many twisty and nice places, this island is amazing, at the end the last day was about bringing the victory home and getting to the finish. I'm not 100% focussed on the championship still, I will focus on the next rally and push for a victory like here."
2. Fabrizio Zaldivar / Fernando Mussano +11:25.4
"This is amazing! It has been a long weekend, on Friday we secured a very good position and on Saturday we got second position which was a big surprise. After that it was very long for me with many things to manage to not get a puncture or hit anything with the car. Finishing today with my first podium in FIA Junior WRC is amazing."
3. Martins Sesks / Renars Francis +29:56.2
"Well the weekend was such a big rollercoaster filled with ups and downs for sure, after the fourth stage it felt like a nightmare and then we had issues with the car. But we managed some good points and third place, it's incredible."
4. Enrico Oldrati / Elia de Guio +37:01.1
"For us it was an unlucky weekend, but this is rallying and we accept it. The first day we broke the steering arm and restarted the rally on Saturday, after that the rally was good for us as we tried to improve our pace notes and pace. I am super happy to finish, the car went well as well as the tyres."
5. Sami Pajari / Marko Salminen +58:14.7
"The rally was really difficult so I needed to take the points that were available. We had some difficulties but mostly everyone did, it was really frustrating and sad to have them but there's nothing we can do about it now. We tried to win the stages on Sunday to take all the stage points which worked out well in the end. I think that the three top guys have got a serious chance at winning the championship, maybe I am the weakest at the moment but you will never know."
6. Marco Pollara / Maurizio Messina +76:50.4
"For me it wasn't a good rally or week because I had a lot of problems but today I chose not to push because I wanted to make it across the finish."
RETIRED:
Ruairi Bell / Darren Garrod
Fabio Andolfi / Stefano Savoia
Press release Junior WRC