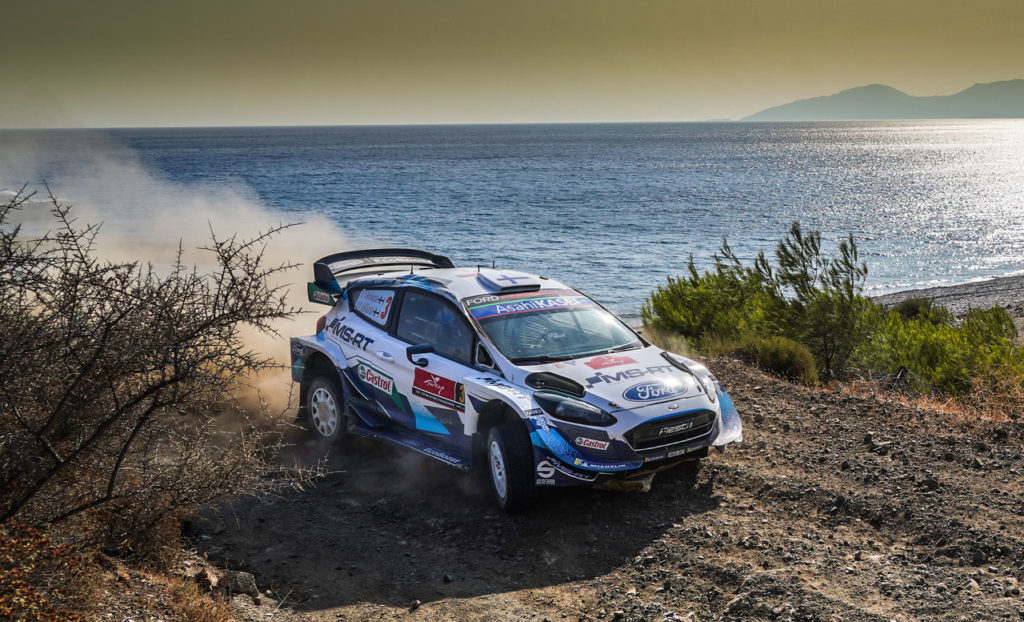 Tackling the roughest event of the year at this weekend's Rally Turkey, M-Sport Ford World Rally Team's EcoBoost-powered Ford Fiesta WRCs are line astern – progressing to sixth, seventh and eighth places respectively.
Leading the Fiesta charge, Teemu Suninen and Jarmo Lehtinen found a good balance between speed and consistency. Improving their pace throughout the day, the Finns got closer to the leading times and are just 16.2 seconds away from Suninen's third consecutive top-five finish at what is arguably the most challenging event of the year.
Having not completed a pre-event test, Esapekka Lappi and Janne Ferm were discovering the characteristics of the top-specification Fiesta on rough gravel for the first time. Trying a number of different setups, the pairing hold seventh place and got into their groove through the closing speed tests – setting a number of encouraging times including the fourth fastest time through the second pass of Kizlan (SS8).
Gus Greensmith and Elliott Edmondson were also experiencing the power and performance of the Fiesta WRC for the first time in Turkey, and showed good progress throughout the day. Despite struggling with the hard compound tyre through the opening loop, the Brits had the better of team mate Lappi through the second pass of Yeşilbelde (SS6) before picking up a right-rear puncture and having to nurse their Fiesta back to service.
Elsewhere in the WRC 2 category, Adrien Fourmaux and Renaud Jamoul had been holding a commanding lead behind the wheel of their EcoBoost-powered Ford Fiesta Rally2. Contesting the Turkish fixture for the very first time, the young Frenchman delivered an impressive drive before a rear-left puncture put paid to his charge on the second pass of Yeşilbelde (SS6). Losing two minutes on the stage, they then picked up a further minute's penalty for late check-in and another puncture on the following stage – ending the day in second place, two and a half minutes adrift of the lead.
Team Principal, Richard Millener, said: "It's been a long and challenging day, so the fact that we have all four cars here at the end just goes to show how strong the Fiesta is across all levels of competition. Without a pre-event test there's been an element of learning as we go, so it was really positive to see all four cars showing some good speed today. Teemu has been there or there abouts all weekend, and we saw some really encouraging times from Esapekka as he started to get to grips with the characteristics of the Fiesta on these kinds of stages. Gus also showed some great progress, and it was a shame he picked up the puncture otherwise we could have seen even more in those final kilometres. In the WRC 2 category Adrien had established a big lead with the Fiesta Rally2. It was a pretty incredible performance considering this is his first time here in Turkey and only his sixth ever gravel rally, but his charge came to an end when he picked up a puncture on the second pass of the long stage this afternoon."

Teemu Suninen (6th) said: "I've been quite happy with the day. I felt like I was driving well and that our tyre management was good. We were pushing hard while still taking care of the tyres and we were able to set some good times this afternoon. But then on the last two stages we had quite a lot of dust in the car when one of the small windows on the side popped open – which was really distracting. Tomorrow the plan is to continue what we are doing and get through the day. We have some really rough stages – the roughest of the weekend I would say – so we need to keep our eyes open and make sure we get to the end with some more good times."

Esapekka Lappi (7th) said: "It's been really hot and challenging out there today – it's tough on the cars, on the tyres and on the crews as well. It was tricky running so early on the road, but we tried to drive well and learn as much as we could about the car on these kinds of roads. We learnt quite a lot and things got better this afternoon, but there's still some more to do so let's see what we can discover tomorrow."

Gus Greensmith (8th) said: "We were making quite a few changes after each stage and on the long one this afternoon the splits were looking really strong. But unfortunately we picked up a puncture. I'm not sure where we got it, but we did, and for the last two I had a bald tyre on the rear which made things pretty interesting with some pretty big slides! I'm trying to do the best I can and it seems to be getting better with every stage. We've been pretty good on the rough sections, and that's what we'll have to contend with tomorrow so let's see what we can do."

Adrien Fourmaux (2nd WRC 2) said: "It's been a really crazy day. We had a good lead, but then on the long one this afternoon [SS6] we got a puncture just two kilometres into the stage. We had to stop and change it which cost us two minutes, then on the road section we tried to cool the car and it wouldn't restart. We worked really hard with the team and managed to get it going again, but we were late to the next stage and lost another minute with penalties. Then on that stage, we had another puncture! It's a big shame as I think we were driving well and really showing what we and the car can do here this weekend – but this is rally and anything can happen on an event like this. Tomorrow we have some more really rough stages, so let's keep focused and see what we can do."
Press release M-Sport Ford