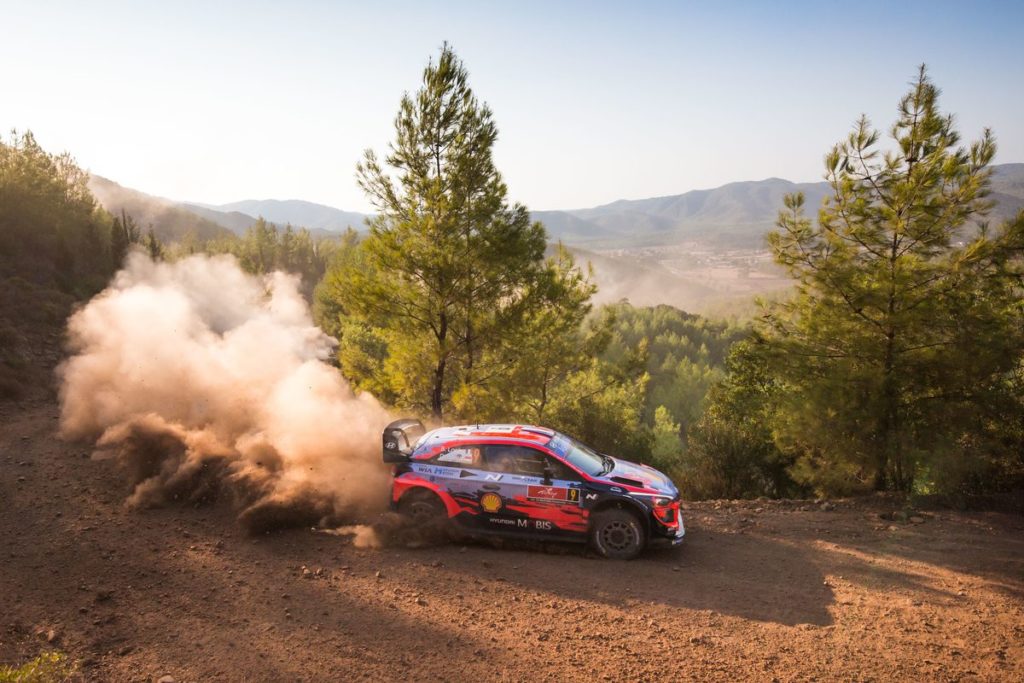 Hyundai Motorsport has completed the two opening stages of Rally Turkey, the fifth round of the 2020 FIA World Rally Championship (WRC), with a provisional 1-2 in the initial phase of the notoriously tough 12-stage event.
Sébastien Loeb returned to WRC action for the first time since Rallye Monte-Carlo in style, taking the early lead in his Hyundai i20 Coupe WRC alongside co-driver Daniel Elena. The Frenchman performed strongly in dusty conditions to move ahead of team-mates Thierry Neuville and Nicolas Gilsoul, who hold second place just 1.2-seconds behind.
The Belgians, aiming to mount a championship fightback this weekend, started strongly with an opening stage win in Içmeler (13.90km), as part of a Hyundai 1-2-3. Rally Estonia winners Ott Tänak and Martin Järveoja, meanwhile, had to settle for seventh overall, hampered by hanging dust during the second stage, Gökçe (11.32km).
Road positions for Saturday will be based on the reverse of Friday's standings, handing a theoretical advantage to the overnight classification leaders, although the rough Turkish stages threaten to catch out even the most focused crews this weekend; there is just as much need for caution as outright speed.
Crew Notes: Sébastien Loeb/Daniel Elena (#6 Hyundai i20 Coupe WRC)
French-Monegasque crew competing in their first WRC event since Monte-Carlo
Loeb leads Rally Turkey after the two opening stages with an advantage of 1.2-seconds
Loeb said: "I always hoped we could fight at the front here, but I did not expect to be leading! It's a new rally for me, so I felt disadvantaged in that respect. I had a really good feeling in the car from the start and I was happy with the precision in my pace notes. We were quickly into the rhythm; I knew we had to be on the pace from the start to get a good road position, so to be in the lead is great. In the second stage, we already had lots of dust on the road section, so I had to trust completely in my notes. We are in the game, so we hope to continue like this. There's a long way to go."
Crew Notes: Thierry Neuville/Nicolas Gilsoul (#11 Hyundai i20 Coupe WRC)
Second place after opening 25km gives Belgian crew a positive start
Stage win in SS1 (Içmeler) led a competitive Hyundai 1-2-3
Neuville said: "We had a good start to the rally and the conditions were OK in the first stage. There was some hanging dust, but there was more in the second. We didn't want to take unnecessary risks in such conditions. Our car was working fine, and the Hyundai i20 Coupe WRC showed its speed in the first stage with a 1-2-3. We have to look at the positives; we are in second place this evening close to the lead. We know this rally is tough and punishing. Tomorrow, we will stay focused and aim to end the day still in the fight for the leading positions."
Crew Notes: Ott Tänak/Martin Järveoja (#8 Hyundai i20 Coupe WRC)
Rally Estonia winners were hampered by hanging dust in the second stage
Seventh place overall but just 4.8-seconds from the overall lead
Tänak said: "It has been a challenging start to the rally; the stages actually were in quite good shape but in the second one we had quite bad dust. I was not ready to take risks at this early stage of the rally. It's pretty disappointing as I remember clearly last year we decided not to have this situation. Anyway, it's a long event; it will be demanding but we have everything ahead of us. The car felt good today so hopefully tomorrow, with good vision, we can push a bit more."

Team Principal Andrea Adamo: "Clearly, we are happy to be leading with a 1-2 at the end of these first stages of Rally Turkey. At the same time, there is some sadness because the second stage of the day created some problems to our crews with the dust. Some people call it rallying; I call it something that should have been managed better. Hopefully lessons will have been learned for tomorrow. Anyhow, we are first and second, so we concentrate on this positive. We have seen before how unpredictable this rally can be, so it is bound to be a thrilling event for the fans following at home."
Saturday at a glance
Six stages will be contested on Saturday – a repeated loop of three, starting with the long 31.79km Yesilbelde test
Shorter but equally challenging stages follow, Datça (8.75km) and Kizlan (13.15km), with a lunchtime service separating the two loops
A total of 107.38km of stages make up Saturday's itinerary, the longest individual day of the event.
Classification after Day One
| | | | | |
| --- | --- | --- | --- | --- |
| 1 | S. Loeb | D. Elena | Hyundai i20 Coupe WRC | 18:50.9 |
| 2 | T. Neuville | N. Gilsoul | Hyundai i20 Coupe WRC | +1.2 |
| 3 | S. Ogier | J. Ingrassia | Toyota Yaris WRC | +1.3 |
| 4 | E. Evans | S. Martin | Toyota Yaris WRC | +2.1 |
| 5 | K. Rovanperä | J. Halttunen | Toyota Yaris WRC | +2.7 |
| 6 | T. Suninen | J. Lehtinen | Ford Fiesta WRC | +4.2 |
| 7 | O. Tänak | M. Järveoja | Hyundai i20 Coupe WRC | +4.8 |
| 8 | E. Lappi | J. Ferm | Ford Fiesta WRC | +6.6 |
| 9 | G. Greensmith | E. Edmondson | Ford Fiesta WRC | +16.1 |
| 10 | P. L. Loubet | V. Landais | Hyundai i20 Coupe WRC | +28.5 |
Press release Hyundai Motorsport