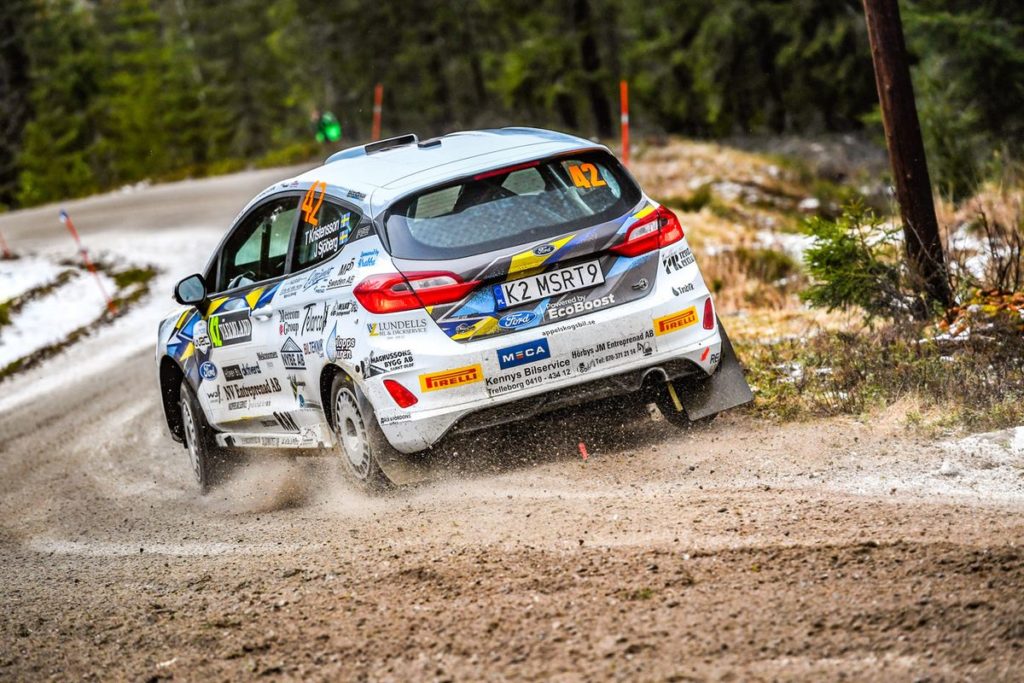 Tom Kristensson continues to lead the first round of the 2020 FIA Junior WRC Championship and is just 21.19 kilometres shy of securing his second win on home soil – and making it a clean sweep of Swedish victors on the Swedish round of the Junior series.
Getting off to the perfect start through the second pass of Hof-Finnskog (SS5), Kristensson set his third fastest time of the weekend – extending his lead to more than 30 seconds. Consolidating his second place, Martin Sesks was the second fastest man through the stage with Estonia's Ken Torn reining in Finland's Lauri Joona for third.
The second pass of Finnskogen (SS6) saw another Swede come to the fore as Pontus Lönnström secured his very first stage win – bettering fellow countryman Kristensson by just 0.2 seconds. While another third fastest time for Torn saw the gap in the battle for the final step of the podium reduced to just 5.8 seconds!
But there was misfortune for Fabio Andolfi who was forced to retire from the event as damage sustained in yesterday's accident resulted in a water pump failure and loss of coolant through the stage.
Powering through Nyckelvattnet (SS7) for the second time, there was another new name at the top of the time sheets as Sami Pajari set the fastest time ahead of Lönnström and Kristensson. And for the first time today, Joona had the better of Torn – increasing his third-place advantage to 7.4 seconds.
The final stage of the day seems to suit Romania's Raul Badiu as he set the fastest time through the Torsby Sprint (SS16) once again. Lönnström was second fastest through the stage and his impressive pace today has seen him jump from 12th to ninth in the overall standings.
Going in the opposite direction however, an electrical issue caused an intermittent misfire for Oscar Solberg and he fell from seventh to 10th.
Joona was third fastest through the final stage – giving him an 8.4 second advantage over Torn going into the final day. But it's Kristensson who remains on top – 41.8 seconds clear with just 21.19 kilometres left to contest.
Tom Kristensson, Junior WRC Rally leader, said: "It's been a great rally so far and close to a perfect weekend with just one more stage to go. We started with good pace again this morning, but then I was a bit more cautious after that. Everything has worked really well and the feeling in the car is good so we will continue like this tomorrow."
RALLY SWEDEN CLASSIFICATION, SATURDAY:
1. Tom Kristensson / Joakim Sjoberg 1:10:06.7
2. Martins Sesks / Renars Francis +41.8
3. Lauri Joona / Ari Koponen +51.5
4. Ken Torn / Kauri Pannas +59.9
5. Sami Pajari / Marko Salminen +1:11.5
6. Raul Badiu / Gabriel Lazar +3:12.2
7. Fabrizio Zaldivar / Fernando Mussano +3:15.9
8. Ruairi Bell / Darren Garrod +3:37.1
9. Pontus Lönnström / Stefan Gustavsson + 04:18.7
10. Oscar Solberg / Jim Hjerpe +4:30.1
11. Marco Pollara / Maurizio Messina +5:33.4
12. Enrico Oldrati / Elia de Guio +5:45.9
13. Tommaso Ciuffi / Nicolo Gonella +9:25.3
14. Catie Munnings / Ida Lidebjer-Granberg +10:53.3
Retired: Fabio Andolfi / Stefano Savoia
Retired: Jon Armstrong / Noel O'Sullivan
Press release FIA Junior WRC