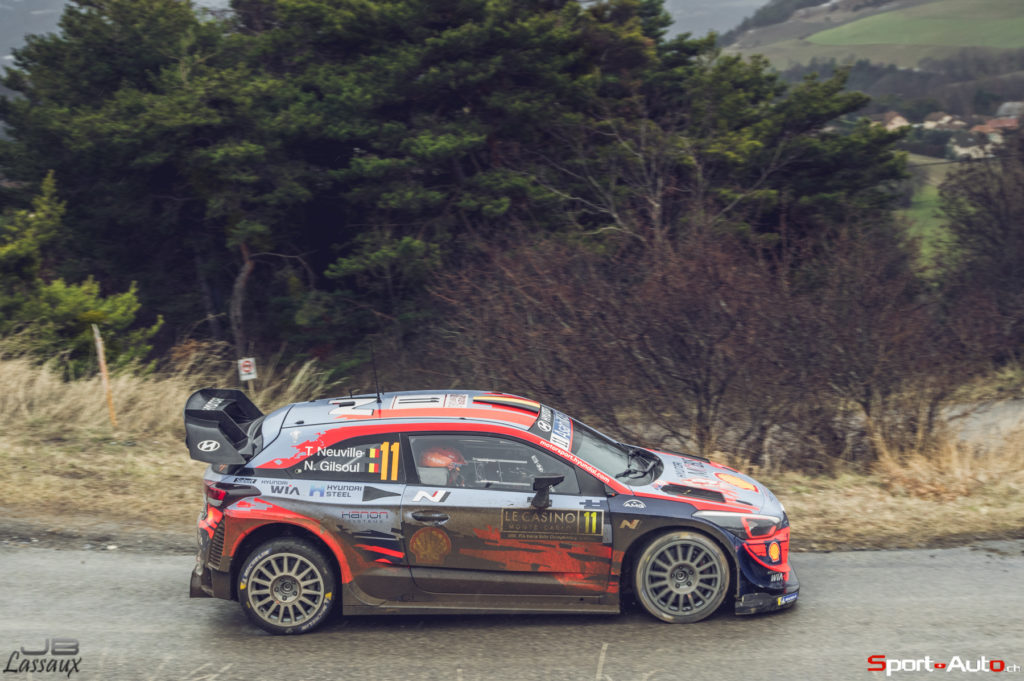 Hyundai Motorsport has completed the first full day of Rallye Monte-Carlo, the opening event of the 2020 FIA World Rally Championship (WRC), in third and fourth overall following a challenging Friday for the team.
Two loops of three stages represented the longest individual day of the entire rally, with plenty of demands along the way. A total of 122.58km made up the itinerary with crews tackling Curbans-Venterol (SS3/SS6 20.02km), Saint Clément-Freissinières (SS4/SS7 20.68km) and Avançon-Notre-Dame-du-Laus (SS5/SS8 20.59km).
Overnight leaders Thierry Neuville and Nicolas Gilsoul dropped to third overall but remain in touch with just 6.4-seconds separating the top-three. The Belgian crew added a second stage win of the weekend with a strong drive on the final test of the afternoon.
Sébastien Loeb and Daniel Elena finished just one place further back on the classification in fourth. There was, however, no opportunity for Estonians Ott Tänak and Martin Järveoja to make advances during the day.
The crew was involved in an accident during the morning's second stage (SS4 Saint Clément-Freissinières). Thankfully they were able to exit their #8 Hyundai i20 Coupe WRC unaided but visited the hospital for precautionary checks. Both driver and co-driver have been deemed fit following the incident but will remain in the hospital for further monitoring overnight. They will take no further part in the rally.
Hyundai Motorsport will regroup during early evening service before attacking the second half of the rally with its two remaining crews from Saturday morning.
Crew Notes: Thierry Neuville/Nicolas Gilsoul (#11 Hyundai i20 Coupe WRC)
Ended Friday in third place overall, just 6.4-seconds from the leader
Belgians took a second stage win with the fastest time in SS8 (Avançon-Notre-Dame-du-Laus)
Neuville said: "It has been a bit of a frustrating day for us. We had a difficult morning, fighting to pick up the pace and to have a good clean run. We faced some challenging conditions, and I couldn't find the right feeling to push hard. It got better towards the end of the day and we were improving constantly with Dani (Sordo) as my road note crew. In the end it worked quite well, and I was confident. Step by step we found our way forward and we also worked on the set-up of the car to make it feel more comfortable. We need to continue in this way. I am happy Ott and Martin are okay; it was a huge crash at high speed but most importantly they are doing well."
Crew Notes: Sébastien Loeb/Daniel Elena (#9 Hyundai i20 Coupe WRC)
French-Monegasque crew finished Friday in fourth overall
Aiming to defend their position as the rally continues
Loeb said: "I had a good day today. For sure, I think we had some more mud on the road, but also the drivers out front are very fast. I couldn't match their speed. The gap to them is quite large so there's no point to take risks. The running order will be different tomorrow; it may not make much difference, but we will see what the second half of the rally brings."
Crew Notes: Ott Tänak/Martin Järveoja (#8 Hyundai i20 Coupe WRC)
Estonians started the day in third place but crashed out in SS4
Crew will not take part in remainder of Rallye Monte-Carlo
Tänak said: "First of all, Martin and I feel fine. We are recovering well and will be fit soon. In the early stages with the car we've been improving step by step. Last night, I really couldn't understand everything that was happening. Overnight we managed to work quite a lot with the engineers and this morning the car already felt better. Still, of course, it would have been nice to continue for a bit longer to improve the feeling and to adapt again, but it is how it is. Yes, we had some moments already before the accident. Basically, in the first stage this morning, we were caught out by black ice where we had a spin. I must say it was proper Monte-Carlo; we really had some tricky conditions and it's been challenging. I'm sure everyone had some moments and it's normal in these kinds of conditions."
Team Principal Andrea Adamo: "It is useless to say on a day like this that the performance of our car is not at the level we may wish it to be. We have improved, yes, but there is still a gap that needs to be filled. Thierry has done an amazing job to bridge this gap, and we have to thank him and Nicolas for their efforts. We are pushing hard but when the situation is like it is today, we can't really do more. Séb has done what we asked of him; we need a back-up car and I think he has done well. We are always happy to have him and Danos in the team."
Saturday at a glance
Four stages make up Saturday's itinerary covering a competitive distance of 75.20km.
A double loop of familiar tests – St Léger les Mélèzes – La Batie Neuve (16.87km) and La Bréole – Selonnet (20.73km) – will greet crews with a lunchtime service in between.
Classification after Day Two
| | | | | |
| --- | --- | --- | --- | --- |
| 1 | S. Ogier | J. Ingrassia | Toyota Yaris WRC | 1:43:31.5 |
| 2 | E. Evans | S. Martin | Toyota Yaris WRC | +1.2 |
| 3 | T. Neuville | N. Gilsoul | Hyundai i20 Coupe WRC | +6.4 |
| 4 | S. Loeb | D. Elena | Hyundai i20 Coupe WRC | +1:06.9 |
| 5 | E. Lappi | J. Ferm | Ford Fiesta WRC | +1:57.2 |
| 6 | K. Rovanperä | J. Halttunen | Toyota Yaris WRC | +2:19.2 |
| 7 | T. Katsuta | D. Barritt | Toyota Yaris WRC | +5:18.7 |
Press release Hyundai Motorsport ; picture : Jean-Baptiste Lassaux/Sport-Auto.ch