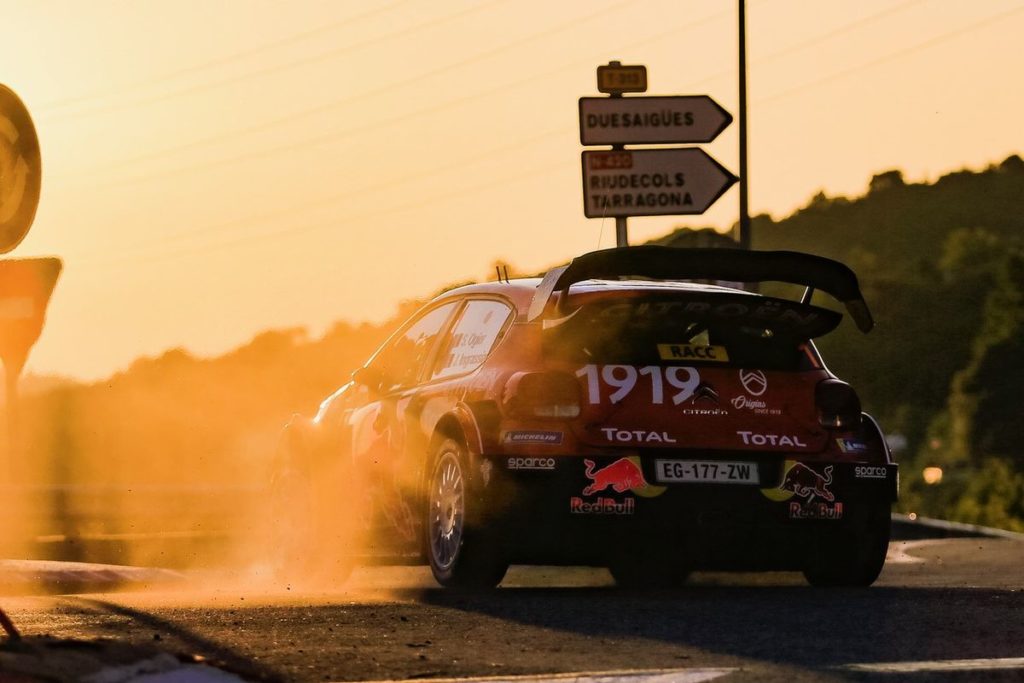 After Sébastien Ogier and Julien Ingrassia's hopes of a strong points finish were dashed by a hydraulics issue on SS2, the Citroën Total World Rally Team – whilst its C3 WRC undoubtedly showed significant progress on tarmac – was unable to prevent the drivers' and co-drivers' world titles being claimed by their rivals this weekend.
Following a very good start to Friday's opening leg on gravel, winning the first stage, Sébastien Ogier and Julien Ingrassia then saw their chances of victory dealt a fatal blow by a hydraulics issue on the next stage. They then focused on making it to the end of the rally in the best possible position. Having moved up to eighth overall yesterday, confirming the progress of the C3 WRC on tarmac with several strong times, they continued to run in-competition tests today aimed at future outings on this surface.
Their efforts were unfortunately not enough to prevent Ott Tänak and Martin Järveoja from winning the drivers' and co-drivers' world titles. The Citroën Total World Rally Team will now turn its attention to 2020, determined to enable Sébastien Ogier and Julien Ingrassia to take back their number 1. It will approach the final round of the season in Australia (14-17 November) with the same fighting spirit as usual and the clear intention to finish the 2019 season – in which it has already claimed eleven podiums and three overall wins – in style.
Showing confidence in the C3 WRC, Esapekka Lappi and Janne Ferm had gradually improved their pace on the opening day on gravel, lying just 4s off the podium at the start of the second loop. Unfortunately, they were hit by an engine failure, leaving them with no choice but to retire altogether from the rally.
Citroën Racing was also pleased to see the C3 R5s win both RC2 support categories this weekend. Mads Østberg and Torstein Eriksen finished first and won the WRC2Pro class (ninth overall), whilst Eric Camilli and Benjamin Veillas were runners-up in the category and topped the WRC2 standings (tenth overall).
REACTIONS FROM…
Sébastien Ogier, Citroën Total WRT driver: "Clearly, this wasn't the result that we were hoping for coming into this round. We were determined to fight right to the end but unfortunately, it was all over for us early in the weekend. After the issue on Friday, inevitably our adrenaline and motivation levels were never quite the same, but we did what we could to be as professional as possible, to work on the car's tarmac set-up and still try to push hard. Congratulations to Ott and Martin for deservedly winning the titles. They have done it in style."

Esapekka Lappi, Citroën Total WRT driver: "I'm disappointed that my rally came to a premature end, especially as I had enjoyed a pretty solid and consistent opening leg up to that point, in terms of pace. The gaps were small and we were up for the fight, because I felt comfortable in my C3 WRC. I was looking forward to seeing how much progress we made on tarmac and the times set by Sébastien and Julien suggest that we have definitely moved in the right direction. I will now look forward to Australia and finishing the season on a high with the best possible result."
TWO QUESTIONS FOR PIERRE BUDAR, CITROËN RACING TEAM PRINCIPAL
What is your analysis of this weekend, which has inevitably been disappointing, and of the season as a whole?
We simply didn't perform well enough as a team this weekend. We'll need to work even harder to improve our performance if we want to have a chance of challenging for a title next year. The challenge we set ourselves at the start of 2019, with two new crews and a significantly overhauled technical team, was always going to be difficult to accomplish up against settled teams with drivers who already had experience in their cars. That's also why the project has been a long-term exercise since the outset. We got off to a flying start in Monte-Carlo where Sébastien and Julien are always formidable and then followed up with victory in Mexico, where Citroën has always managed to cope very well with the heat and altitude. Perhaps after that, the team's relative inexperience in working together hampered our progress a little bit. Everyone needed to settle in properly and agree on the direction of travel. We probably didn't manage to get the absolute maximum from the team's experience on tarmac, where we clearly lacked pace in Corsica and Germany.
Does the 2020 season start for you in Australia?
In many ways, it has already started for us as we are already working in several areas to improve the car for next year, beginning at the first rally of the season. All our development teams are ready for action so that we are capable of being at our best at the opening round. We have a packed test programme scheduled, which we may even expand if necessary. I hope that 2020 will enable us to reap the rewards of the all the hard work that we have put in this year. We'll certainly be doing everything we can to do just that. We're all bitterly disappointed this weekend, suffering even, especially as everyone has worked incredible hard throughout these last few intense weeks. But we remain united and will learn from this disappointment. Together, we'll keep growing and will come back stronger than ever.
FINAL PROVISIONAL STANDINGS
Neuville / Gilsoul (Hyundai i20 WRC) 3:07:39.6
Tänak / Järveoja (Toyota Yaris WRC) +17.2
Sordo / Del Barrio (Hyundai i20 WRC) +17.6
Loeb / Elena (Hyundai i20 WRC) +53.9
Latvala / Anttila (Toyota Yaris WRC) +1:00.2
Evans / Martin (Ford Fiesta WRC) +1:14.2
Suninen / Lehtinen (Ford Fiesta WRC) +1:47.6
Ogier / Ingrassia (Citroën C3 WRC) +4:20.5
Ostberg / Eriksen (Citroën C3 R5) +8:24.6 (1st RC2 & WRC2Pro)
Camilli / Veillas (Citroën C3 R5) +8:47.2 (2nd RC2 & 1st WRC2)
DRIVERS' WORLD CHAMPIONSHIP
Ott Tänak – 263 points
Thierry Neuville – 227 points
Sébastien Ogier – 217 points
Andreas Mikkelsen & Elfyn Evans – 102 points
Kris Meeke – 98 points
Jari-Matti Latvala – 94 points
Teemu Suninen & Dani Sordo – 89 points
Esapekka Lappi – 83 points
* Subject to publication of the official standings by the FIA
MANUFACTURERS' WORLD CHAMPIONSHIP
Hyundai WRT – 380 points
Toyota Gazoo Racing – 362 points
Citroën Total WRT – 284 points
M-Sport Ford WRT – 218 points
* Subject to publication of the official standings by the FIA
Communiqué Citroën Racing