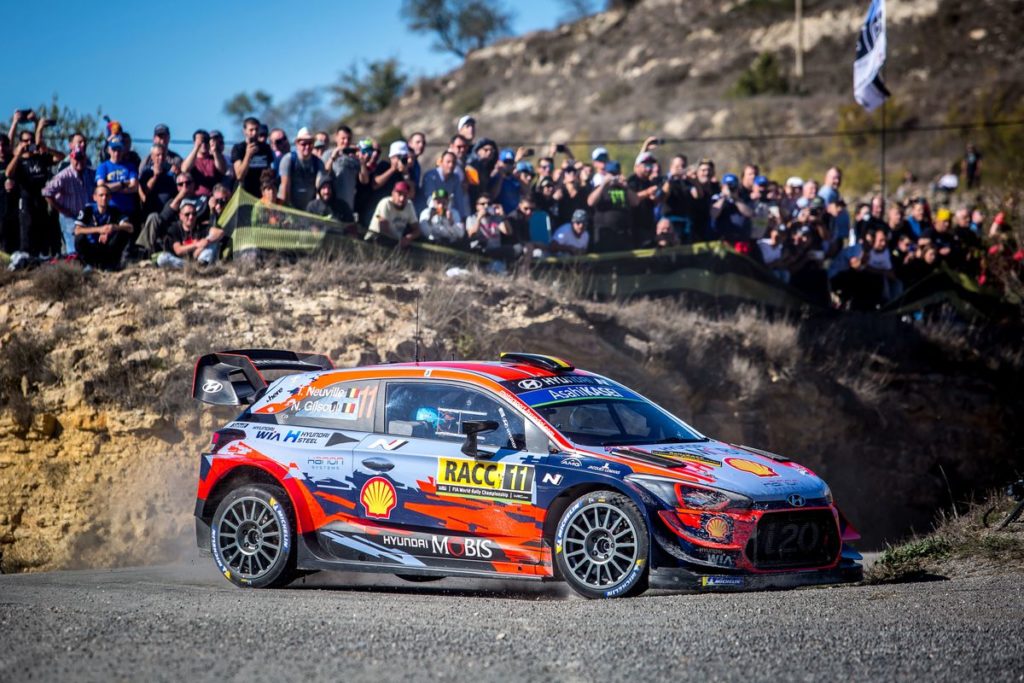 Hyundai Motorsport continues to lead Rally de España, the penultimate round of the FIA Rally World Championship (WRC), as the mixed surface event moved from gravel onto tarmac roads for Saturday's schedule.
Thierry Neuville and Nicolas Gilsoul hold a 21.5-second advantage after another competitive day on the Spanish stages. The Belgian duo fended off both of their Hyundai Motorsport team-mates as well as Neuville's drivers' championship rival Ott Tänak throughout the day. They moved into the overall lead on Saturday's opening stage, and streadily increased their lead with each stage.
Home heroes Dani Sordo and Carlos del Barrio remain in strong contention for a podium finish after a trouble-free Saturday that saw them move into second. Overnight leaders Sébastien Loeb and Daniel Elena despite missed some pace on tarmac compared to Friday's gravel stages, but remain in the hunt for a podium, holding fourth overall.
Team mechanics worked their magic during Friday evening's 75-minute service to transform the cars from gravel to tarmac specification for today's itinerary. Three stages made up the main loop: Savallá (14.08km) Querol (21.26km) and El Montmell (24.40km). A short 2.24km stage at Salou brought the day's action to an exciting end in front of the cheering Spanish crowds.
Neuville added three more stage wins to his weekend total, topping the timesheets in SS7 (Savallá), SS8 (Querol) and SS13 (Salou). The results took Hyundai Motorsport to eight stage wins across all three of its crews.
Crew Notes: Thierry Neuville/Nicolas Gilsoul (#11 Hyundai i20 Coupe WRC)
Two stage wins in the morning helped move the Belgians into the rally lead
Increased lead to 21.5-seconds during the two loops, topping the times also in SS13
Neuville said: "We have been fully motivated and confident with the car on these tarmac stages today. We had the perfect start to the day with two more stage wins and moving into the rally lead. From there, we were able to gradually increase our advantage stage by stage, adopting a clever approach to keep things smooth and clean. We took things a bit easier once we saw Kris (Meeke) have his issue this morning, especially in the big cuts to avoid punctures. Overall, we're in the position we want – and need – to be. Nothing's over until it's over so we will keep pushing with our sights set firmly on securing victory tomorrow, and a good team result for the manufacturers' championship."
Crew Notes: Dani Sordo/Carlos del Barrio (#6 Hyundai i20 Coupe WRC)
Home crew continued to mount competitive effort on tarmac
Reslient approach saw them rebound to second place overall
Sordo said: "We have done our best to continue the 1-2-3 formation that we achieved yesterday but it's been a more challenging day. We have pushed as hard as we could, even if we've been missing some time here and there. It has also been important to stay cautious at times, particularly in the cuts, as it is so easy to run into trouble. Tänak has been driving well, as we expected, so our job today has been trying to defend our position. There's not a lot of time between three crews battling for second place, so tomorrow will be a critical day. We will keep fighting as hard as we can."
Crew Notes: Sébastien Loeb/Daniel Elena (#19 Hyundai i20 Coupe WRC)
French/Monegasque crew started Saturday in the lead after impressive Friday
Despite dropping to fourth, crew remains in close battle for the podium
Loeb said: "We started this morning's loop almost like a completely new rally, swapping the gravel stages for tarmac. It doesn't matter what surface we have, the stages in Spain are great and the atmosphere is incredible. We have had to adopt some caution at times today to avoid making mistakes. The feeling with the car and the balance has been nice but for some reason the times just haven't been there. In the final stage, I stalled the engine which cost us some time and lost us third place. But overall I don't think we could have done much more. We will check this evening to understand where we're losing out.Thierry has been going very fast and the team is still in a strong position overall, which is the positive we take into Sunday's stagesl."

Team Director Andrea Adamo: "At the end of today, we have Thierry and Dani still leading the rally, which is another reinforcement of our performance. Sadly, Sébastien lost a position on the final stage but in the circumstances that is not entirely unexpected. Tänak has been fast and we were always going to see a spirited reaction from him as he tries to clinch the drivers' title. We can only focus on our job, and our crews have done everything they can. Overall, we have had another good day and we can look forward to an exciting conclusion to this rally."
Sunday at a glance
Four tarmac stages will be held on Sunday covering a distance of 74.14km
Riudecanyes (16.35km) and La Mussara (20.72km) will each be run twice, split by a mid-morning service
The second pass of La Mussara will be run as the Power Stage, offering extra drivers' points for the top-five finishers.
Classification after Day Two
| | | | | |
| --- | --- | --- | --- | --- |
| 1 | T. Neuville | N. Gilsoul | Hyundai i20 Coupe WRC | 2:25:15.8 |
| 2 | D. Sordo | C. del Barrio | Hyundai i20 Coupe WRC | +21.5 |
| 3 | O. Tänak | M. Järveoja | Toyota Yaris WRC | +24.6 |
| 4 | S. Loeb | D. Elena | Hyundai i20 Coupe WRC | +25.2 |
| 5 | J.M Latvala | M. Anttila | Toyota Yaris WRC | +46.8 |
| 6 | E. Evans | S. Martin | Ford Fiesta WRC | +1:09.2 |
| 7 | T. Suninen | J. Lehtinen | Ford Fiesta WRC | +1:24.5 |
| 8 | S. Ogier | J. Ingrassia | Citroën C3 WRC | +4:09.9 |
Press release Hyundai Motorsport