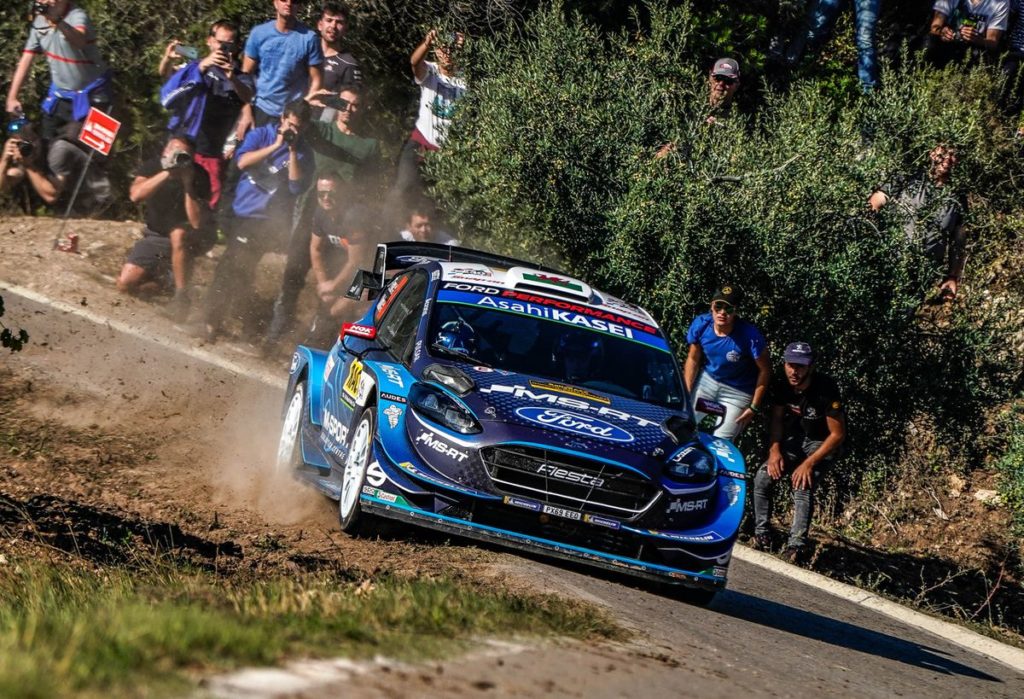 M-Sport Ford World Rally Team's Elfyn Evans and Teemu Suninen finished the second day at RallyRACC Catalunya – Rally de España in sixth and seventh places respectively – their EcoBoost-powered Ford Fiesta WRCs lowered and stiffened to contend with the circuit-like asphalt this event has become famed for.
Keen to show their speed on Tarmac, Evans and co-driver Scott Martin started well. Setting the fourth fastest time through the opening speed test, they reined their nearest rival to within just 11.5 seconds but were unable to maintain the same rhythm throughout the rest of the day.
Lacking that extra little something, the pairing lost a couple of seconds here and there which prevented their charge. But the Brits kept a level head and are on course for a strong haul of points in the battle for fourth place in the championship standings.
By contrast, it took Suninen a couple of stages to get into his groove but the young Finn got better and better as the day wore on. Guided by experienced co-driver Jarmo Lehtinen, he got closer and closer to the leading times and finished the day just 15.3 seconds adrift of his more experienced team mate.
Team Principal, Richard Millener, said: "It's been a bit of a frustrating weekend to be honest, and we're not where we wanted to be. We lost some time yesterday which put us on the back foot, and although we've been a bit closer today we've not been challenging for the fastest times. Elfyn started pretty well this morning, but just lacked that extra little something as the day wore on. His times weren't bad, but when you lose a couple of seconds here and there it soon adds up. It was good to see Teemu building his pace and he has the potential to be really competitive on this surface, but at this level you can't afford to give anything away. The competition is so strong at the moment and although this might not be our weekend it's turning into a great weekend for the sport; and as a rally fan I have to say that this championship is as good and as exciting as it's ever been right now!"

Elfyn Evans (6th) said: "We've been trying hard all day but just weren't able to find the pace as the day wore on. In terms of the balance of the car, the feeling was improving all the time but it just didn't seem to affect the times at the end of the stage. It was always two or three seconds here and there, and that's what makes the difference. Unfortunately, we just haven't had an answer to the guys at the front today."

Teemu Suninen (7th) said: "I think it's been a pretty good day for us and I had a good feeling with the car in the afternoon. I was able to really focus on my driving and I think we set some good times. But no matter what we did, or how long the stage was, we were always three seconds behind Sébastien [Ogier]! I don't think that's a bad thing, but hopefully one day we will be three seconds ahead! We know where the level is, and we're not too far away so that it definitely a good thing."
OVERALL CLASSIFICATION
1. Thierry Neuville / Nicolas Gilsoul (Hyundai i20 Coupe WRC) 2:25:15.8
2. Dani Sordo / Carlos del Barrio (Hyundai i20 Coupe WRC) +21.5
3. Ott Tänak / Martin Järveoja (Toyota Yaris WRC) +24.6
4. Sébastien Loeb / Daniel Elena (Hyundai i20 Coupe WRC) +25.2
5. Jari-Matti Latala / Miikka Anttila (Toyota Yaris WRC) +46.8
6. Elfyn Evans / Scott Martin (Ford Fiesta WRC) +1:09.2
7. Teemu Suninen / Jarmo Lehtinen (Ford Fiesta WRC) +1:24.5
8. Sébastien Ogier / Julien Ingrasia (Citroen C3 WRC) +4:09.9
Press release M-Sport Ford