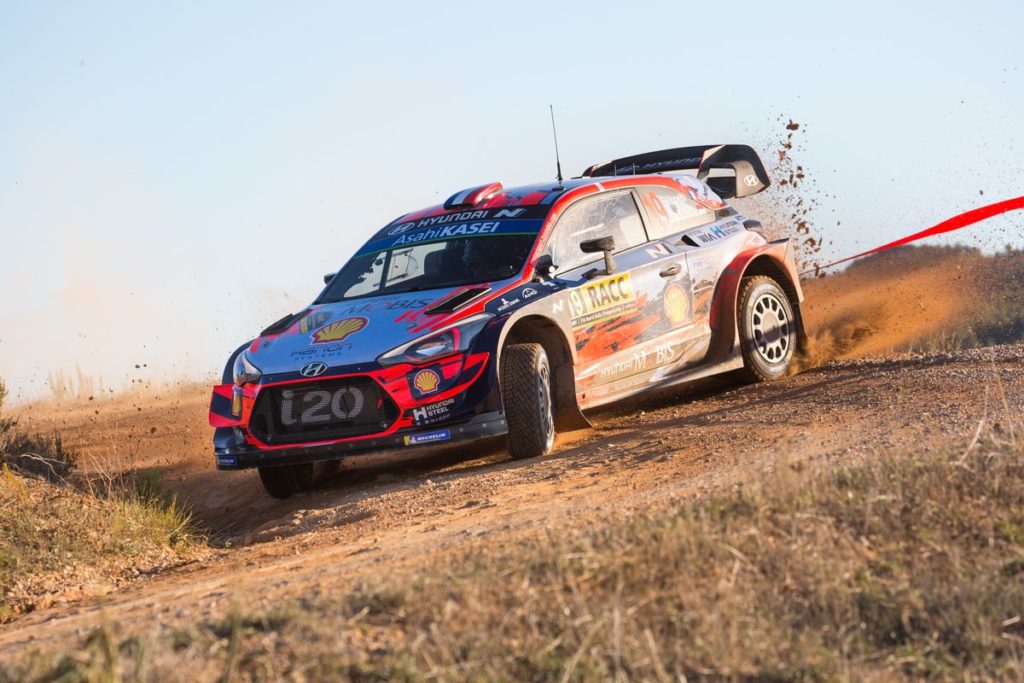 Hyundai Motorsport has enjoyed a competitive opening day at Rally de España, the penultimate round of the 2019 FIA World Rally Championship (WRC), with its crews holding the top three positions on the classification after six of the event's 17 stages.
Sébastien Loeb, in his first WRC event since Portugal, moved into the overall rally lead on the final stage of the day after an impressive performance in his Hyundai i20 Coupe WRC alongside co-driver Daniel Elena. The Frenchman holds a 1.7-second advantage over his Belgian colleagues Thierry Neuville and Nicolas Gilsoul, who are in second place. Home heroes Dani Sordo and Carlos del Barrio ended a strong day for the team in third, completing a provisional Hyundai 1-2-3.
The opening day of Rally de España covered a repeated loop of three stages, increasing in length and primarily on gravel. From the short 7km Gandesa, crews moved onto the 19km-long Horta-Bot and then a mixed gravel/tarmac route La Fatarella-Vilalba that, at 38.85km in distance, represents the longest individual stage of the entire rally. A lunchtime service separated the two loops.
Tricky conditions, following rain and storms earlier in the week, resulted in a range of tyre strategies on the opening loop, with the team and crews working closely to find the most competitive combination.
All three Hyundai Motorsport crews secured stage wins on Friday. Neuville and co-driver Nicolas Gilsoul were victorious in SS2 (Horta-Bot) and inside the top-four during the whole day. Sordo and compatriot Carlos del Barrio were fastest in SS4 (Gandesa 2), with four additional second places.
Loeb and Daniel Elena registered the quickest time in SS3 (La Fatarella-Vilalba), SS5 (Horta-Bot 2) and a dominant performance in SS6 (La Fatarella-Vilalba 2), which enabled them to move into the lead. In total, Hyundai Motorsport claimed a total of five stage wins on Friday, including a 1-2-3 (SS3) and two extra 1-2 results (SS2/SS5).
Rally de España now shifts from gravel to tarmac, with team mechanics changing the set-up of the Hyundai i20 Coupe WRCs during a 75-minute service on Friday evening, ahead of Saturday morning's opening stage.
Crew Notes: Sébastien Loeb/Daniel Elena (#19 Hyundai i20 Coupe WRC)
Three stage wins for the crew on their return to the Hyundai i20 Coupe WRC
Reigning Rally de España winners hold a 1.7-second lead after six stages
Loeb said: "An incredible day for the team! It is a wonderful feeling to be leading this rally, even if at this early stage of the weekend. There was a bit of a tyre strategy in the morning, and I was only able to get the hard compounds working to their optimum performance at the end of the loop. The conditions were just too slippery and greasy in the opening stages. The afternoon was better and I had a good feeling throughout. In the final stage, the car was perfect and I was just flying. We gave it a push and it was good enough to secure a 1-2-3 for the team to end the first day. We now have two long days of tarmac ahead of us."
Crew Notes: Thierry Neuville/Nicolas Gilsoul (#11 Hyundai i20 Coupe WRC)
Stage win for the Belgians in SS2 (Horta-Bot)
Consistently competitive performances secured second place behind team-mates
Neuville said: "We have had a great start to this rally and the car has been working very well. We had a positive opening loop this morning and continued in the same direction for the afternoon. There were some tricky sections at times but we stayed focused and tried to be efficient. The final stage was particularly tough with some visibility issues, a combination of the sun being low and some fog, so we had to remain concentrated. Aside from losing a second or two at the last hairpin, it was a strong end to an almost perfect day."
Crew Notes: Dani Sordo/Carlos del Barrio (#6 Hyundai i20 Coupe WRC)
Competitive start to home rally for Spanish crew with stage win and four top-two times
In contention for lead throughout Friday to support the team's manufacturers' effort
Sordo said: "All in all, we have had a good day and things are looking good for the team on the standings with the top three positions. The car has been working very well, even with changeable grip levels. The only downsides were a puncture 5km before the end of the morning loop, which lost us some time, as well as a disappointing end to our afternoon. Some places were difficult to drive but there was nothing immediately wrong. I think we can still be happy with our performances today, as we now turn our attention the tarmac stages."

Team Director Andrea Adamo: "We have certainly had worse Fridays! I am particularly happy for all of the guys at Hyundai Motorsport who have been working so incredibly hard over the past weeks and months. I know the job they have all done – and are still doing – so I'm proud to see our cars in the top three positions. The crews have had an amazing day and honestly I am speechless, and moved, at the effort they have all put in. With that said, we have to remember this is just day one. We have two more days remaining in this rally, on tarmac, so we are keeping our feet firmly on the ground. We can take nothing for granted. "
Saturday at a glance
Rally de España moves from mainly gravel to full tarmac conditions for its second day of action
Seven stages will be held on Saturday, covering a competitive distance of 121.72km
A loop of three stages – Savallá (14.08km), Querol (21.26km) and El Montmell (24.40km) – will be run twice, separated by a lunchtime service
The day's itinerary will conclude with a 2.24km run at Salou
Classification after Day One

| | | | | |
| --- | --- | --- | --- | --- |
| 1 | S. Loeb | D. Elena | Hyundai i20 Coupe WRC | 1:21:24.7 |
| 2 | T. Neuville | N. Gilsoul | Hyundai i20 Coupe WRC | +1.7 |
| 3 | D. Sordo | C. del Barrio | Hyundai i20 Coupe WRC | +7.6 |
| 4 | K. Meeke | S. Marshall | Toyota Yaris WRC | +13.0 |
| 5 | O. Tänak | M. Järveoja | Toyota Yaris WRC | +21.7 |
| 6 | J.M Latvala | M. Anttila | Toyota Yaris WRC | +30.1 |
| 7 | E. Evans | S. Martin | Ford Fiesta WRC | +44.0 |
| 8 | T. Suninen | J. Lehtinen | Ford Fiesta WRC | +51.8 |
| 9 | T. Katsuta | D. Barritt | Toyota Yaris WRC | +1:50.3 |
Press release Hyundai Motorsport