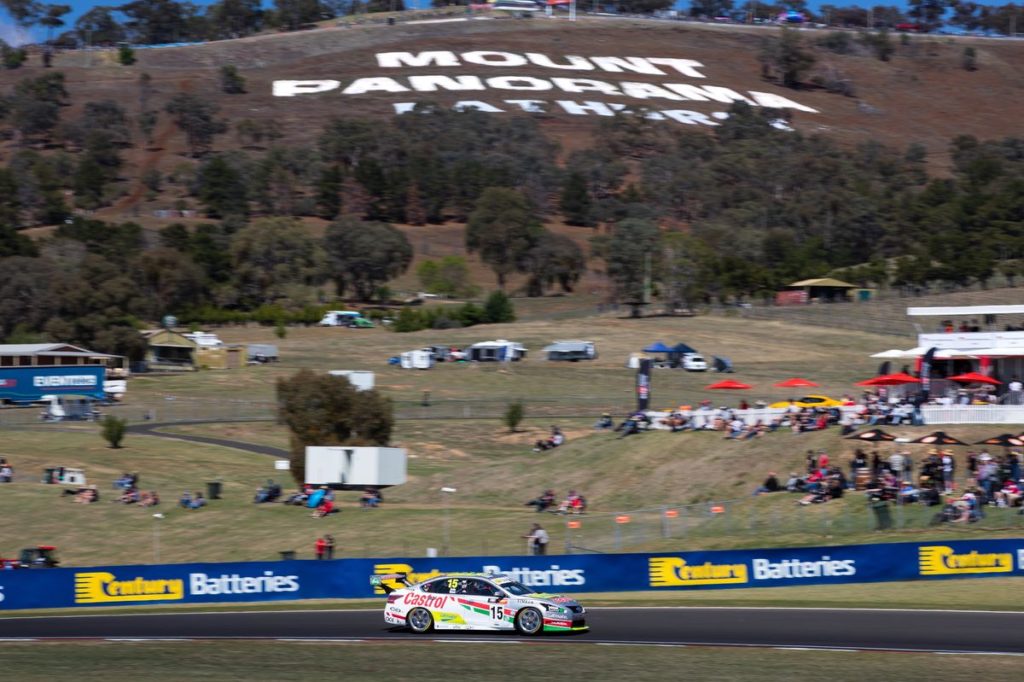 2019, Kelly Racing, Simona de Silvestro, SupercarsKelly Racing has had a positive end to the first day of on-track action at the Supercheap Auto Bathurst 1000. In today's practice sessions the team was consistently in the top ten in both main driver and co-driver sessions and the team is confident we are yet to see the full potential of the Nissans around Mount Panorama.
In the final practice session of the day André Heimgartner set a stellar top three lap and was the quickest car in the final sector of the track while running on twenty lap old tyres from a previous event. He then banged on a set of greens for a final lap of the session but unfortunately just couldn't maximise the lap.
Rick Kelly was in a similar boat in the Silver Bullet Castrol car and topped André's time just moments later again. He also whacked on a set of greens for one flying lap but given it was his first set of greens for the day, he misjudged how much grip was available but was still able to finish inside the top ten. It quickest lap veteran driver Rick Kelly has ever done around Mount Panorama by around half a second!
Simone De Silvestro loves coming to Bathurst and was right on the pace for most of today in the Team Harvey Norman car. She gave up a run on greens in the closing stages to give co-driver Alex Rullo more track time.
The team will have two more practice sessions tomorrow morning before qualifying in the afternoon.
Quotes
Rick Kelly – #15 Castrol Racing : "It's been a really positive day, George my engineer did a really good job of the role-out setup, it was straight on the money and really comfortable and that's a really important key at this place, is to get the drivers comfortable in the first couple of sessions. If it's a bit hairy over the top it can take your confidence away and it can take a long time to build it back up. We progressed through the sessions and maintained pace and position in the top ten so I'm pretty happy with that. We did a lap today which was the quickest I'd ever been aroud here by half a second and that's in the first practice session so it's interesting after that lap I thought we would have been even a little further up the grid but it seems like everyone ran two sets of greens and we only ran one. We went from a pretty old set to a green set so it was a little bit harder to pre-empt the amount of grip I had and we just did one timed lap so it's good learning for tomorrow but we're still a little bit off pace wise so we know a couple of areas where we can work on it for tomorrow. With the aero change it's certainly going to assist us but I still don't think we're in the same ballpark as the other two manufacturers but it's a good help and come race day I think it'll be a good help for us to be able to compete with the other guys on the straights which will be a first for us here."

André Heimgartner – #7 Plus Fitness Racing : "We put some green tyres on right at the end of that session but we just weren't able to maximise it and improve on the strong top three lap we had towards the end of practice on a set of 20-lap old tyres so there's definitely more left on the table for tomorrow. It's a really positive sign from everyone, the car is the strongest car I've ever had here which is really good and we seem to be extracting speed from it so come tomorrow, might be dry, might be wet, we'll wait and see but I think we're looking good. It'll definitely be interesting if it does rain tomorrow, I mean it's anyone's go and I think there will probably be some carnage but it should be good fun either way."

Garry Jacobson – #3 Rabble.club Racing : "With this latest change to the car I think we've really gained some high-speed stability. I was a little bit worried after practice one to be honest, we were off the pace compared to the other Nissans but by the end of the day we'd brought that down to within a few tenths so we're moving in the right direction. For tomorrow once we work on reducing the amount of brake locking up I'm getting into the downhill sections and we can certainly improve and move further up tomorrow. I found today that we were able to maximise the green tyre whereas previously we've put greens on and not picked up any more front end grip. So we're moving in the right direction we just need to keep up the momentum and the intensity throughout the rest of the weekend."

Simona De Silvestro – #78 Team Harvey Norman : "All in all it was a positive day for us, this morning was really good but this afternoon we didn't run on the green tyres so the time wasn't really representative. We gave Alex another run towards the end of the session but all in all I think we're right there with Rick and Andre, I think we can be pretty happy about that. There are a few little things we need to fix in the car, especially on the longer runs to be a bit more comfortable but I think it was a really good start today and I look forward to tomorrow. It's hard to tell how much difference the aero change has made, the car definitely feels comfortable and our pace is good if we look at all of us – we're in the mix, we might not be flying away in P1 but we're where we should be so that's positive."
Press release Kelly Racing