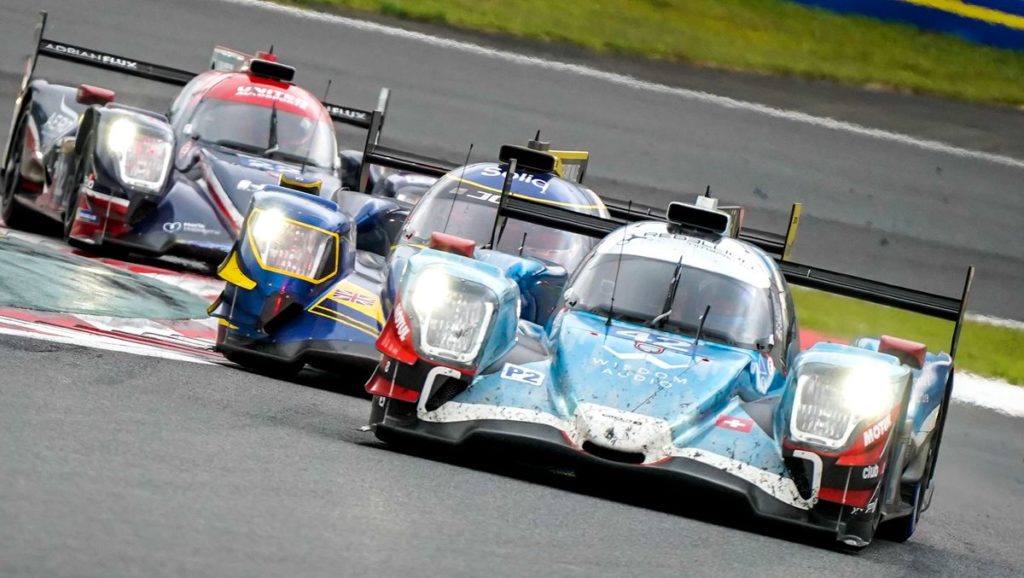 The 6 Hours of Fuji FIA WEC took place in Japan on the exceptional Fuji International Speedway this weekend. The second round of the World Endurance Championship was again a brand new challenge for the Swiss Cool Racing team. Besides the fact that WEC is new, they were also to discover a new racetrack and a totally new logistics organizational features.
Therefore Free Practice 1 & 2 were the time to adapt to the new surrounding, and also for Alexandre Coigny and Antonin Borga, the time to get to understand the race track. Alex, who had not been driving since his accident in Silverstone ELMS last month, was happy to share the car again with his teammates, and was thankful to be back at the wheel. Antonin, also new to WEC and to Japan was to learnt it all, while Nicolas Lapierre was the one to set the reference set-ups, taking #ANA42 to P3 and P4. During the third Practice Alex drove a long run to confirm his feelings in the car and fine-tune the set-up.
The qualifying undergone by Nico before Antonin, was disturbed by a Red Flag in the second part, hindering him to take the best out of his tires. They set an average time in 1:30.027, taking their car to 6th LMP2 place (5th row of the starting grid).
Antonin started the race with a 56-lap double stint before passing on the wheel to Alex for another 29 laps, which he ended when the rain started, meaning a strategy change. Nico took over, trying to come back to the top places, the but the rain associated to a Full Course Yellow did not help him fight as he would have liked too. After another 30 laps from Alex, Antonin took the car to bring it to the chequered flag 6th of the LMP2 field. In the end, Cool Racing is 5th after the disqualification of #38 Jota Oreca, because of an "outside neutral switch unable to disconnect the transmission".
Antonin Borga (CHE) : "I was not very happy with my performances at the beginning of the weekend. During Free Practice and qualifying, I did not manage to find the right way to use the tires. Even if starting 6th for a 6-hour race is not that bad, I was disappointed with my qualification. In the race, our strategy was for me to do a double stint, and the rest of my teammates. My start was not wonderful, when I was behind the leading car, the rhythm was very slow and then I got surprised when it started… At the end of my stint, as I was not supposed to drive again, I had gone under the shower when all the strategy changed because of the weather. But I went back for the last hour, and I enjoyed it a lot. I could take everything out of the car and I loved it. I completed over 90 laps today, which is a lot for me, and I am very happy. We finish 6th, of course this is not the result we aimed for…"
Nicolas Lapierre (FRA) : "We had a lot of work this weekend in Japan. Alex and Antonin did not know the track, they had to find their marks and to feel good in the car. We also had a lot of work to optimize the use of the tires. Free Practice was the right time for this, and also to give Alex the necessary time to get back into the car after his recovery. That's the real good news of the weekend, he was doing fine and he felt good, with no pain. We are really very happy to have him back along. Our qualifying session was disappointing, we could not manage the right tire pressure. That's something we will have to work on for the coming races, because it's the second time in a row we experience this. We can do much much better in qualifying. In the race though, we had a good competitive car, we did not do any driving mistake and this is important. We lost time when we had to change the strategy. When I passed the intermediate tires and went back out, the rain stopped, so we had to make an additional stop. On top of that, this time the Full Course Yellow did not come at a good time for us. This weekend we had less success and chance. But we will head to Portimao for the ELMS finale race with as much power and motivation as ever."
Alexandre Coigny (CHE) : "I had a hard time finding bases at the beginning of the weekend in the first FP 1 & 2. Since I had not been in a car since Silverstone (ELMS), I did not quite feel right, mostly in the fast corners. But after FP3 everything was good. The real good news for me this weekend is that I was able to drive without any physical problem and without any pain. This was the biggest unknown parameter, so I am very happy. Now I can't wait to be back on a track that I know well like Portimao, where we will end our first ELMS season."
Press release Cool Racing