M-Sport Ford World Rally Team's Elfyn Evans and Scott Martin had the speed to challenge for another home-soil victory at this weekend's Wales Rally GB, but Welsh hearts were broken early on when the returning heroes picked up a puncture through the first pass of Penmachno (SS3).
The puncture cost them 43.3 seconds to the leading pack, but seven fastest stage times later they finished just 48.6 seconds adrift of the win – proving that they and their EcoBoost-powered Ford Fiesta WRC had the ability to challenge for the top positions.
Despite their weekend not going to plan, Evans and Martin remain upbeat – coming out on top in their final-day battle for fifth place and knowing that they have the speed and the confidence to challenge for the top results when the FIA World Rally Championship travels to the final rounds in Spain and Australia.
Contesting his fourth completely different rally behind the wheel of the top-specification Fiesta this weekend, Pontus Tidemand has shown good progress with a series of competitive times on today's closing stages.
Learning how to dial the car into the terrain, the young Swede was able to focus more fully on his driving and looked at home behind the wheel of the world rally car through the final kilometres.
Team Principal, Richard Millener, said: "We might not have secured the result we wanted this weekend, but I think we can all take a lot of encouragement from Elfyn and Scott's performance. They claimed seven stage wins and were it not for the puncture on Friday they would have been right up there challenging for the win. We know that we have a car capable of winning rallies, and we know that Elfyn and Scott are capable of delivering those wins. So despite this weekend's frustrations, there is still a lot of positivity in the team and we'll look to take that forward to Spain and Australia. It was also great to see Pontus so comfortable behind the wheel today. Not many people appreciate how massive the step up to this level is, and he's learnt a lot about how to set-up the car on four completely different surfaces. You could see the difference in times when it all clicked for him this morning – and I really hope he gets some more outings with the Fiesta WRC so that he can build on the progress he's shown this weekend."

Elfyn Evans (5th) said: "It's been a pretty good weekend for us. Obviously it would have been nice to have finished a bit higher up the leader board, but that's just the way it goes sometimes and there's no room for 'what ifs' at this level – not with the competition as close as it is at the moment. Our pace has been really good all weekend and the support was absolutely incredible. There really is nothing quite like rallying on home soil, and when you're posting fastest times in front of all those Welsh flags, it's a pretty good feeling and definitely gives us some confidence ahead of the next events."

Pontus Tidemand (7th) said: "We've taken some big steps forward this weekend and improved every day. I had a lot to learn, but it was getting better and better and, this morning especially, I really felt as though I had broken the code for driving one of these world rally cars. I found a good set-up with the car and was able to focus more fully on my driving. We set some pretty good times today and were a lot closer to the leaders so I was really pleased with that."
OVERALL CLASSIFICATION
1. Ott Tänak / Martin Järveoja (Toyota Yaris WRC) 3:00:58.0
2. Thierry Neuville / Nicolas Gilsoul (Hyundai i20 Coupe WRC) +10.9
3. Sébastien Ogier / Julien Ingrassia (Citroen C3 WRC) +23.8
4. Kris Meeke / Sebastian Marshall (Toyota Yaris WRC) +35.6
5. Elfyn Evans / Scott Martin (Ford Fiesta WRC) +48.6
6. Andreas Mikkelsen / Anders Jaeger (Hyundai i20 Coupe WRC) +58.2
7. Pontus Tidemand / Ola Fløene (Ford Fiesta WRC) +5:23.8
8. Craig Breen / Paul Nagle (Hyundai i20 Coupe WRC) +9:25.0
Stage-winning pace from Greensmith and Paddon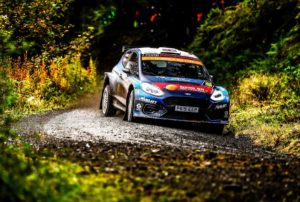 M-Sport Ford World Rally Team's Gus Greensmith and Hayden Paddon had the speed but not the results at this weekend's Wales Rally GB.
Both drivers delivered a stage-winning performance behind the wheel of the EcoBoost-powered Ford Fiesta R5 Mk II – Greensmith taking four wins and Paddon three while the Fiesta R5 Mk II also finished inside the top-three on 19 of the 21 stages contested – but their speed went unrewarded.
Greensmith and co-driver Elliott Edmondson were challenging for the lead when they suffered a high-speed spin through the first pass of Dyfnant (SS4). Despite losing 20 seconds to his rival, the Englishman was still in the fight until an electrical issue on the liaison to Friday's night stages.
Working tirelessly to fix the issue, he managed to keep himself in the rally but arrived 27 minutes late to the second running of Dyfnant (SS9) – incurring some significant time penalties as a result.
Then during the first pass of Dyfi (SS11) on Saturday morning, he ran wide – hitting a bank and damaging the right-rear suspension which put an end to his efforts for the day.
Yet despite his issues, Greensmith's speed through the early stages means that he still secured a podium result with third place overall in WRC 2 Pro.
Hayden Paddon got better and better as the event went by – gaining confidence behind the wheel of a car he has never driven competitively and becoming more and more comfortable on his first FIA World Rally Championship event this year.
A high-speed spin put him out of the competition on Friday morning (SS4), but he returned revitalised on Saturday with a number of fastest stage times.
A puncture on the second pass of Myherin (SS14) was followed by another on Dyfi (SS16) on Saturday afternoon, and with only one spare he and co-driver John Kennard were forced to retire on the road section to the final stage (SS17).
Returning for the final day of competition, the New Zealanders continued their stage-winning performance before a turbo issue stopped them pushing for the top time through the final speed test.
Yet despite his issues, Paddon gained some all-important seat time ahead of his return to the Ford Fiesta WRC at next month's Rally Australia.
Team Principal, Richard Millener, said: "It was great to see Gus and Hayden both setting fastest stage times with the Ford Fiesta R5 Mk II this weekend. The end result wasn't what we wanted, but this is such a challenging event and a lot of people were caught out by the conditions. The speed was there and Gus was challenging for the lead. It didn't work out this time, but he knows what he can do behind the wheel of this car and we know that he'll come back strongly with his confidence high in Spain. It was also great to see Hayden back in the service park. It didn't take him long to get up to stage-winning pace, and it was great to get his feedback on the car as well. And now I think everyone is looking forward to seeing what he can do with the Fiesta WRC in Australia. It was also fantastic to see the car being so fast and strong in these difficult conditions – being in the top-three times on nearly every stage. Thanks and congratulations must go to the engineering and testing team who are constantly developing the car to further show its performance on all events."

Gus Greensmith (3rd WRC 2 Pro) said: "In terms of pace it's been a pretty good weekend and we were right in the fight from the word go. It looked as though we could have really pushed for the win, but unfortunately we had an electrical sensor issue which cost too much time to recover and then ran wide the following day. After that, it was just about trying to keep the speed up and try some new things on the car. The speed is there, I just wish we had a better result."

Hayden Paddon (4th WRC 2 Pro) said: "It's always really tough coming here, but coming here with a new car and having to learn everything meant that it was a particularly tough weekend for us. But we managed to achieve everything we wanted to achieve – setting some good times and getting some good information for the team, but also getting some seat time under our belts before Australia when we'll be back behind the wheel of a world rally car."
Press release M-Sport Ford