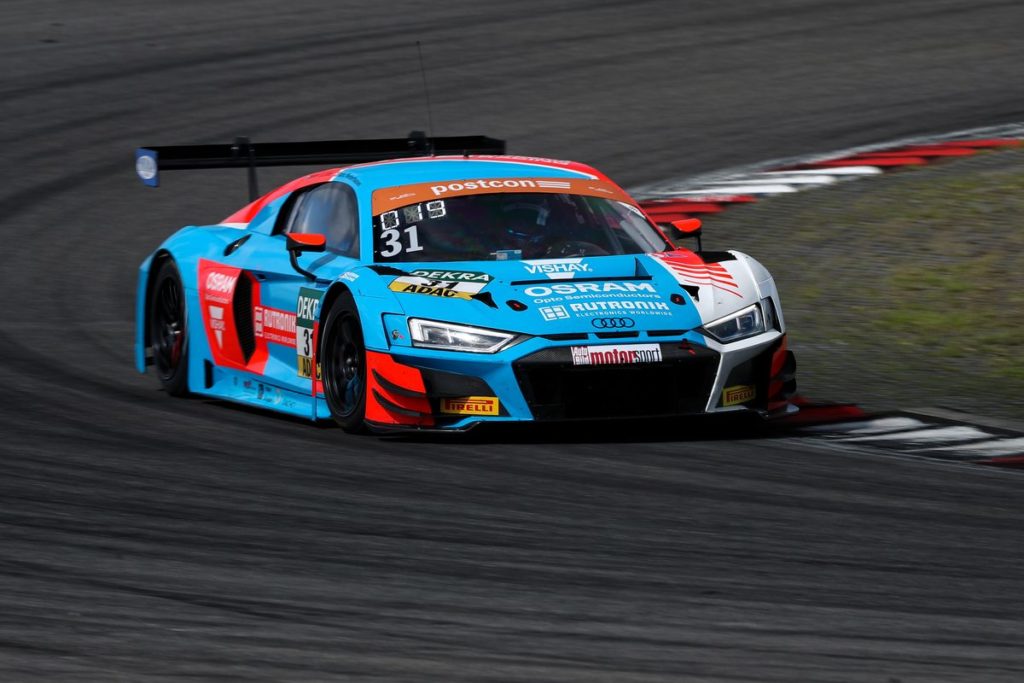 Fresh chapter in fairy-tale summer, as Patric Niederhauser and team-mate Kelvin van der Linde have come a great deal closer to their dream of winning the title with first-class performances in both races and qualifying. As at Zandvoort, weather conditions were very tough with rain, a track that was drying out, then dry conditions again – typical Eifel weather for the fifth round of the ADAC GT Masters season at the Nürburgring. But no matter how bad conditions were, Niederhauser and van der Linde kept a cool head throughout. Their reward, third place twice and 36 points. A guest entrant finished second in Race 1. As he was ineligible to score championship points, Niederhauser and van der Linde got the points for second place, although they finished third. Niederhauser and his team-mate now head the drivers' standings with a 40-point lead following their victory at Autodrom Most and a total of five podium finishes in all.
27-year-old Swiss driver Niederhauser paved the way for their first success of the weekend with a fantastic performance in qualifying. Less than a tenth of a second separated his best time from pole position. He made an excellent start. After exiting the third turn, he felt an impact from a fellow competitor, which badly affected the steering on his Audi R8 LMS with start number 31. Nevertheless, Niederhauser comfortably maintained the position, and his partner secured third place at the finish line. After a strong qualifying performance, team-mate van der Linde started Race 2 from second place. The two drivers lost a position after the driver handover. Despite having stronger pace, Niederhauser was not prepared to take any unnecessary risks and the championship leaders took their second podium of the weekend for third place.
Mathematically speaking, Niederhauser and van der Linde could wrap up the championship next time out at the Hockenheimring (13th-15th September).
Patric, congratulations on having taken podiums four and five. Those two races were extremely exciting from start to finish…
Patric Niederhauser : "Thanks. Both races were terrific. A lot of things went our way. Many thanks too to Kelvin, who got it together really well in his qualifying on Sunday and narrowly missed pole. He did an awesome job, and on his stint as well. We came into the pits earlier than scheduled, because we expected to get held up by stragglers, who had already swapped drivers. There's always an element of risk involved, with that and it didn't work out for us."
The start of Race 1 was really thrilling. What was it like in the cockpit?

Patric Niederhauser : "The start is always tricky at the Nürburgring, especially in the first corner and in the infield as well. We know from past experience that a lot can happen there, especially when two team-mates are involved in battling it out up front. But of course, Dennis knew the score. I was never afraid, though, that he would act unfairly and shut the door on me or do anything else of the sort. Obviously, he had his race to drive, and of course, was not obliged to not wave me through. In fact, he had plenty of pace, and as you go round three corners together, you obviously try not to lose position and not have any contacts with your team-mates. We both managed to do that very successfully. I thank him for showing fair play, but the remainder of the starting phase was very hectic. I took a knock in Turn 3 and the steering wheel was a bit wonky after that, which made the rest of the race quite tricky."
You had to let a guest starter go by in the end, so as not to jeopardise vital championship points…
Patric Niederhauser : "Yes, there was no need to take any risks in that particular situation. I had good pace and was right behind Dennis in the sister car, but the car behind squeezed past me at some point. However, I let him go through, since I knew that he wasn't contesting the championship, but the Corvette almost got past me as well. I was able to outbrake him in the next corner. If you run a little bit wide, you then have to contend with all these scraps. You also pick up plenty of rubber. And what's more, the Corvette was also very strong on the straights, and I had to shut the door for a couple of laps in succession on the approach to Turn 1. I was unable to take the racing line as a result and kept getting dirt in my tyres. It was a vicious circle. After sorting myself out, I was able to match the pace of those in front."
You could clinch the championship next time out at the Hockenheimring. That would be the ideal place…
Patric Niederhauser : "My family generally come along to watch, but more people will be there too, for sure! It will be a great weekend for us, because it's also our outfit's big home fixture. Lots of guests will be invited. It will certainly be very special, and I'm already looking forward to it. I wouldn't say that the track is one of the strongest for the Audi, but past races have shown that the R8 LMS can contend for victory there, which makes me feel quite optimistic. The ADAC GT Masters is so close this year. We thought there was nothing doing for us at the Red Bull Ring, and then we had a good weekend there. They're making a good job of things in the Balance of Performance, so 'well done!' for that too. That's another reason why I think the field will be close there, too. Sure, the championship title is within reach, but we just have to focus on doing a good job and make sure we have a clean weekend. That's down to us, but there's nothing we can do about anything else."
Press release Patric Niederhauser