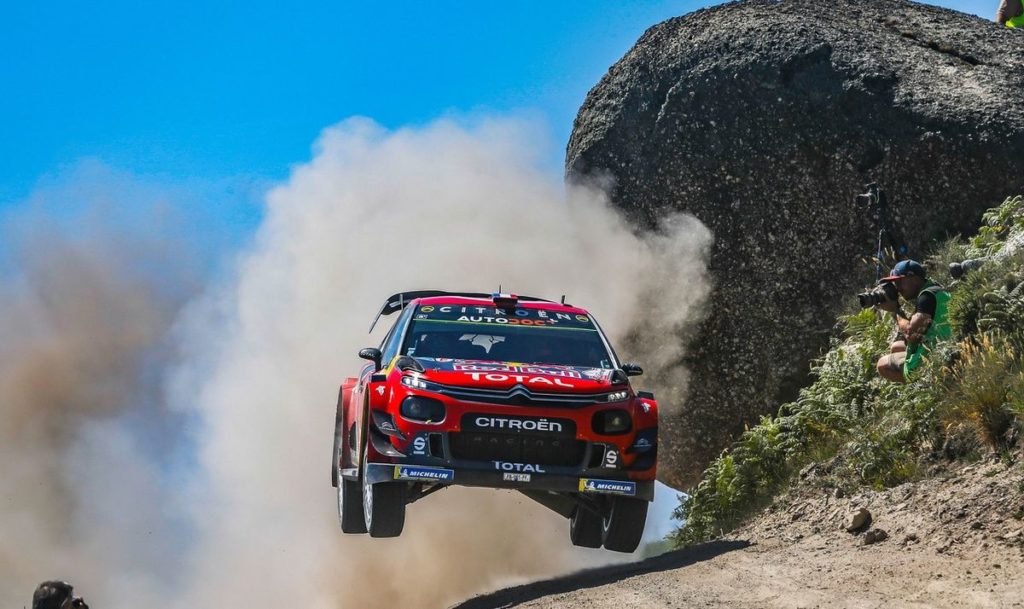 Sébastien Ogier and Julien Ingrassia, despite having to contend with poorer grip conditions than the other podium contenders, more than held their own to end day two fourth overall, within a few seconds of the podium places. Meanwhile, Esapekka Lappi and Janne Ferm confirmed their good feeling in the C3 WRC by moving up to fifth overall, after a really successful day on the Portuguese gravel.
Accounting for more than 52% of the total route, today's second leg was contested over a competitive distance of160.70 kilometres and was widely expected to be a huge battle between the main challengers for the podium. And that is precisely what it turned out to be.
Running fifth on the road, whilst the other podium contenders enjoyed considerably better conditions (between 8thand 11thin the starting order) on the Portuguese gravel – where the grip level improves as more cars complete the stages – Sébastien Ogier and Julien Ingrassia faced a serious challenge today. However, once again, they showed their undeniable resilience and fighting spirit. They confirmed their desire and determination to finish third on the opening test (SS8) and although they subsequently occupied the minor places, they ended the leg with another third fastest time on the second pass on Amarante (37.60km), just 3.5s off the pace. Their pugnacious performance put them fourth overall this evening, within striking distance of the podium places (+11.8s) ahead of tomorrow's final leg, which promises to be very closely contested…
Third in the initial running order, Esapekka Lappi and Janne Ferm found themselves second on the road from the third stage of the day onwards. A handicap on these gravel roads – which clean significantly – that they nonetheless managed to overcome in impressive manner, confirming their return among the frontrunners thanks to the work done with the team in pre-event testing. They moved up to seventh place on the opening stage before grabbing sixth overall with fourth place on the first run on Amarante (37.60km), just 6s off the lead pace. Two more fourth fastest times in the afternoon (SS12 & SS13) saw their combative approach rewarded with fifth place.
With 51.77 kilometres and five stages left to go, the longest of which is barely twelve kilometres long, Sunday's leg will be something of a sprint finish. A short final dash that includes two runs on the Fafe stage, which is expected to be mobbed once again with local fans.
REACTIONS FROM…
Pierre Budar, Citroën Racing Team Principal : "Our crews have both had a good day today. I would like to pay tribute in particular to the performance of Esapekka and Janne, who set some first rate times, despite having a really tough road position. They were very comfortable in the C3 WRC and I think that shows we're moving in the right direction together. Sébastien and Julien had a slightly tougher day, where they were unable to fight with their direct rivals in even conditions. But they nonetheless had a solid day and a lot can still happen tomorrow."

Sébastien Ogier, Citroën Total WRT driver : "I'm pleased with my fourth place this evening. The morning went better than the afternoon. We made a call on the tyres and changed the set-up, and perhaps that wasn't the best decision for the second loop. I am still learning the C3 WRC. It is still a positive result so far, because I feared the worst given the very loose conditions we saw in recce."

Esapekka Lappi, Citroën Total WRT driver : "It was a very good day for us. I really enjoyed driving the C3 WRC! We have done some good work with the team and the car suits my driving style much better now. In fact, you can see this in the times we set, despite our position in the running order. The aim is now to keep up the momentum tomorrow."
STANDINGS AFTER DAY 2
Tänak / Järveoja (Toyota Yaris WRC) 2:47:23.1
Meeke / Marshall (Toyota Yaris WRC) +4.3
Neuville / Gilsoul (Hyundai i20 WRC) +9.2
Ogier / Ingrassia (Citroën C3 WRC) +21.0
Lappi / Ferm (Citroën C3 WRC) +1:37.5
Suninen / Salminen (Ford Fiesta WRC) +2:02.7
Evans / Martin (Ford Fiesta WRC) + 6:10.4
Rovanperä / Haltunen (Skoda Fabia R5) + 8:33.8
Press release Citroën Racing