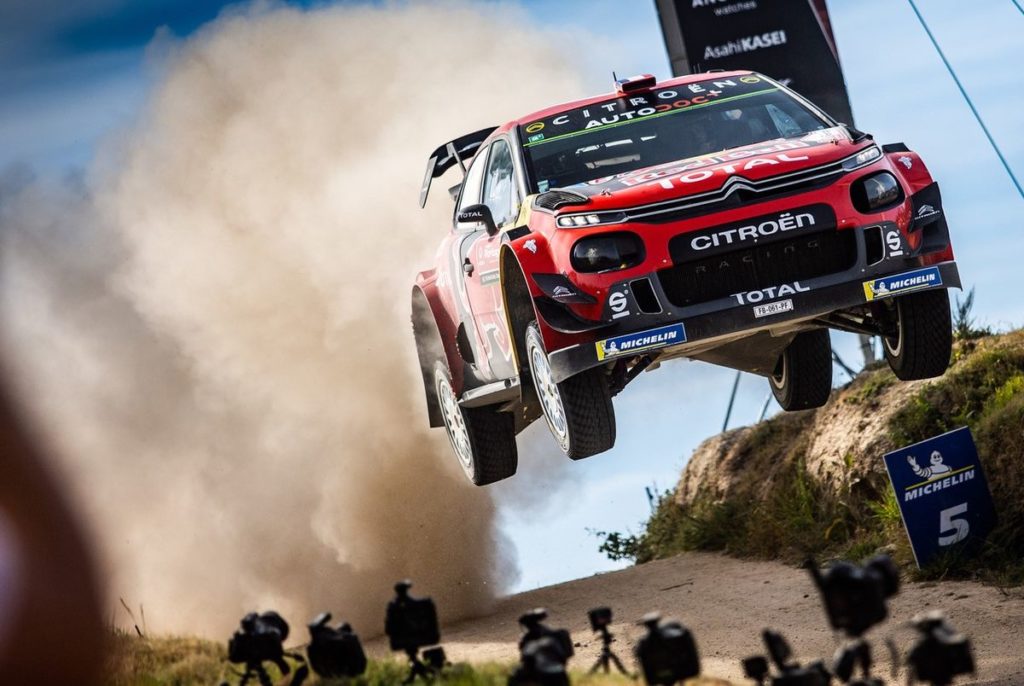 With their chances of pushing for the win compromised by their successive road positions, Sébastien Ogier and Julien Ingrassia nonetheless refused to give up. Their never-say-die attitude was justly rewarded with their sixth podium of the season, the Citroën Total World Rally Team's seventh top-three finish in as many rounds. Equally deserving of a good result, Esapekka Lappi and Janne Ferm were unfortunately caught out in the closing stages with the finish in sight.
With today's final leg covering just fifty-two kilometres and held on stages well known to all the crews, Sébastien Ogier and Julien Ingrassia's chances of making up the 11.8s gap to the podium were slim. Citroën Total WRT's standard bearer focused on the Power Stage, and the bonus points available, whilst remaining ready to pounce if a rival crew should make a mistake under pressure. And that is exactly what happened on the final stage, enabling the French crew to move up to third position. They therefore secured their sixth podium of the season – and Citroën Total WRT's seventh – after yet another very intelligently crafted performance. With the five extra points earned for winning the Power Stage, Sébastien and Julien continue to lead the world championship.
Leaders coming into the Portugal round, and therefore forced to run first on the road, the six-time world champions feared they would suffer here, given the very loose, dry conditions seen in recce. They managed nonetheless to produce a heroic performance on day one, reaching the end of day service in fifth place, just 3s off the podium, having in particular successfully gambled on tyre choice. However, the difference in road position compared to the other podium contenders was so significant on Saturday that it prevented Sébastien and Julien from fighting in even conditions. They therefore began today's final leg 11.8s behind the third-placed crew.
Esapekka Lappi and Janne Ferm, who were just 2.3s off fourth place after SS2, had also made a good start to the rally. Unfortunately, one of their tyres came loose on landing a jump (SS3) and the pair found themselves down in eighth overall by the end of day one. They then produced an impressive performance on Saturday's leg to climb to fifth overall, including three fourth fastest times, despite having spent two thirds of the day running in a very tough second position on the road. Unfortunately, a minor error at the start of Sunday's leg (SS16) proved to be extremely costly. The pair turned slightly too sharply into a right-hand hairpin and ended up spinning and then rolling their C3 WRC. As they attempted to defend their fifth place on the next stage, they clipped a bank, damaged the rear left-hand suspension and had to retire within sight of the finish.
REACTIONS FROM…
Sébastien Ogier, Citroën Total WRT driver : "I didn't think we could score twenty points this weekend. Although we never had a chance of winning the rally with our position in the running order, we gave it absolutely everything, regardless of the situation. So, to that extent, this result is just rewards. In truth, I was hoping not to be first on the road in Sardinia, but every point counts at the end of the season. I'm pleased to see that we were competitive on the Power Stage, which was more or less the only stage of the weekend where we had the same grip conditions as our rivals. That means we have also progressed in terms of performance although it was difficult to show it, given the circumstances."

Esapekka Lappi, Citroën Total WRT driver : "After our roll, the car wasn't too badly damaged, it was just missing the rear spoiler. I thought I had a good rhythm on the following stage but I was slightly too optimistic on a right hander over a crest and I hit a bank, which caused a puncture and then damaged the suspension. There were too many kilometres left to cover with our makeshift repairs. I'm really very sorry for the whole team, who deserved better."
TWO QUESTIONS FOR PIERRE BUDAR, CITROËN RACING TEAM PRINCIPAL
Sébastien Ogier and Julien Ingrassia once again showed superb race management this weekend…
"Yes, absolutely! Given, their road position on day one, but also throughout the weekend, they clearly did a great job on these roads, where cleaning is such a major factor. Despite not being able to fight on even terms, they managed to maintain the pressure and remain ready to seize any opportunities that came their way. Their determination and resilience were rewarded with another podium finish and a handsome tally of points for the championship. They had a good feeling in the C3 WRC, which also confirms that we have made significant progress with the car and are moving in the right direction. We're going to keep working even harder because we'll have to deal with the disadvantage of cleaning the road again in Sardinia."
Despite their retirement today, there some promising signs in the performance of Esapekka Lappi and Janne Ferm…
"We're obviously disappointed they didn't make it to the end of the rally after two mistakes, especially after such a fine day yesterday. After very good pre-event testing, during which we identified the differential set-up that suits them the best, they were really on their way towards putting together a decent performance, so I hope they can build on this in Sardinia. We are now going to work together and support them so that they can manage this kind of situation better in the future."
THE HIGHLIGHT OF THE WEEKEND
Thomas Breton, race engineer to Sébastien Ogier and Julien Ingrassia, looks back on the crew's incredible performance during the first leg, which they ended in a somewhat unexpected fifth place…
"Given the extent to which we expected the road to clean this weekend, we had focused on maximising the balance of the car in low-grip conditions during pre-event testing. Apart from on Friday's opening stage, where they were probably getting a feel for the loose conditions, Seb and Julien were genuinely incredible. It is also worth mentioning that on the first stage, Seb had accidentally switched to road mode and by the time he realised this, he had probably lost a couple of seconds. The afternoon loop went particularly well, since they were only two tenths per kilometre off the stage-winning times. Tyre choice undoubtedly also played a role in their performance. Due to running first on the road, and also the fact that Seb is a driver who really looks after his tyres, we opted for a different strategy to the other drivers in the afternoon. We kept two Michelin mediums, despite the high temperatures, where all the other crews went with five hard tyres. Having the right strategy is one thing, of course, but you still have to deliver! And that's precisely what he did. The data shows that Seb just doesn't overdo it when there's no need and his approach paid dividends in the times."
FINAL PROVISIONAL STANDINGS
Tänak / Järveoja (Toyota Yaris WRC) 3h20'22''8
Neuville / Gilsoul (Hyundai i20 WRC) +15''9
Ogier / Ingrassia (Citroën C3 WRC) +57''1
Suninen / Salminen (Ford Fiesta WRC) +2'41''5
Evans / Martin (Ford Fiesta WRC) + 7'08''3
Rovanperä / Haltunen (Skoda Fabia R5) + 10'34''2
Latvala / Anttila (Toyota Yaris WRC) + 11'28''2
Kopecky / Dresler (Skoda Fabia R5) + 11'41''9
DRIVERS' WORLD CHAMPIONSHIP
Sébastien Ogier – 142 points
Ott Tänak – 140 points
Thierry Neuville – 132 points
Elfyn Evans – 65 points
Kris Meeke – 56 points
Teemu Suninen – 44 points
Sébastien Loeb – 39 points
Jari-Matti Latvala – 38 points
Andreas Mikkelsen – 36 points
Esapekka Lappi – 34 points
* Subject to publication of the final standings by the FIA
MANUFACTURERS' WORLD CHAMPIONSHIP
Hyundai WRT – 202 points
Toyota Gazoo Racing – 182 points
Citroën Total WRT – 158 points
M-Sport Ford WRT – 122 points
* Subject to publication of the final standings by the FIA
Press release Citroën Racing