This year's 12h Spa produced one of the most sensational endings ever seen in the 24h Series , with the Bohemia Energy racing with Scuderia Praha Ferrari 488 GT3 (#11, Jiří Písařík / Josef Kral / Matteo Malucelli) snatching victory from the Herberth Motorsport Porsche 991 GT3 R (#91, Daniel Allemann / Ralf Bohn / Robert Renauer) during the final three minutes of the 12-hour event.
Herberth Motorsport had been leading heading into the final five minutes of the race, but a suspected problem during the team's last-minute splash and dash for fuel delayed the #911 Porsche just long enough to allow the Ferrari through to retake the lead on the penultimate tour. Matteo Mallucelli crossed the finishing line to complete 250 laps of the 7.004km Circuit de Spa-Francorchamps, and did so just 7.8s ahead of Ralf Bohn.
"I think I just had a heart attack!" Jiří Písařík joked with radiolemans.com's Joe Bradley. "That was absolutely amazing and there was just a half-second gap between them out of the pits. Just incredible!"

"It was mega!" agreed Písařík's teammate, Josef Kral. "The job the team did was amazing because in the end, it came down to thousands of a second and the last few litres. I'm really happy! Herberth Motorsport did a really good job today too, so well done to them."
The result puts Bohemia Energy racing with Scuderia Praha firmly at the top of the 2019 GT European Championship standings. Herberth Motorsport meanwhile leave Spa-Francorchamps with A6-Am victory as well as their hard-earned runners-up spot.
"Happy Easter!" began a magnanimous Ralf Bohn. "It was still a great race for us. We had a good car, and don't forget we are fighting against a professional team, so we're still happy to finish 2nd."
3rd place overall went to the PHOENIX RACING Audi R8 LMS (#5, Frank Stippler / Vincent Kolb / Kim-Luis Schramm / Ivan Pareras) after a sensational recovery drive. The Audi had been running comfortably in the top three during the first hour of the event only for a puncture to drop it well down the order. The WRT Audi R8 LMS meanwhile (#27, Stanislav Minsky / Steijn Schothorst / Marco Seefried / Rik Breukers), another contender for victory early on, collected the final A6-Pro class podium spot.
The CP Racing Mercedes-AMG GT3 (#85, Charles Putman / Charles Espenlaub / Joe Foster) finished a solid weekend 4th on the road and 2nd in A6-Am at Spa-Francorchamps. The HB Racing by Herberth Motorsport Ferrari 488 GT3 (#41, Jürgen Häring / Taki Konstantinou / Tim Müller / Alfred Renauer) finished 3rd in-class, a late puncture dropping the Austrian team to 5th on the road during the final hour.
Further back, the Modena Motorsports Porsche 991-II Cup (#916, John Shen / Francis Tjia / Philippe Descombes / Benny Simonsen) led Teichmann Racing (#903, Scott Marshall / Tommy Gråberg / Hans Holmlund) across the line to take the 991-category win. After an impressive run, both Porsche 991 Cup cars finished 9th and 10th on the road respectively. A contender for class victory early, the Porsche Lorient Racing Porsche 991-I Cup (#911, Jean-François Demorge / Gilles Blasco / Mathieu Pontais / Frédéric Ancel) secured 3rd place.
The JR Motorsport BMW M3 F80 (#202, Ted van Vliet / Ward Sluys / Michael Verhagen) was the sole survivor of a high-attrition SPX class. Classified 2nd and 3rd in the class were the MARC II V8s of Vr Racing by Qvick Motors (#709, Tom van Rompuy / Erik Qvick / John Rasse) and Cor Euser Racing (#717, Cor Euser / Einar Thorsen) neither of which made it further than two-thirds distance at Spa.
Red Camel-Jordans.nl back on top at the 12h Spa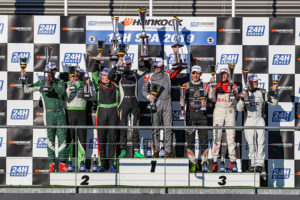 The Red Camel-Jordans.nl CUPRA TCR (#101, Ivo Breukers / Rik Breukers / Francis Tjia) claimed a tense win at the 12h Spa in an ending that featured two last-minute fuel stops and a time penalty hanging over the #101 CUPRA. In the end, Ivo Breukers crossed the finishing line to complete 232 laps of the 7.004km Circuit de Spa-Francorchamps, crucially, almost a full lap ahead of the Autorama Motorsport by Wolf-Power Racing Volkswagen Golf GTi TCR (#112, Fabian Danz / Jan Sorensen / Kristian Jepsen). Though the team will still serve a time penalty, it will not affect the outcome of the race.
"We really had to watch track limits towards the end," Ivo Breukers explained to radiolemans.com's Joe Bradley. "We had one penalty we knew we had to serve, and we knew we'd have to refuel, so that's why we left Rik [Breukers] out until the last minute. But we figured Autorama [Motorsport] would have to do the same, and that made the difference. If they'd had just 10 litres more fuel, they would have been 1st and we would have been 2nd!"
Despite holding the TCE lead going into the overnight intervention, AC Motorsport (#188, Stephane Perrin / Vincent Radermecker / James Kaye) was still pleased to finish 3rd overall in TCE after an enormous accident during Thursday's private test session required the front end of the Audi RS3 LMS to be completely rebuilt overnight.
Having claimed its first podium finish with the brand new Aston Martin Vantage GT4 last time out in Mugello, PROsport Performance (#1, Rodrigue Gillion / Nico Verdonck / Akhil Rabindra / Michael Munemann) went one better in Spa to secure the car's first category win in SP3. After a fraught race, which included a small fire and a full gearbox change, the CWS Engineering Ginetta G55 (#378, Colin White / Ian Stinton / Jean-Francois Brunot) finished a well-deserved 2nd.
Dan Agro Racing meanwhile claimed its second consecutive A3-class win at Spa-Francorchamps, doing so with a 1-2 formation. The #685 Peugeot RCZ (Nicolaj Kandborg / Lars Seistrup / Mikkel Gregersen / Steffan Jusjong) finished just ahead of the sister #686 entry (Sune Marcussen / Anders Rasmussen), while long-time leader Synchro Motorsport (#676, Alyn James / Daniel Wheeler / Matt Neal) survived engine and brake issues to complete the A3 podium with the Honda FK8-Civic Type-R.
2019 European Championship action continues next month at the Automotodrom Brno in the Czech Republic on 24-25 May. Following the 12h BRNO and the customary summer break in June, the 24h Series returns to Portugal for the third annual 24h Portimao on 5-6-7 July. Further information on this year's calendar can be found at www.24hseries.com.
Results 12H Spa 2019_Overall
Results 12H Spa 2019_Per class
Press release Creventic