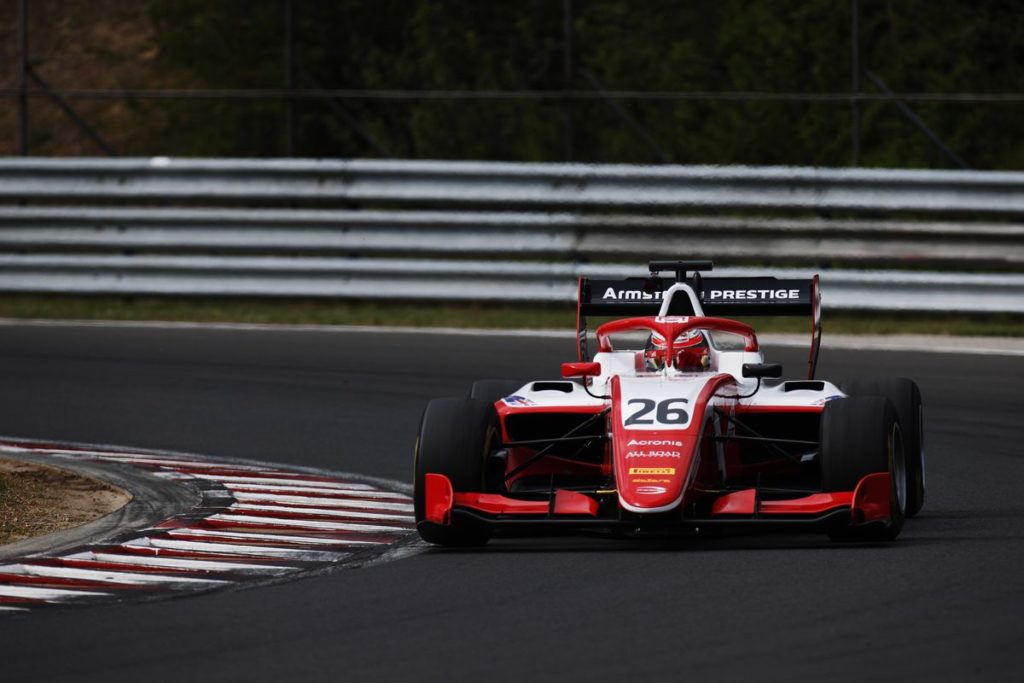 Marcus Armstrong was quickest on Day 1 of the final FIA Formula 3 pre-season testing today in Budapest, Hungary. The PREMA Racing driver clocked in a time of 1:31.411 to finish ahead of teammate Jehan Daruvala and Leonardo Pulcini of Hitech Grand Prix.
As soon as the pitlane opened for the morning session, all thirty cars fed onto the track for their customary installation laps. MP Motorsport's Liam Lawson set the initial pace, but he was quickly toppled by Fabio Scherer. However, Pulcini who had lit up the second round of testing in Barcelona last week was back on top of the times, firing home 1:32.360 inside the first half an hour.
The morning's first red flag came at 9.50am when Sebastian Fernandez stopped at Turn 6, but the session swiftly resumed with temperatures hitting the 13 degrees mark, on a dry morning at the Hungaroring.
Pulcini improved on his best time to lap the track in a 1:32.274 ahead of teammate Jüri Vips on 1:32.318. But Trident's Niko Kari leaped in front of the Hitech Grand Prix pair with a best laptime of 1:31.799.
There was a second red flag just over an hour later after Alex Peroni had lost control on the curb of Turn 11 and thumped into the barrier. Robert Shwartzman nabbed the top spot when the running restarted, with a time of 1:31.733. Having dropped out of the top 10, Pulcini clocked in a laptime of 1:31.564 to beat Shwartzman's best.
The saying goes that things come in three's and there was a third red flag as the session began to draw to a close after Yuki Tsunoda stopped at Turn 12. When the green flag returned, there were still eight minutes to get back on track, but no one could beat Pulcini. Shwartzman classified second ahead of Kari, Vips, Raoul Hyman, Artem Petrov, Richard Verschoor, Fernandez, Armstrong and Jake Hughes.
The drivers picked up where they left off when they returned for the afternoon tests, once again hitting times of around 1m33s. Tsunoda lapped quickest at 1:32.427 on the half hour mark, closely followed by MP Motorsport pair Richard Verschoor and Simo Laaksonen who also broke the 1m33s barrier.
The session was briefly interrupted by a red flag when Jake Hughes stopped at the pit exit. There was little change in the order when testing resumed and the front three remained unchanged for the next hour, with teams working on their lap count.
Laaksonen and Verschoor temporarily switched places before the latter set the fastest laptime, with 1:32.303 – still some way off Pulcini's morning pace of 1:31.564.
The order was given a shake-up by Hitech Grand Prix with just over half an hour remaining, as their duo of Pulcini and Ye Yifei leapt to 2nd and 3rd place. Yifei followed this up with an even better time in the subsequent lap to hike himself to the top of the leader board, with a time of 1:32.162. A red flag followed the reshuffle, as Shwartzmann stopped on track between Turns 11 and 12.
Very light drops of rain were spotted, but that didn't deter Armstrong, who set his best time of the day in a lap that saw him jump to second on the standings. The PREMA driver followed this up with another blistering drive to dip under 1m32s for the first time that afternoon.
Armstrong was momentarily dislodged from first by Daruvala, but refused to be bettered by his PREMA teammate and beat the Indian's time almost instantaneously, on his 50th lap.
The New Zealander ace remained on top at the chequered flag, followed by Daruvala in second and Pulcini in third. Lawson, Yifei, Fernandez, Logan Sargeant, David Beckmann, Tsunoda and Verschoor completed the top ten.
Day 2 will start tomorrow at 9am local time.
FIA Formula 3 Budapest Test – Day 1 Morning Session
| | | | | |
| --- | --- | --- | --- | --- |
| | DRIVER | TEAM | LAPTIME | LAPS |
| 1 | Leonardo Pulcini | Hitech Grand Prix | 1:31.564 | 41 |
| 2 | Robert Shwartzman | PREMA Racing | 1:31.733 | 33 |
| 3 | Niko Kari | Trident | 1:31.799 | 29 |
| 4 | Jüri Vips | Hitech Grand Prix | 1:31.990 | 46 |
| 5 | Raoul Hyman | Sauber Junior Team by Charouz | 1:32.132 | 46 |
| 6 | Artem Petrov | Jenzer Motorsport | 1:32.150 | 33 |
| 7 | Richard Verschoor | MP Motorsport | 1:32.157 | 31 |
| 8 | Sebastian Fernandez | Campos Racing | 1:32.207 | 19 |
| 9 | Marcus Armstrong | PREMA Racing | 1:32.241 | 34 |
| 10 | Jake Hughes | HWA RACELAB | 1:32.245 | 40 |
| 11 | Jehan Daruvala | PREMA Racing | 1:32.260 | 33 |
| 12 | Pedro Piquet | Trident | 1:32.287 | 33 |
| 13 | David Beckmann | ART Grand Prix | 1:32.294 | 35 |
| 14 | Logan Sargeant | Carlin Buzz Racing | 1:32.325 | 35 |
| 15 | Felipe Drugovich | Carlin Buzz Racing | 1:32.346 | 36 |
| 16 | Yuki Tsunoda | Jenzer Motorsport | 1:32.354 | 39 |
| 17 | Fabio Scherer | Sauber Junior Team by Charouz | 1:32.471 | 52 |
| 18 | Alexander Peroni | Campos Racing | 1:32.491 | 20 |
| 19 | Christian Lundgaard | ART Grand Prix | 1:32.531 | 38 |
| 20 | Liam Lawson | MP Motorsport | 1:32.643 | 26 |
| 21 | Devlin DeFrancesco | Trident | 1:32.654 | 36 |
| 22 | Lirim Zendeli | Sauber Junior Team by Charouz | 1:32.661 | 52 |
| 23 | Simo Laaksonen | MP Motorsport | 1:32.711 | 27 |
| 24 | Ye Yifei | Hitech Grand Prix | 1:32.794 | 46 |
| 25 | Max Fewtrell | ART Grand Prix | 1:32.932 | 37 |
| 26 | Bent Viscaal | HWA RACELAB | 1:33.060 | 39 |
| 27 | Andreas Estner | Jenzer Motorsport | 1:33.449 | 39 |
| 28 | Teppei Natori | Carlin Buzz Racing | 1:33.606 | 36 |
| 29 | Keyvan Andres | HWA RACELAB | 1:33.852 | 41 |
| 30 | Alessio Deledda | Campos Racing | 1:33.918 | 35 |
FIA Formula 3 Barcelona Test – Day 1 Afternoon Session
| | | | | |
| --- | --- | --- | --- | --- |
| | DRIVER | TEAM | LAPTIME | LAPS |
| 1 | Marcus Armstrong | PREMA Racing | 1:31.41 | 52 |
| 2 | Jehan Daruvala | PREMA Racing | 1:31.857 | 49 |
| 3 | Leonardo Pulcini | Hitech Grand Prix | 1:32.054 | 44 |
| 4 | Liam Lawson | MP Motorsport | 1:32.069 | 36 |
| 5 | Ye Yifei | Hitech Grand Prix | 1:32.162 | 43 |
| 6 | Sebastian Fernandez | Campos Racing | 1:32.204 | 39 |
| 7 | Logan Sargeant | Carlin Buzz Racing | 1:32.246 | 39 |
| 8 | David Beckmann | ART Grand Prix | 1:32.268 | 48 |
| 9 | Yuki Tsunoda | Jenzer Motorsport | 1:32.275 | 47 |
| 10 | Richard Verschoor | MP Motorsport | 1:32.301 | 33 |
| 11 | Max Fewtrell | ART Grand Prix | 1:32.318 | 49 |
| 12 | Simo Laaksonen | MP Motorsport | 1:32.360 | 35 |
| 13 | Jake Hughes | Sauber Junior Team by Charouz | 1:32.365 | 35 |
| 14 | Artem Petrov | Jenzer Motorsport | 1:32.436 | 48 |
| 15 | Christian Lundgaard | ART Grand Prix | 1:32.464 | 49 |
| 16 | Jüri Vips | Hitech Grand Prix | 1:32.685 | 38 |
| 17 | Fabio Scherer | Sauber Junior Team by Charouz | 1:32.700 | 36 |
| 18 | Niko Kari | Trident | 1:32.700 | 38 |
| 19 | Pedro Piquet | Trident | 1:32.874 | 23 |
| 20 | Lirim Zendeli | Sauber Junior Team by Charouz | 1:32.883 | 42 |
| 21 | Devlin DeFrancesco | Trident | 1:32.975 | 45 |
| 22 | Teppei Natori | Carlin Buzz Racing | 1:33.250 | 42 |
| 23 | Alexander Peroni | Campos Racing | 1:33.504 | 9 |
| 24 | Keyvan Andres | HWA RACELAB | 1:33.569 | 47 |
| 25 | Bent Viscaal | HWA RACELAB | 1:33.626 | 50 |
| 26 | Andreas Estner | Jenzer Motorsport | 1:33.648 | 42 |
| 27 | Alessio Deledda | Campos Racing | 1:34.264 | 41 |
| 28 | Raoul Hyman | Sauber Junior Team by Charouz | 1:34.547 | 44 |
| 29 | Robert Shwartzman | PREMA Racing | 1:34.585 | 40 |
| 30 | Felipe Drugovich | Carlin Buzz Racing | 1:34.741 | 20 |
Press release FIA Formula 3