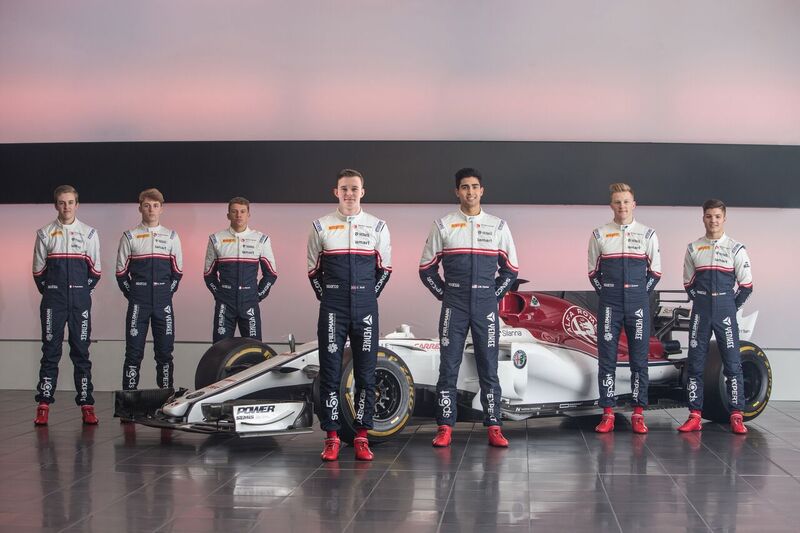 Up-and-coming Swiss racing driver Fabio Scherer will race for the newly-formed Sauber Junior Team in the 2019 FIA Formula 3 Championship.
The exciting new partnership connects the talented 19-year-old with Sauber Motorsport, the Swiss organisation that has been competing in F1 for more than 25 years and currently runs the Alfa Romeo Racing team in motorsport's top category. Fabio steps up to the newly-formed FIA Formula 3 series after impressing in the European F3 series during 2018. He is also a former race winner in the Formula 4 category.
The Sauber Junior Team programme will run from 2019 onwards and is unique in international motorsport as it provides a potential clear ladder of progression from Formula 4 through to Formula 1. The programme will be run in partnership with Charouz Racing System, a team that recorded race- and championship-winning success in the Formula 2 and Formula 4 categories last season.
Fabio, who is supported by Swiss company STOBAG, will receive valuable support from both Sauber and Charouz to develop his skills both on and off the track. The Sauber Junior Team is one of 10 teams that will compete in the FIA Formula 3 Championship. The series will support Formula 1 at eight Grands Prix.
Fabio Scherer said: "Joining the Sauber Junior Team is a big moment in my career and I'm determined to take my chance. This is an opportunity that's going to require a lot of work from my side, but when I deliver what I can and people believe in me, I know a lot is possible. I'm going to be pushing as hard as possible. I think we can fight for the championship. I had a solid rookie season in F3 last year and I feel ready for this opportunity. I'm hugely proud to be Swiss and it's an honour to have an affiliation to Sauber in 2019. My target is to be the first driver from Switzerland to run in F1 with a team that is based in my homeland. I will give everything I can to try and achieve this dream."

Bob Vavrik, Charouz Racing System Managing Director said: "We're looking forward to working with Fabio as he makes his debut in the FIA F3 Championship as part of the Sauber Junior Team programme this season. He's a driver that has already shown lots of natural talent and a fierce determination during his short career. We're all excited about supporting him as he continues his bid to try and reach the top in motorsport."

Frédéric Vasseur, Team Principal Alfa Romeo Racing and CEO Sauber Motorsport AG said: "The Sauber Junior Team is heading into the 2019 season with a strong line-up in the FIA single-seater categories – F2, F3 and F4. Our project was launched with the goal of passing on our experience to young drivers and providing a platform where they can successfully develop their skills and come closer to their dream of racing at the pinnacle of motorsport one day. We look forward to our collaboration and will follow the progress of these young talents closely."
Fabio's first taste of the 2019 F3 package will come during the first of three pre-season tests at Circuit Paul Ricard in France on 20-21 March, preceding further preparation at Barcelona in Spain (9-10 April) and the Hungaroring in Hungary (17-18 April).
Fabio's 2019 racing programme will begin at Barcelona (10-12 May).
Press release Fabio Scherer